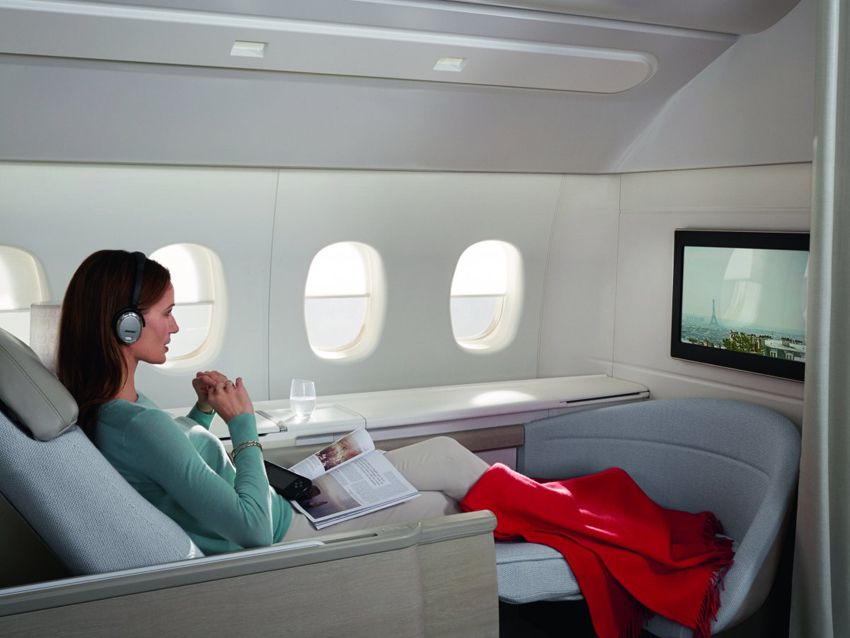 Photos Courtesy of Air France
Air France is seriously upping their game with the unveiling of "La Première" first-class suites, which they're calling a "unique experience." Available on their Boeing 777-300 fleet starting September, the suites mark an exciting move towards really bringing that sense of luxury the French have on land to international travel.
The 32-square-foot suites will be in a private cabin that only La Première passengers can enter — after being personally introduced to the crew, of course. Decorated with bright gray, wood accents, red suede, tweed patterned fabrics and metallic touches, Air France really tried to encapsulate a luxury hotel room within this first-class cabin.
Not only does it look stylish, it looks really comfortable — we would take a nap in these cabins in an instant. The seat flattens into a 6'7" bed that's a nice 30 inches wide, completely with a futon mattress, hypoallergenic feather pillow, and a duvet with a cover. Your private little nook will have a bedside lamp for reading, an ottoman for snacking (or a visiting friend), lots of storage spots for your belongings, and tons of on-demand programming to check the latest movies out on.
Of course, other amenities include personalized coat service, a range of neat accessories (like lounge wear, slippers, and a dust bag for your shoes), a travel kit full of Biologique Recherche products, and gourmet meals created by Michelin-starred French chefs.