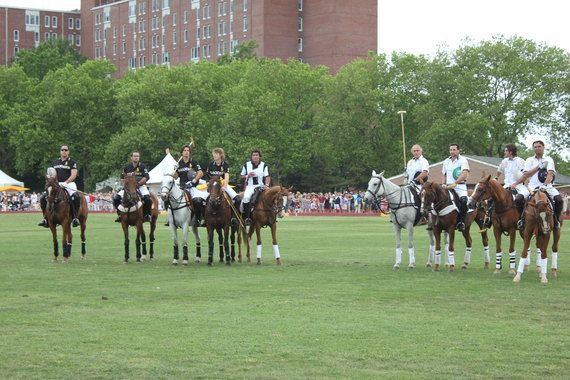 The fourth annual Veuve Clicquot Polo Classic took place on Sunday at beautiful Governors Island in
New York City
before a crowd of thousands. Co-hosts of the event included Stephane Baschiera, president and CEO of Veuve Clicquot, Vanessa Kay, president of Veuve Clicquot USA, along with Polo superstar (and Ralph Lauren model), Nacho Figueras, his wife Delfina Blaquier, and fashion designers Marc Jacobs and Donna Karan.
Figueras served as captain of the Black Watch team, which played against the Veuve Clicquot team with Brazil's Rico Mansur serving as its captain. The event benefited Karan's Urban Zen Foundation's
Hope, Help & Rebuild Haiti
(HHRH) mission. A star-studded affair, the event was attended by actresses Isla Fisher and Naomi Watts, comedian Kathy Griffin and actor Hugh Jackman (who also served as an emcee). Musician Wyclef Jean performed impromptu during the pre-polo luncheon.
The fundraiser was especially meaningful to Jean, who was born in Haiti and lived there until he was nine when his family moved to Brooklyn, N.Y. "There is a synergy going on with all of us who are helping Haiti, including Donna Karan, Sean Penn and others, where we want to see Haiti at a better place," Jean told JustLuxe.
"The focus is how do we keep this drive and the partnerships between all of us tight, because the only way the country is going to move forward is through unity and strength," he added. "I am really proud of Donna and what she is doing." The Grammy-winning rap star returned to Haiti when he was 18 and has always felt a strong connection to his native country.
"As a Fugee, I always represented my country," he told JustLuxe. "I always tell people that Haiti has culture. We just need people to get on a plane and go feel the energy of the people there. Then you will know what you are going to do next. We need to help Haiti help itself. That is the key. That is what people like Donna are doing."


Hope, Help & Rebuild Haiti is the next evolution of the work started by Karan and her Urban Zen Foundation. It was developed immediately following the January 2010 earthquake with music executive Andre Harrell, the Mary J. Blige and Steve Stoute Foundation for the Advancement of Women Now, Andres Balazs and The Standard.

The mission of Hope, Help & Rebuild Haiti is to create a conscious community of leaders in music, fashion, film and art to become agents of change for the renewal of Haiti, specifically in the areas of well-being, preservation of culture and education. For more information visit VCSeason.com/Polo.

Photo Credit: Carrie Coolidge & Veuve Clicquot

Kathy Griffin with Naomi Watts and Isla Fisher
Carrie Coolidge
Donna Karan with Wyclef Jean, Hugh Jackman, Isla Fisher and Stephan Baschiera
Carrie Coolidge
The Veuve Clicquot Bar
Carrie Coolidge
Nacho Figueras and Vanessa Kay