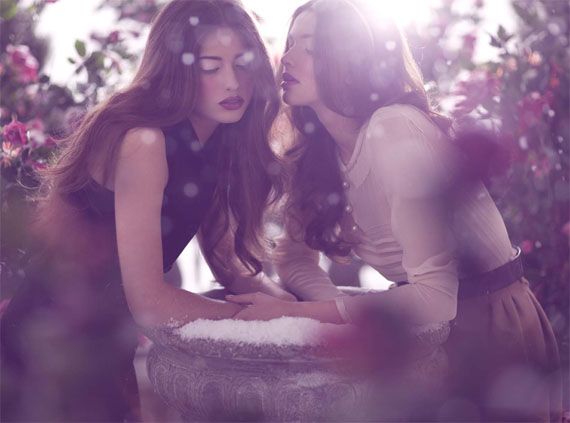 Photo Credit: Amber Gray
When it was recommended we ask photographer and film director Amber Gray to direct our lifestyle show in Paris last year, my reaction was, ?only in my dreams!? I?ve been a fan of this young talent?s work for years, favoring mostly her dreamy and alluring images, so soft and seductive. Gray has been behind the camera for numerous
luxury products
from top brands such as Gucci, YSL and Sony, so when I had the honor to work with her recently in Paris, (yes, my wish was granted) I came to admire her even more.
I had two personal requests of Gray when we arrived in Paris. One, was she must attempt to make me look as beautiful as some of her previous clients such as Penelope Cruz, Selena Gomez or Maria Sharapova; I am aware Gray is not a magician, so the pressure was not all on her. Secondly, Gray had to accept an interview from me so I can share her greatness with others. To me, the person behind the amazing work gives their creation a much more valued meaning.
"I was always, even as a little ten-year-old kid, playing with my parents camera, orchestrating people to reflect my vision, rather than reality,? Gray says when I asked of her photographic beginnings. ?I would dress my sister and her friends up, paint their faces, and have them jump off the hood of my mom's car. It was a very warped music video shoot playing in my head.?
Fast forward to more recent years and Gray admits, ?I realize now that I was super lucky early on,? to have broken into the professional business of
photography
so quickly. In no time, she was able to move from San Francisco to New York City with her partner Julian Bernstein with a focus more on directing. ?My first national broadcast spot is currently running for Disney, and I'm in pre-production on my first feature.?
Gray started off as a photographer right out of film school basically as ?a stepping stone? towards her ultimate goal of becoming a director or cinematographer. ?Film is an opportunity to share my vision as a whole, with movement, and music, and time. It really is the ultimate form of communication.?
To stand out as a true talent in film and photography, the images must be utterly stunning and evoke a reaction (be it positive or negative) or a feeling from the viewer. Gray?s photography and motion film instigate these reactions. ?I like to imply a storyline without ever saying it aloud,? explains the artist, ?which leaves some blank space for your imagination to fill in.? This also applies to her, what I referred to as, slightly disturbing images. ?I have heard that rumbling about some of my imagery being perceived as dark,? teases Gray, yet clarifies that this is an intentional attribute. To her, it is ?a love of creating different atmospheres and scenarios that play out beyond the human character.?
Click Here to See The Whimsical World As Seen By Amber Gray Slideshow
Gray is able to conceptualize her clients? requests yet still be satisfied with her creativity, ?because if they have chosen to hire me for the job, they obviously get my work, and trust me to execute their concept in an extraordinary way.? Evident also in the list of
celebrities
she has worked with like Beyoncé, John Turturro and Nina Hagen. ?I especially liked working with Penelope Cruz. She has a good sense of humor, and is super easygoing.?
I asked Gray if she could share an interesting experience with any high-maintenance celebs she has worked with. ?They have all been really professional and lovely thus far, but I have friends who have shot some real nightmare personalities, including one actress that locked herself and the stylist in her hotel room and refused to come out for twelve hours.? What could you possibly be doing for twelve hours alone with your stylist? Well, unless I was the actress and my stylist was David Beckham.
The other attribute of all the beautiful women she shoots goes beyond their obvious good looks for Gray. ?Even though a lot of my work features beautiful, lithe young women, I don't deal in blank stares or victims,? Gray explains. ?Even the fruitiest, fluffiest examples of my work features a woman that would be perceived as aware and intelligent. I truly abhor the idea that in order for a woman to be ?attractive? or ?sexy? she needs to appear to be a simpleton.? 
Gray portrays beautiful people with a sexual undertone in photography and are tastefully presented in motion picture. ?I always admired artists like Angela Carter, Floria Sigismondi, and Sally Potter for their ability to sort of capture that aspect of things in a way that wasn't cheesy or played-out and obvious,? Gray elaborates. ?I think that what is generally marketed in America as ?sexy? could just as easily be marketed as ?cliché? so I try to avoid the obvious cues, in favor of subtler, more interesting ones.?
Talented, experienced and hard working; I have a lot of respect for Gray who says she always wants to challenge herself. ?I'm extremely hands-on as a director so for me, it's an opportunity to bring a whole universe that's residing in my imagination out into the world to be experienced by others. I am involved in everything from the writing, casting, storyboarding, lighting design, wardrobe, music, and editing. Filmmaking can include pretty much anything, which is why it never gets boring, and there is always more to learn.? Thankfully for us, it is like that little ten-year-old girl still playing out those warped music videos in her head. To see more, visit
AmberGrayPhotography.com
and check out her video for Gucci below.
{start-jlvideo}557{end-jlvideo}
Check out our favorite photographers for the new year:
Visually Stunning Images by Our Favorite Photographers for the New Year