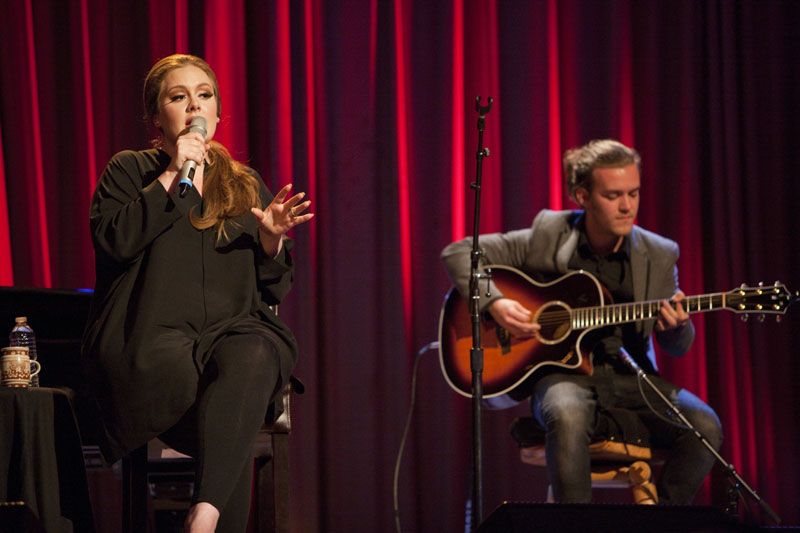 Photo Credit: Colin Young-Wolff
When you're a die-hard music fan, discovering new bands and helping others see the potential in an emerging artist is an essential part of your day-to-day life. You browse online blogs, search through various music magazines, read forums, and go to local shows—all in the hopes of uncovering fresh sounds, inspiring lyrics and original talent.
These days, most of us settle for posting new tracks to social media; but during a time when the Internet was just beginning to find itself, Mark Lieberman wanted to do more than just talk about his favorites. So he decided to take sharing one step further.
Photo Credit: Adam Macchia
Fresh out of business school, Lieberman found himself living in San Francisco and working for a private equity firm. But his real love was music. For him, his passion began around the age of 10 when he began to play guitar and write his own songs. Straying from doing too many covers, Lieberman began to appreciate music even more and started to understand the craft of writing a great song .
Photo Credit: Erika Goldring
While in SF, he was checking out local venues at least three times a week in order to scratch his music itch. But the problem with loving music and having a 9-5 job, is that shows tend to start late and getting friends to stay out with him until 2 a.m. on a weekday, was proving difficult. Thus began his living room sessions which would later emerge into a full-time job for him. "I just started to produce concerts in my living room as a way to expose the bands to new bands, and my friends to new music, and it always worked. It was like, '…If I can come to a friend's house on a Tuesday night, drinks at seven, concert at eight, and home by 10, I'm in,' and people loved it and they always bought the music," said Lieberman.
Photo Credit: Erika Goldring
Today, Lieberman is the Executive Producer for Live from The Artists Den, a three-time New York Emmy-nominated television show on PBS that features popular recording artists in unique venues throughout the U.S. Since launching their first show in 2009, the series has grown in popularity with added international markets and an online presence. They are currently in the process of taping Season 8.
Photo Credit: Colin Young-Wolff
Looking back at those early days and reminiscing on how it all began, Lieberman spoke with us about his journey with The Artists Den and where he hopes it'll be going. "This idea of creating what live music can be for people was driven off of [the living room sessions]. And then we just became much more inventive about the venues and we moved it out of my house," said Lieberman.
Photo Credit: Adam Macchia
The Artists Den works as a music platform for musicians to perform in non-traditional settings, and over the years, the venues have included a 1930s silent movie theater, The Metropolitan Museum of Art, Graceland, a Masonic temple, and The New York Public Library. In those settings artists such as Adele, Phoenix, Ringo Starr, Elvis Costello, Robert Plant, and Mumford & Sons have played to a select group of fans for a truly unique experience.
Photo Credit: Glen Brown
In the early days, the venues were chosen based on the art scene, but today as the show has developed a following and recognition in the music community, their latest season has been driven by the artist and their teams. "Phoenix in Season 7 very much wanted to play a concert for high school students at a school. So we scouted venues throughout Austin where they had given us a date where they could do a show after Austin City Limits, and we produced at the LC Anderson High School," shared Lieberman. "It was sort of a dream for them to do a show in a high school gymnasium as a huge arena-playing rock band."
Photo Credit: Colin Young-Wolff
One of the things that creates so much buzz around each of these events is that the venues are secret. This is done to protect the venues themselves as well as the artists. While entrance to the concert is free, fans must be invited. Every time a taping is announced, The Artists Den will get tens of thousands of requests for tickets in a very short period of time, which means lots of work on their end to filter through and create the right audience for the show.
Photo Credit: Adam Macchia
"It's really important to us to create these shows for free because we're trying to create a new fan for the artist. And we're asking people to give up that evening, and we feel by making it free, it feels really special, and they're just really up for anything," explained Lieberman. "So the show has always been free but the partners that we have like Lexus and CitiBank, these are all the folks that enable this to happen. They too feel like giving people an opportunity to see a different venue, it's all really a part of our values."
Photo Credit: Erika Goldring
If you look at the list of musicians and bands they've had come to their shows, you could say that they have done a pretty successful job of creating that one-of-a-kind experience. When asked about how they choose their artists, Lieberman shared that while it seems as though they look for the big mainstream acts only, many of their selections were actually not that well known at the time (such as Adele). Liebmerman also credits Head of Programming Alan Light (former editor-in-chief of Vibe and Spin magazines) and his team for creating a great list of acts to showcase.
Photo Credit: Erika Goldring
But you don't get Emmy nominations just for having big artists, it is evident in watching the episodes that those behind the shows themselves actually love what they do. When all is said and done, doing a project like this is all about the passion and the simple joy that comes from loving music and sharing it with people. "We've been doing this now on television for five years, and longer before even TV and it is still every time, incredibly exciting. We never feel jaded, we're always so in awe of what we've created. And I think a lot of it is that we're not filming artists in the same room every time…for us, these are all very, very special," expressed Lieberman.
Photo Credit: Adam Macchia
"I listened to R.E.M. when I was in college and seeing them on campus was so riveting, incredible and jaw-dropping, and then seeing them in a big arena, just felt a little hollow," said Lieberman. "I've always had this sort of proclivity to intimate concerts and that being a much better way to connect with fans. So this just grew out of a passion project of mine. It really wasn't meant to be anything more than a mission, but it is now; it's a cultural franchise that hopefully lives for tens and many, many years to come."
Photo Credit: Adam Macchia
Sharing some of his favorite moments from the show, Lieberman described watching Elvis Costello walk through the halls of the New York Public Library while singing Everyday I Write the Book, and listening to Robert Plant play two Led Zeppelin classics on a war memorial in Nashville on a snowy day. At the time of publication, fans were able to see Tim McGraw in Houston on March 30, but as for the other names and venues, you'll have to check out their site for more shows.
Photo Credit: Adam Macchia
And looking ahead, Lieberman said he'd like to see Pearl Jam and Radiohead do one of their shows. So if that does happen, you're more than likely going to want to have your name in that lottery. Check their website for local listings, watch videos of past episodes, and be a part of Lieberman's biggest living room session yet.