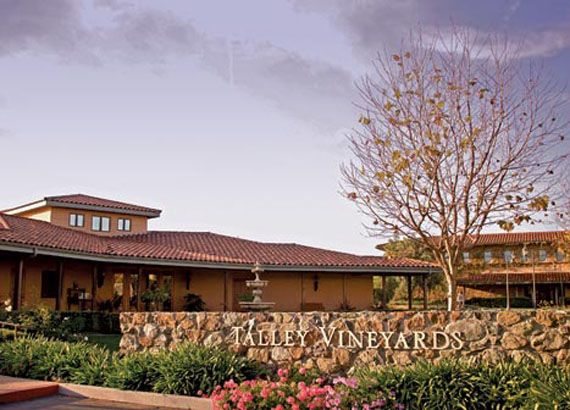 California Winery:
An Agricultural Legacy in Arroyo Grande Talley
Vineyards
carries on an agricultural legacy in Arroyo Grande and Edna Valley where the special climate and temperate growing season makes it an ideal location for growing great grapes.
A legacy of farming and the distinct flavors of Arroyo Grande and Edna Valley precede the current form of Talley Vineyards by more than 60 years. In 1948, Oliver Talley began Talley Farms, which became known for a variety of specialty crops long before wine grapes were the shining star of California agriculture. The special climate and temperate growing season created an ideal location, both then and now, where attention to sustainability and nature are held in high regard.


Today, the Talley family takes pride in the diversity of its vineyards, all representing this sense of place while expressing distinct Burgundian qualities in the fine Chardonnay and Pinot Noir wines for which they are known. Each of the four estate vineyards (the first of which, Rincon, was planted in 1982) displays specific characteristics that are gently handled to promote the highest regard for the nuances of the fruit. Constant attention to soil integrity, integrated pest management, and labor-intensive hand-farming techniques further illustrate the ways in which Talley strives for environmental harmony. Winemaker Leslie Mead contributes to this philosophy as well, bringing a long career in the wine industry coupled with natural resource management and chemistry that merges science with craft and respect for terroir.


Wine tourers planning a visit to Talley have a long list of tour and tasting options to choose from. The Estate Tour and Tasting takes them on an extensive tour of Rincon Vineyard. Guests are able to witness some of the farming methods Talley dutifully practices. They also see the historic El Rincón adobe, and the winery, including the barrel room. With a full understanding of how Talley makes its marvelous wines, guests are then treated to a private tasting . The winery also offers half-hour tours, special reserve and library tastings, and much more. Guests are encouraged to contact the winery's Guest Services desk before their visit for local information, advice, and tasting and tour reservations.


WHAT TO BUY:
'07 Estate Chardonnay Citrus, wet stone, green apple $26
'07 Rosemary's Vineyard Chardonnay Pineapple, buttered toast, honeysuckle $46
'07 Estate Pinot Noir Raspberry, cola, nutmeg, anise $36
'07 Rincon Vineyard Pinot Noir Blackberry, cedar, vanilla bean, earth $58


CONTACT: 805.489.0446
info@talleyvineyards.com
talleyvineyards.com
3031 Lopez Dr
Arroyo Grande, CA 93420
Tasting Room Open Daily 10:30–4:30

GETTING THERE: From Hwy 101, take the Grand Ave exit east. Stay in the left lane and go through Arroyo Grande. Turn right at the 3-way stop and follow signs for Lopez Lake. Drive 5.5 miles on Lopez Dr. The winery is on the left.