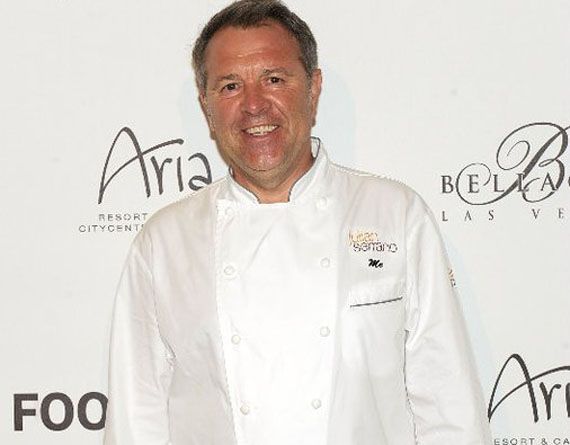 Photo Courtesy of Vdara Hotel & Spa
Foodies were starstruck, city socialites were keyed up, and JustLuxe staffers were Tweeting their thumbs off during Food & Wine All-Star Weekend at
Aria Resort & Casino
in Las Vegas.
While we were sometimes hard put to resist sneaking to the pool to catnap, or stopping by the Ketel One booth to get a custom-monogrammed scarf (reading
LushLuxe
, of course), we stayed true to the champagne-fueled itinerary. Because we know that only once in a great while can one find boldface talent including Michael Mina, Sirio Maccioni (and sons), Masa Takayama and Jean-Georges Vongerichten under one roof, hosting tastings, giving interviews, doing cooking demos, and snapping pictures with fans.
A series of interviews from All-Star Weekend will reveal cooking tips learned from star chefs, our favorite new discovery transplanted from one of Bangkok's top kitchens, and some things you never knew about chefs you always loved. Without further ado...
Interview #1: Chef Julian Serrano, of Julian Serrano at Aria
JustLuxe: You've helmed some of the priciest restaurants in the country, including Masa's in San Francisco and Picasso at the Bellagio. How have the past four years changed your approach to running a restaurant?
Julian Serrano:
I haven't really changed so much. But particularly in a restaurant, you have to be really prepared, and very careful. People compare you with other top cities such as San Francisco and New York. Fifteen years ago they didn't, because there weren't good
restaurants in Vegas
. In the last few years, there are so many good restaurants people read about, and they come in with more expectations. So the service, the kitchen, the décor, the quality of food - everything has to be top notch.
JL: Your restaurant at Aria is all about tapas. What Spanish region is the most exciting/inspirational for you?
JS:
The food explosion in Spain is everywhere right now. Every region is very big, and I like all of them. The tapas I notice are coming from the south of Spain. Here, we put a lot of energy into the tapas. There, they do the same.
JL: What is the one menu item at Julian Serrano that you want everyone to try?
JS:
I have a dish called
Huevos Estrellados
. It is one of the simplest dishes you can have, and one of the best to eat. The other day I checked the numbers to see how much of each dish we'd sold, from February of this year to last week. We sold more than 7,000 portions of this.
Everything together on the plate is magical. You put on your fork two pieces of chorizo, two French fries, two pieces of eggs. You have to do it to see how good, how simple, how perfect it is.
JL: What does the holiday season mean to you?
JS:
For me, autumn is one of the best seasons for the restaurant. I like the vegetables, the birds, the squash — there are a lot of good things coming into the restaurant. Also when it's cold, I like to eat. It makes my belly feel better. The winter holidays I don't like, because I have to work — so they're not so different from other days for me. But we do a lot of different menus. I have a turkey confit that I cook in the oven in lots of herbs and oil for six hours, then slice it. It's a fantastic way to do turkey.