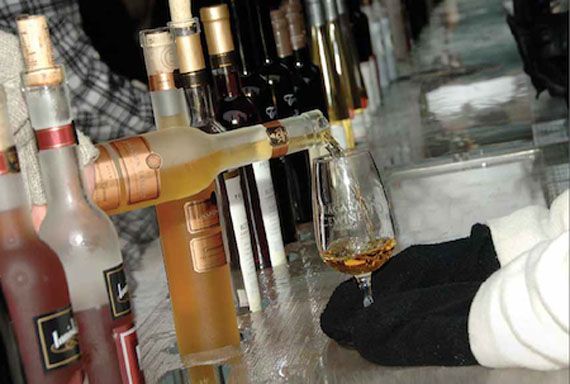 Photo Courtesy of IcewineFestival
With Thanksgiving under our belts, the eating is just getting better for winter, with
festivals
dedicated to wine, sweets, savories, and everything else a gastronomic adventurer likes.
Chocolate lovers pack your bags and prepare your sweet tooth for the
Jade Mountain Chocolate Festival
in St. Lucia on December 9-12. The event is new this year, and less of a "festival" than an experiential itinerary themed around the resort's own chocolate. Few people know of Jade Mountain's estate cacao plantation — much less its recent foray into boutique chocolate production — so the Chocolate Festival is an opportunity for the resort to showcase its new and rather decadent offering. The event includes a guided tour of the cacao plantation, a specialty spa day focusing on cocoa treatments, and one 5-course dinner entirely themed around chocolate.
Slow Food communities all over the world will celebrate
locavore dining
during the annual Terra Madre festival this week with dinners and parties, fundraisers and farmers markets. In Europe, 540 events are on the calendar from December 6-10, with the majority occurring on December 10, which is officially designated Terra Madre Day. Most of the events are quite small and for friends of local Slow Food chapters. However, in Italy, where the movement began, at least a half-dozen events will draw thousands of attendees. Of the 100 or so events on the North American calendar, Slowfood Toronto's Terra Madre Day, El Dia de Tierra in Michoacan, Mexico, and the Brickell Farmers Market Celebration in Miami are among the more sizeable events, with between 1,000-2,000 projected attendees. Get a complete listing at
SlowFood.com
.
Niagara's annual
Icewine Festival
is scheduled for January 13-29. On the weekends, a $30 "Discovery Pass" offers special-access tastings along the local wine trail, while the town of Niagara-on-the-Lake will present live entertainment and special tastings along Queen Street. January 13-15 is the main event weekend, with a Masquerade Gala, Winterfest in Market Square and other large tastings of the region's head-spinningly sweet "liquid gold."
Also in January, a chance to sample the best European gastronomy of the moment: Portugal's Sixth International Gourmet Festival is scheduled for January 13-23, 2012. The unique offering at this festival is that only Michelin-starred chefs are invited to participate. Many are from Portugal, but the program also includes Italian, Swiss and German notables, plus two of Manhattan's finest. Laurent Gras of New York is on the three-star tier, alongside Nils Henkel of Lerbach, Germany, Joachim Wissler of Schloss Bensberg, also in Germany, and Alain Passard of Restaurant Arpege in France.