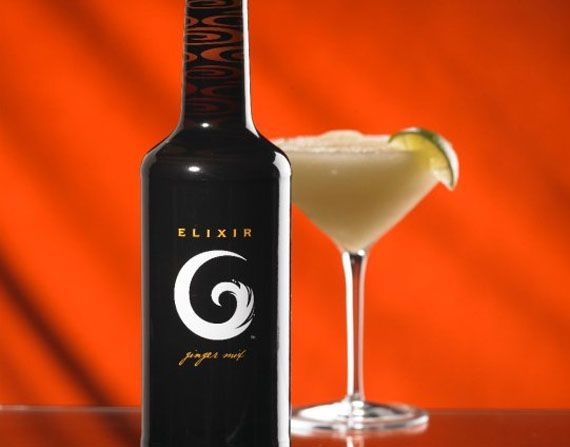 Photo Courtesy of Elixir G
For three years, Elixir G, the world's only liquid ginger, has been making waves at restaurants and bars around the country as the latest mixer. Now Elixir G is available in stores and consumers have started adding it to their favorite drinks and dishes for an exciting twist.

Based in Los Angeles, Elixir G is responsible for creating new categories of ginger cocktails around the country. After winning "Best In Show" and "Best New Beverage" at the West Coast Food & Beverage Expo, Elixir G quickly sold into all P.F. Changs and Benihana locations nationwide. Bartenders were enthralled with the opportunity to give their patrons something sweet and spicy in a variety of ginger margaritas, ginger martinis, ginger mojitos and other creative beverages, alcoholic and non-alcoholic alike. Patrons soon began clamoring for their own bottles of Elixir G and would special order it.

Elixir G is a ginger concentrate made with an enormous amount of fresh ginger root. Founded by Bill Tocantins, Elixir G sources the best ginger root in the world from countries including Thailand, India and Brazil. Once tested for excellence, the ginger is flown in and then bottled in Riverside, California where lemon juice and pure cane sugar are added to the ginger root extract. No preservatives, chemicals or dyes are added to the ginger mix and Elixir G can be expected to last up to a year after opening.


As more and more people have gotten creative with the concoction, Elixir G has moved from the bar into the kitchen. The spicy, sweet drink mix has become a key ingredient in new favorite dishes including fat-free ginger salad dressing, sweet ginger shrimp, or even desserts like ginger beer floats. I added Elixir G to a vodka and soda for a fresh way to enjoy a standard cocktail. It definitely perked up my taste buds and I look forward to adding it to many more libations.

The ginger flavor seems especially perfect for the holidays, with all the aromatic spices that are typically added to dishes. Try the Mistletoe Martini for a creative cocktail your holiday party guests won't soon forget.

Mistletoe Martini
1½ oz vodka
½ oz triple sec
½ oz Elixir G
½ oz cranberry juice
Serve in a sugar-rimmed martini glass and garnish with mint leaves and a cranberry.

Elixir G can be found at Bristol Farms locations throughout California and at ElixirG.com.