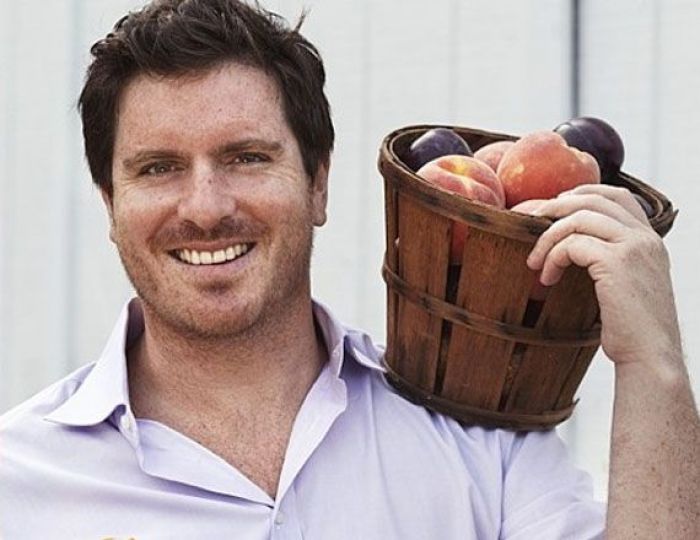 Photo Courtesy of Andrews McMeel Publishing
You probably don't need another book to tell you that nutritious food can also be delicious, but Chef Seamus Mullen provides some beautiful inspiration in his new
cookbook
,
Hero Food: How Cooking With Delicious Things Can Make Us Feel Better
.
Seamus Mullen was a chef in New York cooking Spanish cuisine when a diagnosis of rheumatoid arthritis forced him to take a closer look at the way he was living his life. Mullen, who is the the chef and owner of Tertulia in New York City was a finalist on the Food Network series,
The Next Iron Chef
in 2009. His study of nutrition and his disease led him to adopt the usage of 18 "hero foods" that offer vital nutrients for health.
Mullen doesn't just offer recipes featuring these 'hero foods,' he gives each one a complete profile full of luscious imagery and evocative prose. His treatment of these foods is akin to a glossy magazine's profile of a top-tier celebrity. The recipes draw on Mullen's Spanish training and use of hearty, rich countryside flavors and combine fresh vegetables, spices and whole grains in filling and substantial meals.
Salt cod makes many an appearance as do Marcona almonds, sofrito, and anchovies (those little fish are rich in omega-3 fatty acids that can help the joints). Spanish and Basque flavors are bold, hearty and spicy, and Mullen combines them with simple American tastes and techniques. The chef's upbringing in Vermont is also a key influence. He is a firm believer in seasonal eating and he is keenly aware of issues of sustainability and chemical and genetic intervention.
Mullen includes plenty of tips for food preparation including how to filet anchovies, cook garbanzo beans, and cure raw fish. He features many
recipes
for pickling and preserving both vegetables and fish. There are also numerous ways he instructs on how to add flavor such as seasoning the water used to cook potatoes with garlic and chiles or adding ribbons of carrot to cooking pasta for extra color and crunch.
Mullen isn't a dessert chef so there are only a couple of sweet treats sprinkled throughout the book. He is a self-proclaimed meat guy and the pictures of butchered lambs at one point in the book may throw a few more sensitive readers for a loop. But his loving treatment of fresh produce, including a popular recipe for grilled Tuscan kale, gives plant-centered omnivores plenty to chew on.  
Calorie counters may want to dial back on the olive oil which appears in large quantities in just about every recipe. The book doesn't dwell too long on the nutrition or on food combining, instead this is simply a lush tribute to food that tastes good and may also be good for you. Visit
AndrewsMcMeel.com
to learn more and order your copy.
{start-jlvideo}470{end-jlvideo}