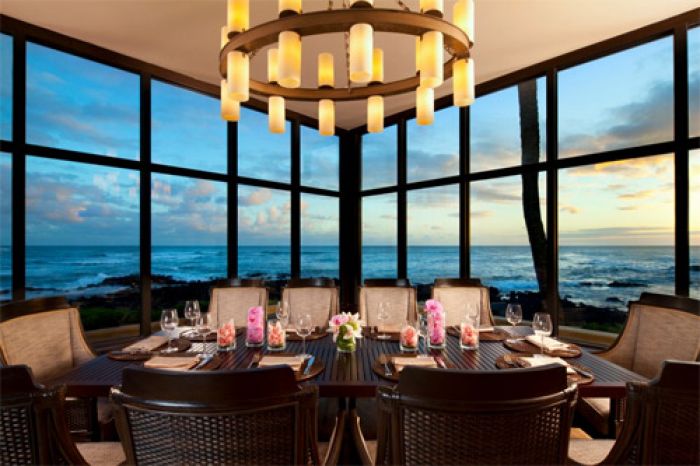 Photo Courtesy Sheraton Kauai Resort
Some of the best culinary advice this local Big Islander ever received was from Executive Chef John Zaner about 20 years ago at the
Hawaii Hyatt, Maui
when she was just beginning her cooking career. She had decided to further hone her skills she needed to attend the CIA in Hyde Park. So one day she marched up to Chef Zaner and handed him her letter of resignation.
He took one look at it, tore it in half and firmly told Leanne, "You are not going to culinary school, because if you do, in two years time you're going to be right back here asking me for a job and you'll also be $60,000 in debt from student loans. Instead, you are going to stay here and enter our apprenticeship program, where you'll learn everything you need and save yourself a ton of money."
Three years later, Kamekona completed the program and has since gone on to achieve numerous awards and accolades. After spending the last nine years cooking at some of the
best restaurants in Southern California
, in the desert no less, Leanne is thrilled to be back in Hawaii where she is currently the Executive Chef at Sheraton Kauai Resort.
She's wildly enthusiastic about their new RumFire restaurant, which showcases Kamekona's unique blend of traditional Hawaiian cuisine infused with exciting international twists. Take a look below at our exclusive interview with Chef Kamekona and find out insider details about the new restaurant and her most embarrassing culinary experience.
JustLuxe: Did you always want to be a chef?
Leanne Kamekona
: Not really. I was attending art school, where I really enjoyed doing pottery. I started working part time in the butchery department of a family-owned grocery store on the Big Island of Hawaii and that's when I knew I got hooked.
JL: What was it like, being a woman in a hotel kitchen in Hawaii back then?
LK:
My first job was in the butcher department at the Hyatt. I was the only girl working with five men and yeah, they certainly were testing me. But, (big grin here) they totally shut-up after they saw me break down a 200 pound ahi. It was easy as pie for me, after working at the grocery.
JL: What is your favorite Hawaiian ingredient to work with?
LK:
I love using all the pink, grey and black salts. They really bring all the ocean flavor out of the food.
JL: Where do you like to eat on your day off?
LK:
There's a great little hole-in-the-wall restaurant, Monico's Taqueria, where they make the most amazing fish tacos.
JL: Most embarrassing culinary faux-pas?
LK:
Once when I was doing a demo on stage in front of a huge crowd of about 500 people I totally gave the wrong hotel name when asked where I was working.
JL: What dish is a must-order on your menu?
LK
: Probably the Crab-crusted Opah. Oh, and you have to start with the Bacon and Beet Salad.
P.S. Don't miss the signature taro cinnabuns at the extensive breakfast buffet.
Visit our recipe pages To learn how to prepare one of Kamekona's signature
RumFire Sirloin Steak
.
To learn more about Rumfire visit
RumFireKauai.com
.