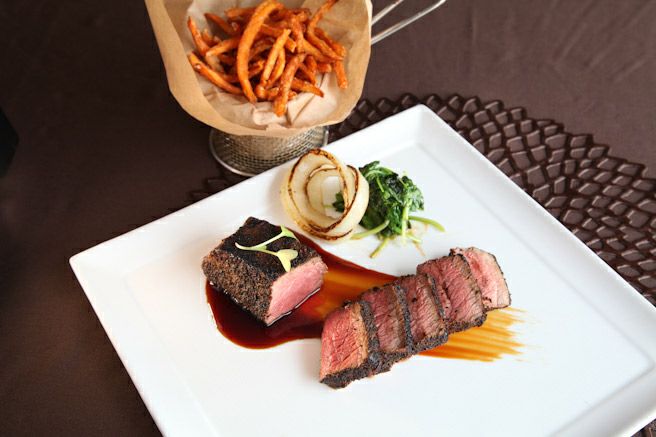 Photo Courtesy of Sheraton Kauai
Executive Chef Leanne Kamekona shares the secret behind her delicious RumFire Sirloin, served at the new RumFire Restaurant at the Sheraton Kauai.
Ingredients:
The Steak
6 oz. Sirloin Steak
1 Tbsp Kauai Coffee Rub*
Vegetables
1 Slice Kula Onions, cut in ? inch thick rings
2 oz Tatsoi or baby spinach
1 tsp. Madras curry
2 oz Demi glace or Au Jus
4 oz Sweet Potato Fries
Salt and Pepper to taste
Directions:
Rub sirloin steak with coffee rub; let steak marinade for 15 minutes.
Preheat sauté pan and add olive oil. Preheat Oven 350 degrees.
When sauté pan starts to smoke, sear steak 1-2 minutes per side. Place steak inside oven and cook to desired doneness.
In the same sauté pan, put onions and caramelized each side about 3 minutes per side.
Remove onions and set aside.
Sauté Tatsoi or spinach in the pan until wilted, seasoned with salt and pepper.
In a separate pot or portable deep fryer place sweet potatoes fries until done and set aside. Heat Demi Glace or your favorite steak sauce.
Assemble all items in a plate.
Enjoy!