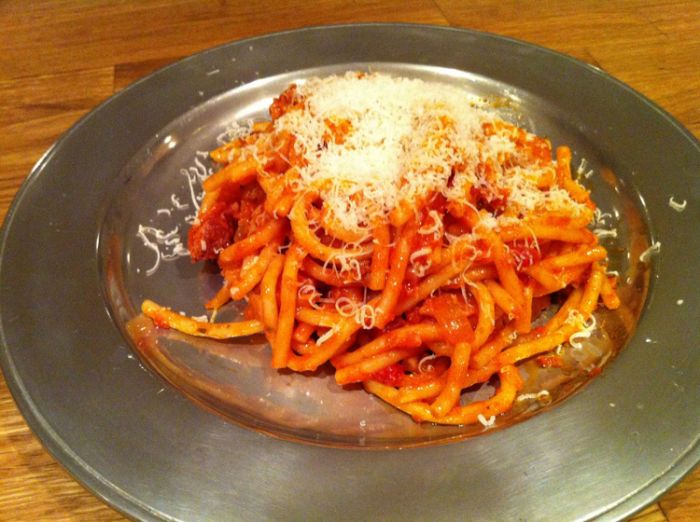 Photo Courtesy of Patrick Brys
Patrick Brys of Brys Estate Vineyard has brought this delicious pasta recipe that you can whip up in an hour.
This is a fantastic pasta dish that will transport you directly to the heart of Italy! Bucatini is a pasta noodle that looks like spaghetti, however it's hollow in the center resulting in a long tube that absorbs the sauce beautifully.
Servings:
4-6
Cook Time:
45 minutes
Pair With:
2009 Brys Estate Vineyard & Winery Cab/Merlot
INGREDIENTS:
1 lb bucatini pasta (sometimes also labeled Perciatelli)
1 28 oz can whole San Marzano tomatoes
3/4 lb thickly slicked applewood smoked bacon - cut crosswise into 1/4 inch lardons
1 sweet onion, diced
4 cloves garlic, minced
1/2 cup freshly grated Pecorino Romano cheese plus more for serving
1 tablespoon tomato paste
3/4 teaspoon red pepper flakes
Extra virgin olive oil
1 teaspoon salt - I prefer Kosher
1/4 teaspoon fresh ground pepper
DIRECTIONS:
Remove 4 tomatoes from the can and set aside in a small bowl. Dump the remaining tomatoes in the can and the sauce from the can into a blender. Add the tomato paste and puree. Then using your hands pull apart the 4 whole tomatoes which were set aside into medium sized pieces. Combine the pureed tomatoes with the hand shredded tomatoes and set aside.
In a large sauce pan over medium-low heat, add the bacon and sauté until most of the fat has rendered from the meat and the bacon is golden brown. Drain all but 1/4 cup of the fat out of the pan. Add chopped onion and 1/2 teaspoon salt to the pan and cook until the onions are translucent. Add the minced garlic and red pepper flakes and sauté for a couple minutes more.
Add the tomato mixture to the pan along with 1/2 teaspoon salt and 1/4 teaspoon fresh ground pepper. Bring the sauce to a simmer and continue to cook partially covered for 15 minutes. (Note that the sauce can be made up to this point in advance and re-heated before serving.)
Meanwhile, bring a large pot of salted water to a boil. Add pasta and cook following the instructions on the box or until al dente.
Once pasta is cooked, drain and add the hot pasta to the sauce. Add 1/2 cup grated Pecorino Romano cheese and drizzle with olive oil. Toss vigorously to combine.
Plate the pasta and serve garnished with additional grated Pecorino Romano cheese.