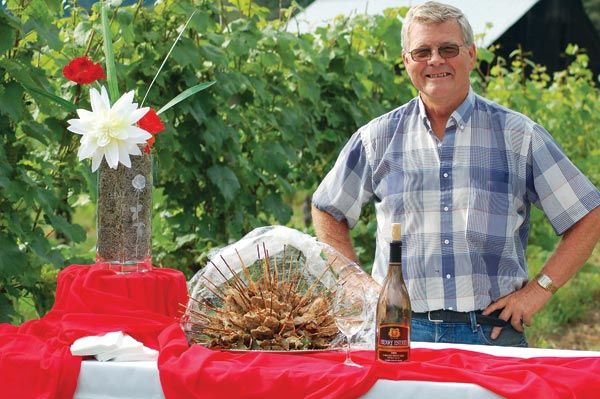 Photo Courtesy of Henry Estate Winery
Backed by a family history of farming that dates back to the 1880s, Henry Estate Winery has an excellent reputation for viticultural management and innovation. In fact, Scott Henry, a former aeronautical engineer, designed the Scott Henry Trellis System, now used in vineyards worldwide.
Today, three generations of the Henry Family operate the vineyard, located in Southern Oregon's beautiful Umpqua Valley. They grow an impressive assortment of varieties including Pinot Noir, Chardonnay, Gewürtztraminer, Müller-Tburgau, Pinot Gris, and White Riesling, yielding wines that are full of character and flavor. The wines consistently receive high ratings from Wine Spectator and Wine Enthusiast Magazine.
Although Henry Estate wines can now be found in 24 states and five foreign countries, nothing quite beats a visit to the winery in the Umpqua Valley. The Henrys believe that hospitality is as important as excellent farming practices, and they have the tasting room to prove it. Guests are greeted warmly. Families and pets are welcome, and the parking lot even has designated parking for RVs. There's a great gift shop, and the tasting bar presents a long list of interesting varietals and blends, including many "best buy" wines. Recently, Henry Estate Winery was awarded the Governor's Tourism Award by the Oregon Governor's Conference on Tourism for creating one of Oregon's finest tasting destinations. The plaque reads, "The quality, diversity, and elegance of Oregon wine is matched only by the intimacy and richness of the experience you provide our visitors every day."
Henry Estate also offers an exceptional number of fun winery events throughout the year. Among the most popular is "Henry Goes Wine," held each year on the third Saturday of August. The all-ages-welcome event encourages everyone to bring their lawn chairs and families for a full day of fun.
From its first-class vineyards to its award-winning tasting room, Henry Estate Winery celebrates family tradition in an exemplary way.
What to Buy:
'07 Barrel Select Pinot Noir: Cherry, rich ripe fruit, spice $30
'09 Pinot Gris Perfume: Peach, apricot, light smoke $15
'10 White Riesling: Apricot, peach, honey, citrus, spice $12
Contact:
800.782.2686
info@henryestate.com
HenryEstate.com
Tasting:
Tasting Room Open Daily 11–5
687 Hubbard Creek Rd
Umpqua, OR 97486
Special Notes:
Gift shop, tours by appointment, picnic grounds, pet friendly, weddings and receptions, and owner on site.