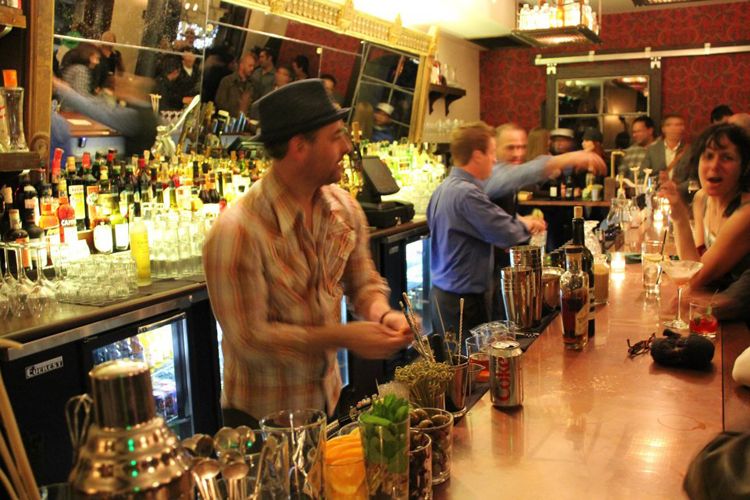 Photo Courtesy of Justice Snow's Restaurant + Bar
Hailing from Denver's TAG and Williams & Graham, maestro of mixology Joshua Peter Smith (J.P.) can shake up some marvelous spirit infusions. Partner that with choice cuisine locally sourced in Aspen, Colorado and we give you
Justice Snow's Restaurant + Bar
. A brainchild of Michele Kiley and Marco Chingolani, the restaurant's 2012 opening brought deserved acclaim to their rustic 1920's styled interior and impressive menu courtesy of Chef Jonathan Leichliter. A night of top-shelf quality food, ambiance and drinks guarantees you won't want pinch yourself out of this little Aspen dream.
Photos Courtesy of 2Sense-Los Angeles
Whether you choose a drink you're familiar with or dabble outside of your comfort zone, quality and execution reign supreme behind J.P.'s antique bar. Unleashing a maelstrom of scrupulously crafted cocktails — such as the "Antarctique" Boca Loca Cachaca that features St. Germain, pineapple, rhubarb, black walnut bitters, and topped with quail egg foam — J.P. is responsible for the 25-page drink menu that few can navigate...doing so with ease.
"I come from a chef household and have worked in kitchens for years," says J.P. as he gently garnishes our drinks with flamed orange rind. "I think a lot about the flavors that go into my drinks." Taking full advantage of our ability to walk back to our nearby Aspen hotel, we sampled a wide breadth of libations. We imagine the "Tequila Fresco" Hacienda Sotol Blanca (French floral liquor, Meszcal, cucumber, grapefruit, lime, mint and agave over ice) will be the sip of the summer season. In addition to specialty cocktails, the menu offers equally impressive aged labels and craft beers, along with pitchers and punch bowls for group fun.
More than satisfying our liquor-induced hunger, we became instant fans of Chef Leichliter's Southwest boldness meets Mediterranean cuisine. A bright Beet & Kale salad anchored by a sumptuous Humboldt Fog Goat Cheese and toasted hazelnuts was a beautiful first bite. The seasonally changing grilled flatbread crunched at every nibble and ours that evening was delightfully topped with farmer's market cherry tomatoes, garlic and fresh herbs.
Preparing for his spring menu, Chef Leichliter pulled out all the stops, serving up a Grilled Niman Ranch Tomahawk Rib Chop cooked to tender pink perfection. Alongside the chop, tempura butternut squash, zucchini and housemade bacon hash with Guajillo-Goju Chang jus added delightful texture and deep flavor. Finally, a layered chocolate cake drizzled in salted caramel and a rendition of key lime pie put the sweetest final touch on our tasty visit.
Justice Snow's is certainly the place to be in Aspen for lunch, dinner, drinks and even live music on Thursdays — which also means that making a reservation is a good idea.