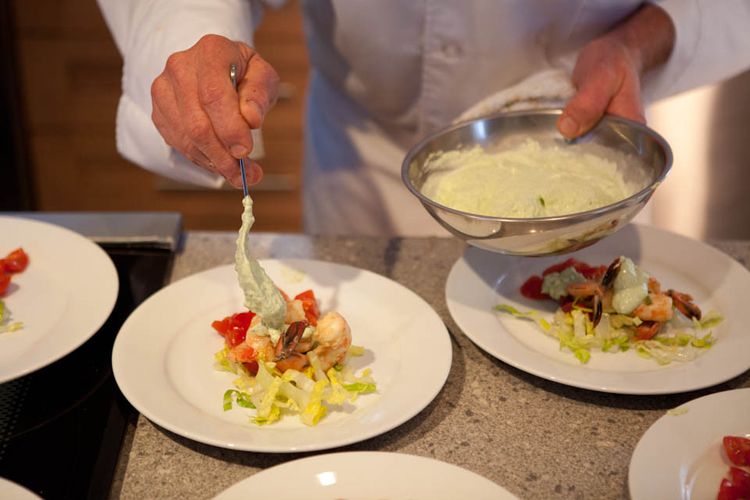 Photo Courtesy of New Orleans Cooking Experience
After arriving at the New Orleans Cooking Experience​ (NOCE)​, I knew I was in for a great cooking class when the first words out of Frank Brigtsen's mouth (a fifth-generation NOLA chef and owner of Brigtsen's Restaurant) were, "Food is about sharing, not about keeping secrets."
Full of classes that celebrate the traditional Creole and Cajun cooking of Louisiana, NOCE features traditional and historic recipes taught by their family of well-known chefs. Fun-filled classes include personalized instruction, unlimited wine service, complete recipe packets, and a tour of the house and dining. Following your cooking class you will enjoy a seated dinner served party-style in their charming private dining room. ​
Two hours into my lessons, I was still scribbling as fast as I could to get down every last pearl of culinary wisdom gleaned from Chef Brigtsen. Paying it forward, here are some of his best tips and one of his fantastic recipes!
Photo Courtesy of New Orleans Cooking Experience
How to Make a Great Gumbo
First and foremost, the single dish which best personifies NOLA food is gumbo. If you are a southerner and asked, "Who makes the best gumbo?" The correct answer is always, "My mama!"
Interesting back story: Gumbo comes from the African word "gombo," meaning okra. According to Chef Brigtsen, okra was so valued in Africa that when slaves were shipped to the Americas, they hid okra seeds in their hair.
Chef Brigtsen told us, "Two things you must master if you want to cook good NOLA food is brown roux and rice! Brown roux is essential to Cajun cooking. Cajun food is humble food prepared by cooks who want to make their family happy, but have very little money to spend on food. Therefore, a flavorful roux is essential for providing soul."
Photo Courtesy of New Orleans Cooking Experience
Brown Roux Tips
Frank's motto is, "In good cooking, color equals flavor and brown is the color of flavor." He explained that roux passes through stages of color, from beige to caramel to peanut butter, finally reaching a dark chocolate fudge color which you'll need for your gumbo.
To speed up the roux-making process, you can pre-heat a cast iron skillet with oil to about 375 degrees, and then whisk in the flour.
Another good time-saving tip is to can make a batch of roux (enough to last a few days) and set it aside at room temperature. The excess oil will rise to the top, which you can discard before using.
Photo Courtesy of New Orleans Cooking Experience
Perfect Rice Tips
"Too many people don't give rice the respect it deserves," Frank explained to us. The key to preparing perfect rice is the ratio of rice to liquid. Frank recommends local Jazzmen aromatic white rice.
If you are making a seafood gumbo, Frank had another thrifty suggestion. After peeling the shrimp for the gumbo, cover the shrimp shells with cold water, bring to a boil and then simmer for 30 minutes. Drain and use the flavorful shrimp stock for cooking your rice.
For perfect results every time, Frank uses two cups rice to 3.5 cups liquid, and cooks it for exactly 17 minutes.
Frank Brigsten's White Chocolate Bread Pudding
Since a meal without dessert is like a day without sunshine, Chef Brigtsen graciously shares one of his most popular desserts.
Chef's Notes: Bread pudding is the most traditional of New Orleans desserts. As French bread is served at most New Orleans meals, there is almost always leftover bread that turns stale. This is the perfect way to utilize that stale bread. You may use this recipe as a base for many interesting variations by adding other ingredients such as pecans, bananas, dried fruits, chocolate chips, coconut, etc.
Yields: 12 servings
Ingredients:
3 cups milk
1 pound white chocolate
1 vanilla bean, split lengthwise (or 1 teaspoon vanilla extract)
6 eggs
1/4 teaspoon ground nutmeg
1 teaspoon ground cinnamon
2 tablespoons granulated white sugar
3/4 cup raisins
12 cups stale French bread, diced into 1/2-inch pieces
For the Sauce:
1 cup cream
3/4 pound white chocolate
Photo Courtesy of New Orleans Cooking Experience
Directions:
Preheat oven to 350 degrees.
In a pot, add the milk, 1 pound of white chocolate, and the split vanilla bean. Cook over low heat just until the chocolate is melted. Stir and scrape the pot occasionally with a rubber spatula. After the chocolate is melted, remove the vanilla bean and scrape the seeds from the pod and add the seeds back into the chocolate cream. Refrigerate until fully chilled.
In a mixing bowl, add the eggs and whisk until frothy. Add the nutmeg, cinnamon and sugar. Whisk until well blended. Add the white chocolate cream and raisins. Whisk until well blended. Add the French bread to the custard and stir until the bread has absorbed most of the liquid.
Pour the bread pudding into a shallow baking pan. Place the pan into a slightly larger pan and add about one inch of hot water to the larger pan to form a water bath.
Bake uncovered at 350 degrees until the center of the pudding is no longer runny; about one hour.
Directions for Sauce:
In a small pot, add the cream and 3/4 pound of white chocolate. Cook over low heat just until the chocolate is melted and smooth. Stir and scrape the pot occasionally with a rubber spatula. Serve the sauce warm.
To serve, slice the bread pudding into 12 squares. Serve 3-4 tablespoons of warm sauce over each portion.
Photo Courtesy of New Orleans Cooking Experience
Photo Courtesy of New Orleans Cooking Experience
Photo Courtesy of New Orleans Cooking Experience
Photo Courtesy of New Orleans Cooking Experience