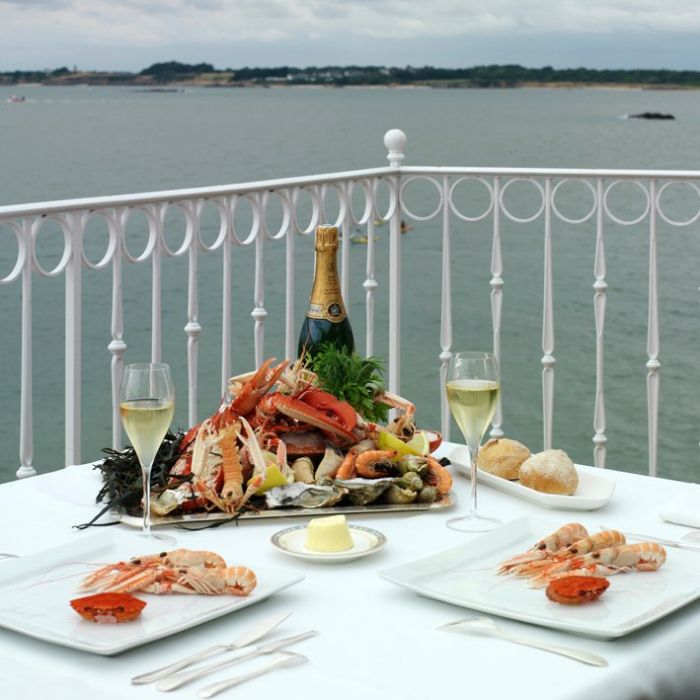 Photo Courtesy of Le Domaine de Rochevilaine
Not to mix spirituality with gourmet cuisine, but Domaine de Rochevilaine in Brittany, France granted us the only opportunity we've ever had to share a "sole" with someone. And what an uplifting experience it was too. Deboned, drizzled with a savory butter sauce and served tableside, the fish was without doubt one of the largest sole we have ever seen. Seated in the classically-furnished restaurant with wonderful views over the jagged rocks below and the coastline across the Vilaine estuary in the Morbihan region, the fresh fish was but one of the fine dishes we enjoyed during a short stay there.
The importance of ambiance as a key ingredient in any memorable dining experience is not lost on veteran hotelier Bertrand Jaquet, who has created "visual amuse-bouche" for guests in this Relais & Chateaux property. Pre-dinner drinks are served in one of two relaxing rooms, one of which is lined with historical artifacts with book shelves and old nautical photographs lining the walls—it even has an impressive stone-faced, open fireplace.
Photo Courtesy of Columbia Hillen
The other room is hexagonal in shape and boasts an even larger fireplace with a stone sculpture of two lions lying between a medieval helmet with a dragon on either side. The emblem of two lions permeates the property, with staff saying it is of English origin (not French), perhaps linked to the Knights Templar. Attention to detail is obvious, with each sitting room having a very distinctive character. For example, one has sleek rounded leather armchairs, while the other has straight-backed chairs. When you visit, take it from us and ask for a table either in the corner room at the end or by a window—from there the sunsets are simply gorgeous.
The dining-room is impressive too, with oak floors and diverse 600-year old wood carvings adorning the walls—we spotted a troll-like figure, a bag-piper, two peasants carrying a pine nut and various animal heads. There are also large paintings of medieval ships at sea, hanging lamps, and soft armchair-like seating.
Photo Courtesy of Le Domaine de Rochevilaine
Enough of the ambience though, because the food is really why you should visit. The dinner menu at Domaine de Rochevilaine (it also serves lunch) changes daily and runs the entire gamut of culinary delight, from amuse-bouche (like fresh tuna tartare, foie gras and chicken, and spinach and cheese pie) to main dishes that encompass fish, seafood, frogs' legs, escargot, pigeon, lamb and duck. The desserts aren't left out either, with complex creations such as rolled crêpes with pear sorbet, caramel and cider; and dacquoise au cacao (layered cake with almond and hazelnut meringue) with ivory ganache and chocolate filling.
Photo Courtesy of Columbia Hillen
Aside from the sole, highlights include a multi-tiered lobster dinner with Breton crêpes with a cider sorbet for dessert, followed by a delicious array of local and international cheeses that are served with violet and raspberry chutney. The salpicon-style pre-starter featured pieces of lobster, accompanied by honey, celery leaf and crunchy carrots, served with freshly-baked bread. Combined, these fashioned a balanced mix of sweet and savory taste. Two starters followed, both decidedly different. In one, lobster-claw meat was poached and served with sesame-seed Chinese rolls, fresh cilantro and steamed asparagus, while in the other it was roasted and served with asparagus tempura and red and yellow pepper sauces. The main lobster dish was served with pasta, featuring a bisque and grapefruit sauce reduction poured slowly over it tableside.
Photo Courtesy of Le Domaine de Rochevilaine
Bertrand Jaquet, who bought the four-star Relais & Châteaux property 18 years ago after managing it for four years previously, is assisted by his daughter Cécile, who runs the restaurant. Together they have developed a pretty impressive wine cellar and throughout our meal we had the pleasure of sampling some of the finest, including those from Château du Breuil in Anjou; Domaine Yann Chave from the Côtes-du-Rhône; and Domaine du Pas de l'Escalette from Languedoc.
A pleasing ambiance with visual treats both inside and out, delicious dishes, and a comprehensive wine choice make Domaine de Rochevilaine your next must-visit French restaurant.
Photo Courtesy of Le Domaine de Rochevilaine
Photo Courtesy of Columbia Hillen
Photo Courtesy of Columbia Hillen
Photo Courtesy of Columbia Hillen