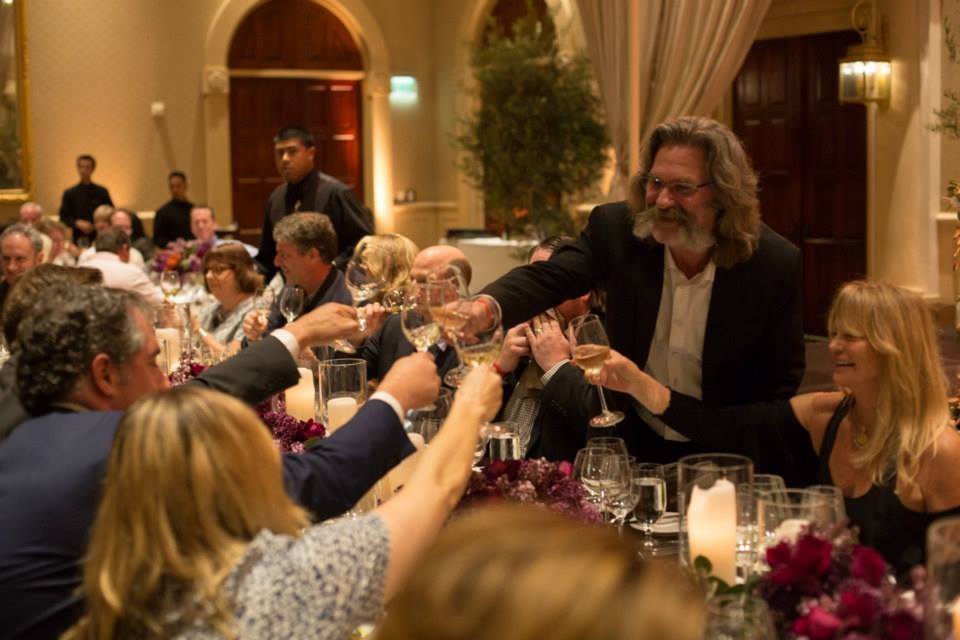 Photo Credit: Bacara Resort and Spa
Although Julia Child is no longer with us, her spirit is alive and cooking. Besides the film Julie and Julia, there is probably no finer tribute to her memory and culinary contribution than that of the annual Bacara Resort's Santa Barbara Food and Wine Weekend. After all, Julia chose to live out her final years in the area and, as we and many others can attest, she was a regular at the Saturday Farmers' Market and her favorite neighborhood restaurants. She was approachable, chatty and always eager to share a food find. Embracing this same spirit, the food and wine event, dedicated in her honor, is filled with exuberant, lively interchange between the experts and the guests who want to explore, learn, eat, commemorate and make this event a yearly must. Plus, this year brought out celebrity power couple Kurt Russell and Goldie Hawn.
Photo Credit: Michael Reiss
The Santa Barbara Food and Wine Weekend's pièce de résistance is lodging at the spectacular oceanfront Bacara Resort and Spa, which showcases the beauty of Julia's beloved community. Between events, the sprawling resort (offering golf, spa treatments, several restaurants) is the perfect spot to toast Julia and her spirit of casual, relaxed living with style.
Photo Credit: Bacara Resort and Spa
This year's event got into full swing on April 17, which gave guests the choice between enjoying a winemaker day at Foley Family Wines or an intensive Cattle Ranch tour. The official "Opening Reception and Screening" of a video tribute to Julia started in the Bacara Ballroom Screening Room at sunset. Touching personal anecdotes were artfully presented by a lifelong friend, Dorie Greenspan, and noted baking expert Geoffrey Drummond (Julia's TV producer and director). We sipped sparkling wine and nibbled on goldfish crackers, two of Julia's lifelong favorites. We chuckled as Chef Julia placed dropped food back in the pan, quipping, "Who cares? It's your kitchen," and we delighted in hearing the backstage banter and preparation that went into each episode of Julia's well-planned but spontaneous-looking productions.
Photo Credit: Michael Reiss
Following the screening was a strolling "taste around" the Bacara Outdoor Terrace. This gourmet experience featured the region's most noted wineries and accompanying bites from the talented Bacara food team. Highlights included "Lamb Chops on Red Cabbage," "Short Ribs on Cauliflower Puree," "Prawns on Risotto," "Mushroom Medley with Kale," "Quinoa Cakes," and a toothsome array of cheeses and charcuterie, as well as pastries and chocolates for dessert.
Photo Credit: Michael Reiss
Sandwiched between numerous stimulating morning and afternoon classes, acclaimed Los Angeles chefs Suzanne Goin and David Lentz presented a "locavore" (locally grown) lunch on the Ocean Lawn. Among the items served were "Local Rock Cod Ceviche," "Grilled Asparagus Salad," "Salmon with Beets and Green Goddess Dressing," and "Chicken Paillard"—all accompanied by Alma Rosa Pinot Gris and Pinot Noir Wine. Dessert was McConnell's Sweet Cream Ice Cream atop sweet corn sugar cookies with a berry coulis.
Photo Credit: Bacara Resort and Spa
The classes at the Bacara Resort's Santa Barbara Food and Wine Weekend we selected included a surprisingly engaging "History of the Cookbook." This class was presented by Anne Willan, founder of La Varenne cooking school in Paris, and tought us plenty of neat factoids. According to the experts, the origin of the toque worn by chefs was literally to keep them cool in the kitchen by providing plenty of circulation inside that airy, tall space. Bet you didn't know that.
Photo Credit: Bacara Resort and Spa
The afternoon came to a rousing finale with a spirited debate between Russ Parsons, Los Angeles Times Food Editor, and The New York Times Cooking Writer Kim Severson, about the culinary supremacy of east coast versus west coast. Lasting well beyond the time allotted, the conclusion of the debate was that both coasts, east and west, as well as all the areas in between, have uniquely contributed to the exponentially growing interest in the culinary arts that has swept the country.
Photo Credit: Bacara Resort and Spa
The Bacara Ballroom was abuzz on Saturday evening for the Grand Wine Dinner hosted by actor and winemaker Kurt Russell. With a beard straight from the Civil War and his wife Goldie Hawn beside him, Russell regaled guests with stories of what inspired his GoGi Wines. The four-course "Ranch to Table" dinner also featured Hudson Bellamy Wines (the brainchild of former partners actress Kate Hudson and musician Matt Bellamy) and Ampelos Cellars.
Photo Credit: Bacara Resort and Spa
The Sunday Neighborhood Tasting event introduced guests to over 30 local restaurants, producers and artisan purveyors. Live music, beer, wine and delectable bites made for a magical finish to a memorable weekend. As Julia wrote in My Life in France, "This is my invariable advice to people: Learn how to cook—try new recipes, learn from your mistakes, be fearless, and above all have fun!"
Julia Child would surely endorse the Annual Bacara Resort's Santa Barbara Food and Wine Weekend as a delicious way to heed her advice!
While single event tickets are available, we recommend getting the All-Access VIP Pass next year, which costs $599.