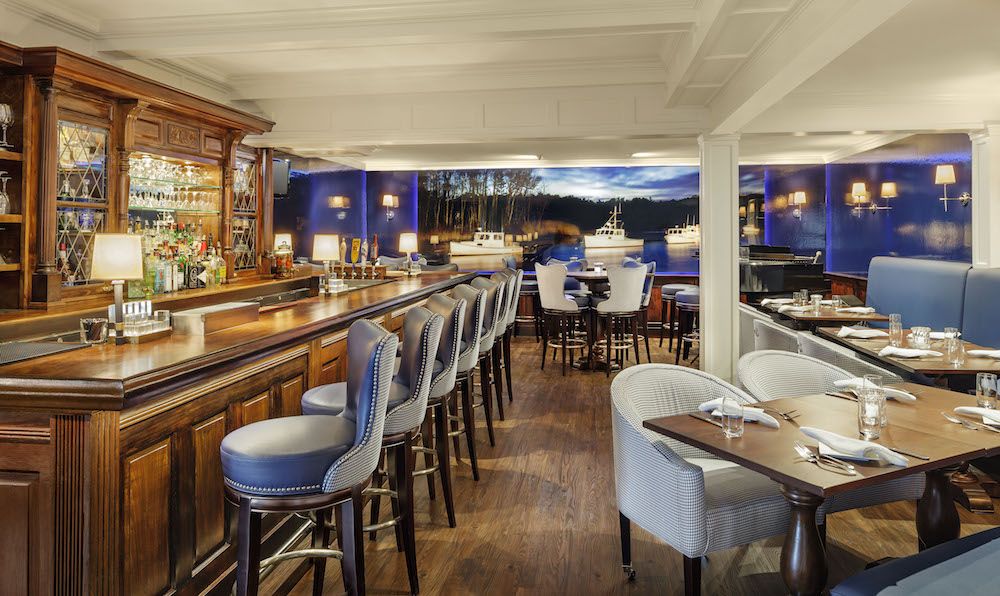 Photos Credit: Kennebunkport Resort Collection
Maine's famed seaside resort town Kennebunkport, where the Bush family spends its summers, is gaining acclaim for its great roster of restaurants. This summer another major player will add some heat to the scene with the opening of One Dock Prime, the town's first steakhouse, which will be found in the chic Kennebunkport Inn.
The historic hotel was given a major makeover in 2012 and is part of the Kennebunkport Resort Collection (KRC), which operates several boutique luxury properties in the area. Its newest addition, One Dock Prime, is set to open on June 4 and will occupy the stylish, nautically-inspired dining room. Surrounded by decor from celebrated local designer Louise Hurlbutt, guests will be treated to a menu created by Executive Chef Nicholas Gratton—who was previously the executive chef at Mount Nevis Hotel in Nevis, West Indies. Prior to that, Chef Gratton worked at local dining spots Earth at Hidden Pond in Kennebunkport, as well as Arrows Restaurant and MC Perkins Cove in Ogunquit, Maine.
You can expect nothing less than the very best cuts at One Dock Prime. Only the highest quality, 30-day aged Black Angus beef will be served, and specialties will include 18-ounce T-bone and 20-ounce porterhouse steaks accented by sauces such as béarnaise, cabernet shallot jus and classic au poivre (a peppercorn coating). Side dishes will include cream of spinach, baked potatoes, parmesan and truffle matchstick fries, and sautéed Brussels sprouts. Meanwhile, the wood-paneled bar will be concocting craft cocktails for all of your libation needs.
"The culinary scene in Kennebunkport has evolved dramatically over the past few years yet nothing like this currently exists," notes Executive Chef Nicolas Gratton. "One Dock Prime will add another authentic dining experience to the area, serving food of great integrity in an atmosphere that invites guests to linger."
As a nod to Kennebunkport's rich history as a shipbuilding and fishing village, the menu will also feature a variety of seafood dishes, including blue fin tuna, "lazy" lobster, and oven-baked mussels with shallots, garlic, butter, parsley and white wine. To finish, try a dessert such as chocolate molten lava cake and home-made artisan ice creams.