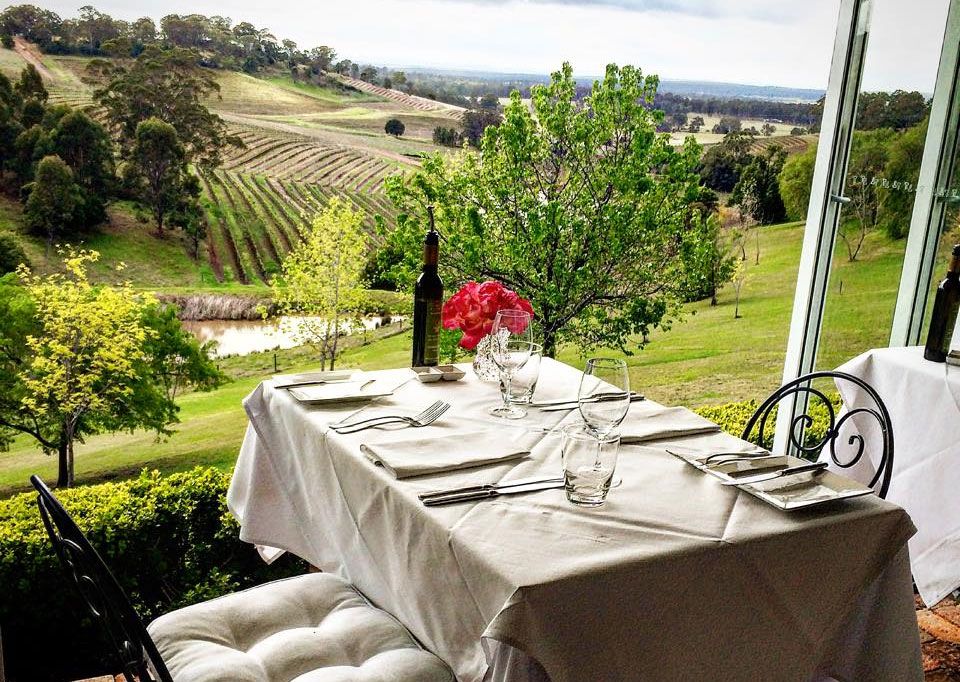 Photo Credit: Bistro Molines
Just a 2.5 hour drive from Sydney, the Hunter Valley Wine Country is the oldest and most historic wine region in Australia. As it is especially well known for Semillon and Shiraz, a visit will result in tasting endless varietal blends and expressions of these grapes along with other varietals grown in nearby regions. While the wines are the stars of the show, the valley's dining scene is just as impressive. Every establishment strives to serve seasonal local fare that highlights the area's wines. Here are five of the area's best restaurants that are worth a visit:
Photo Credit: Il Cacciatorre
Il Cacciatorre
Il Cacciatorre is part of the Hermitage Lodge, and stands on its own as a prime dining establishment in the area. Chef Adam explains that almost everything on the menu is a blend of Northern Italian influence with French technique and Australian seasonal produce. Guests can dine on anything from Duck Pate and Smoked Beef Carpaccio to a nontraditional Spinach Ricotta Gnocchi and the Spaghetti with Sweet Pork Meatballs. Be sure to save room for the freshly-made donuts and espresso, which are heavenly.
Photo Credit: Esca Bimbadgen
Esca Bimbadgen
Esca Bimbadgen's sleek, modern décor serves to highlight its sweeping vistas and scrumptious cuisine. Their Menu Degustation with Wine Pairings is nothing short of decadent, from the tasty smoked salmon to the rich pork neck and the satisfyingly-good beef, you won't be disappointed. The wine pairings, all from the Bimbadgen Estate Winery, highlight and enhance the complex flavor profiles of these thoughtfully-prepared dishes.
Photo Credit: Restaurant Botanica
Restaurant Botanica
Restaurant Botanica is a boutique dining establishment that is the very personal expression of Owner/Chefs Mark and Belinda Stapleton. Surrounded by vineyards, the duo have harvested their own in-house garden that supplies most of their produce. The eatery's food exudes elegant simplicity and boasts a refined blending of influences. Those with a sweet tooth should order the Tropical Delight, an impossibly light and airy coconut dessert confection.
Photo Credit: Bistro Molines
Bistro Molines
To get to Bistro Molines you wind up Mount View Road, passing beautiful vistas along the way. Countless foodies in the know have made this trek to enjoy quintessential Provençal cuisine. Even after 50 years, Bistro Molines remains a favorite of travelers to Hunter Valley. Start with the charcuterie plate before diving into the chef's homemade pasta dishes.
Photo Credit: Muse Restaurant
Muse Restaurant
If you only have time for one meal in Hunter Valley, let it be at Muse Restaurant. Located in the Hungerford Hill Winery, this stunning contemporary space is helmed by Chef/Owners Troy and Megan Rhoades-Brown. Their vision for Muse is to honor the land and people who produce their finest ingredients to create a culinary tour de force with each dish. Troy relates heartfelt stories about the farmers he works with. According to him, they are the true heroes of Muse. But one bite of a dish like the Applewood Smoked Duck Ham and Confit Leg with blackberry, radicchio, almond cream and spices and you'll see why he deserves just as much credit.