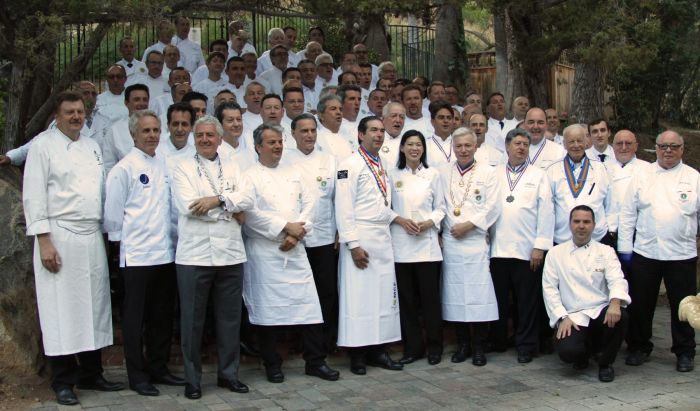 Photo Credit: Maîtres Cuisiniers de France
Have you ever wondered what it would be like to be surrounded by a group of French chefs? For true gourmands, this is the stuff of dreams. The Maîtres Cuisiniers de France- Académie Culinaire de France held its Annual Congress and gala this past week in San Diego and JustLuxe was there, taking it all in. The gala was the valedictory event of a long weekend spent at The Ranch at Bandy Canyon in rural San Diego County. The goal of the Congress is to bring North American French chefs together to celebrate the year's achievements and the successes of their colleagues while attending workshops to improve their crafts. The attendees include chefs and others working in food and beverage around the continent, including everyone from winemakers to hotel chefs to Michelin-starred restaurateurs.
Photo Credit: Maîtres Cuisiniers de France
The Maîtres Cuisiniers de France and the Académie Culinaire de France are two not-for-profit organizations that share the same goal of promoting the culinary and pastry arts, as well as the cultural responsibility of carrying on French cooking tradition. They have several delegations, but their largest outside of France is the North American delegation, which meets annually at this joint congress. To become a member of the Maîtres Cuisiniers de France, you must be a French national who is regarded by your peers as being highly skilled in the techniques and transmission of French culinary arts. In addition to being well-trained, you must exhibit innovation and consistency in your track record. As of now, there are 71 recipients in the United States and 500 worldwide. As for the Académie Culinaire de France, it was founded in 1879 and now has 1080 members. It operates on every continent except Antarctica, though it wouldn't be surprising if the first restaurant on that continent ended up being a French one. Members of the MCF can be of any nationality and any profession within the food and beverage industry.
Photo Credit: Maîtres Cuisiniers de France
The chefs arrived in San Diego on June 4, where they received congress badges and enjoyed wine, cheese and wood-fired pizza at The Ranch at Bandy Canyon. The rest of the chefs' itineraries were separated into three categories befitting such a group: sea, land and farm. The sea portion took the group to the coastal enclave of La Jolla, where they toured a farmer's market and dined at the Marine Room, whose chef was one of the weekend's hosts, Bernard Guillas. A seafood-oriented dinner reception was held at Tidal. The next day's land portion included trail and carriage rides, with bottomless mimosas, through Bandy Canyon and a lunch at Maderas Golf Club with the Gala dinner to follow. The day after the Gala was the farm program, which included another farmer's market, this time at The Ranch. A farm-to-table lunch followed, cooked by Patrick Ponsaty, the other host of the weekend. His restaurant, Bellamy's, which specializes in French haute cuisine, played host for the weekend's farewell dinner.
Photo Credit: Maîtres Cuisiniers de France
The Gala itself, which was invitation-only and held in San Diego for the first time, was orchestrated by Maîtres Cuisiniers de France president, Michelin-starred chef Christian Têtedoie and hosted by San Diego's own Master French Chefs, Patrick Ponsaty of the Grand Restaurant Group and Bernard Guillas of The Marine Room. Included in the remarks made by North American Delegation President Jean-Louis Dumonet was an introduction to the new Acadamie Culinaire de France inductees, as well as the Maîtres Cuisiniers de France inductees, who were inducted in France prior to the Congress. The new auditeur members are Patrice Caillot, Jonathan Dendauw, Bruno Gossault, Christope Joignant, Olivier Reginensi and Thomas Keller. The new associe members are Carlos Oliver and Fabrice Guinchard. Celebrated Chef Alice Waters, of farm-to-table shrine Chez Panisse, in Berkeley, California was also honored for her special contributions to French cuisine.
Photo Credit: Shutterstock
Dinner was prepared by five San Diego chefs: Michel Blanchet, Bernard Guillas, Bruno Lopez, Thomas Bellec, Patrick Ponsaty and Frederic Lorsachi. The menu, which was exquisite in keeping with the attendees and hosts, included five courses with a French wine pairing. The amuse bouche was crusted smoked salmon loin, onion puree and balsamic reduction prepared by Michel Blanchet. The first course, by Bernard Guillas, was a sea trio of vanilla scented lobster, Ahi tuna, hiramasa green papaya, sesame brittle, caviar pearls and wasabi oil. The second course was made by Bruno Lopez and was an indulgent pork terrine with English peas and bing cherries gastric.
A Spanish-inspired sea bream with piquillo pepper emulsion, toasted Marcona almonds, wilted arugula and braised red onion made up the third course, which was brought to life by Thomas Bellec. Ponsaty reappeared for the fourth course, where he cooked up a local veal loin and stuffed it with veal feet and sweet breads. It was served alongside a Bandy Canyon zucchini flower with morel mushrooms and an orange veal reduction. Dessert was prepared by Frederic Loraschi and was an anniversary cake for MCF President Jean Louis Dumonet. It was a decadent dark chocolate maralume with black currants and violets.
Photo Credit: The Ranch at Bandy Canyon
The joie de vivre was evident throughout the entire weekend, and especially during the gala, with all of the chefs clearly thrilled to be among colleagues and countrymen in a beautiful place with great food and wine. It's been whispered among the food community that French food is old, stuffy and out of touch, but if this event is any indication, that indictment couldn't be more wrong. It's clear that the tradition of French cooking is as strong as ever and that the drive to innovate and educate will never be off of the minds of the world's finest French chefs.