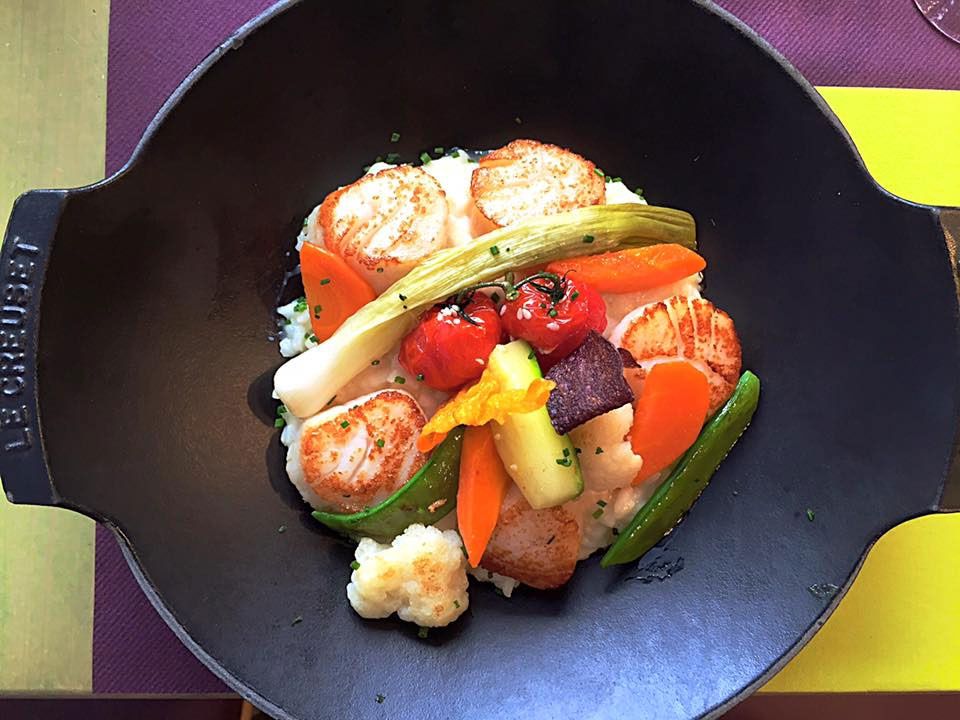 Photo Credit: Le Signal
In France, Val d'Isere is among the region's best ski resorts. Along with terrific slopes, the destination is known for having some pretty great restaurants. And as avid ski bunnies know, one of the highlights of any ski day is your midday pit stop for lunch, especially if it's enjoyed al fresco. There's something about that fresh mountain air and scenic backdrop that makes any meal feel like an experience all on its own. If you're headed to Val d'lsere for the upcoming ski season, here are four of our favorite eateries to drop into in between runs.
Photo Credit: La Fruitiere
La Fruitiere
La Fruitiere is a very popular mountain restaurant whose fabulous reputation has been hard earned through the quality of the food and the service of its staff. On a busy day, the turnover is quick, but you'll never feel rushed. Dressed in blue boiler-suit uniforms and equipped with electronic ordering gadgets, the service is always efficient and quick to get you back on the slopes. Indoors the restaurant is styled like an old dairy, while outdoors on the terrace, it's the perfect place to while away the afternoon and watch the crowd at Folie Douche next door. I also love to take in the magnificent scenery and just chill with friends. If the air is slightly chilly there are some huge overcoats which you can fit over your ski gear.
The food is fantastic for a no-nonsense, classic tuck-in, whether you are tempted by huge bowls of fresh pasta, grilled steaks, or great wedges of chocolate cake. Even the bread is good and the salads are tossed together from fresh herb leaves. Reserving a tble in advance is advised since this is a regularly busy destination.
Photo Credit: Le Signal
Le Signal
Established in 1973 and made possible by the construction of the Fornet cable car, Le Signal sits at 7,644 feet above sea level in a building that used to be a refuge. Since 1999, Brigitte (the patron) has developed it into the standout venue it is today. Thanks to a complete renovation in 2006, the restaurant took on a new lease of life. It has been voted "Best Mountain Restaurant" at the European Snow Awards by the Telegraph, an accolade it has scooped twice, in 2008 and again in 2015. In 2015 it was also voted best mountain restaurant in the World Snow Awards. The restaurant serves dishes cooked with local products, and there's a self-service area offering traditional products from the Savoie region such as a wide range of fresh soups.
The Signal Room on the rooftop is a fabulous place to take in panoramic 360 degree views of Val d'Isère. The space offers afternoon live DJ sets throughout the season, and guests can organize a birthday or wedding event there. At the outdoor kiosk you can try out a selection of 25 beers from all over the world or enjoy afternoon crepes.
Photo Credit: La Peau de Vache
La Peau de Vache
This cozy little eatery is not to be missed. Take the Bellevarde ski lift to access this gem of a mountain restaurant. I've been here a few times and never been disappointed. When the weather is snowy, it adds to the restaurant's interior ambiance, offering a comfy respite from the outdoor conditions. Whether you're a first time guest or you frequent the establishment, it's pretty obvious that the owner loves his restaurant and wants to make sure you love it too. The staff fall over themselves to be helpful and friendly without overdoing it.
Photo Credit: La Tête de Solaise
La Tête de Solaise
La Tête de Solaise is a busy mountain restaurant, a great place for a lunch stop or maybe just a drink. It's just off the ski lift, and with the lift station right next to it, you don't have to ski there or ski down if you don't want to ski back to town. There's an indoor restaurant, pizzeria, bar and a self-service area. There's a large outside terrace with a bar in a tent serving a range of drinks, it's always buzzing here and a great place to catch some rays and take in the tremendous views.
Located on the terrace inside a tent, the main restaurant serves fresh seafood options and offers exceptional panoramic mountain views. The self-service menu offers traditional French food and snacks with tartiflette, hamburgers and grills. The pizzeria can be enjoyed outside on the terrace in the sunshine or inside the cozy interior, the perfect meal for a quick mountain lunch.