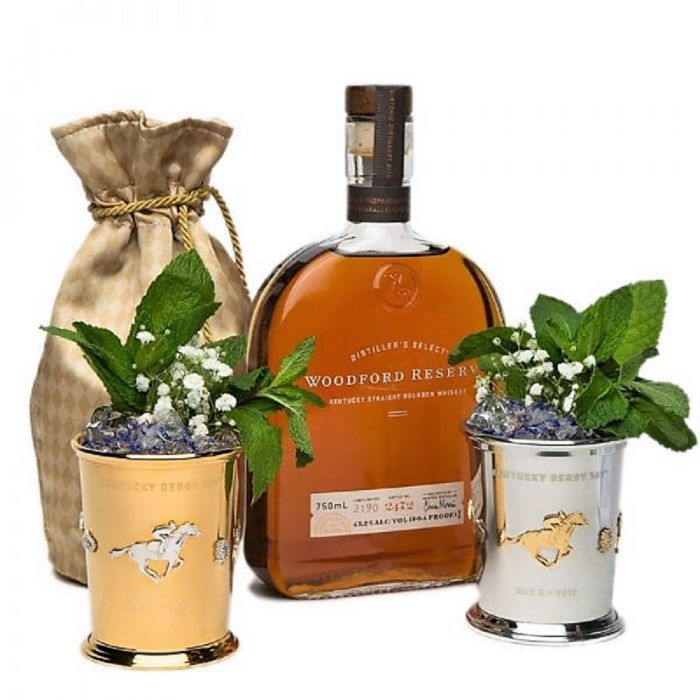 Photo Credit: Woodford Reserve
Instead of betting on the ponies for this year's Kentucky Derby, a tastier choice might be to invest your money on a sure thing: the world's most expensive Mint Juleps.
As the official bourbon of the Kentucky Derby, Woodford Reserve Kentucky Bourbon isn't horsing around. With a respectful nod to the race's traditional libation, Woodford Reserve has created a new signature Mint Julep recipe and will be serving them in $1,000 and $2,500 limited-edition cups for the occasion.
The individually-numbered cups feature gold-plated embellishments as an ode to British photographer Eadweard Muybridge's famous "horse-in motion" filmstrip which discovered how horse's hooves move while at full gallop. Each $1,000 Noble Cup is accompanied by a gold-plated Woodford Reserve sipping straw. The winner's-circle-worthy Royal Cup ($2,500 each) is gold-plated, comes with a silver straw, and is a limited edition of only 15. Cups can be purchased online at Woodford Reserve, with proceeds benefiting the Kentucky Derby Museum.
This year's official cocktail recipe for the Kentucky Derby puts an English twist on the classic julep in celebration of the race's British origins tracing back to the 1872 Epsom Derby. The 2017 julep, created by Woodford Reserve global ambassador Tom Vernon, is inspired by the beloved English Pimm's Cup and features thoroughbred ingredients such as Earl Grey tea bitters and fresh mint.
Woodford Reserve $1,000 Kentucky Derby Mint Julep
1.5 ounces Woodford Reserve Distiller's Select
1/4 ounces Pimm's Liqueur
1/2 ounces Belvoir Fruit Farms Elderflower Cordial
1/4 ounces Woodford Reserve Mint Julep Simple Syrup (they will be using Bourbon Barrel Foods)
1 dash Earl Grey bitters
Handful of mint
Directions: Rub mint around the julep glass, expressing the essential oils. Discard the mint. Add remaining ingredients and top with crushed ice. Garnish with a bundle of baby's breath and mint. Sprinkle with dehydrated, edible blue cornflowers.