Photos Credit: Mr Chow
For nearly half a century, Mr Chow restaurants have been justifiably famous for attracting crowds of beautiful people who worship the savvy restauranteur's extravagant sense of drama, as well as his delicious (and expensive) Beijing-style Chinese cuisine, silver Christofle serving pieces, one-of-a-kind Champagne trolleys, glass-domed dessert carts and chef "noodle show" surprises.
The under-lit tables are beautiful (and Miami's outdoor cabanas are especially SoBe chic), but I get my Mr Chow thrills at the bar lounges—each one a unique experience throughout the luxurious restaurant collection that spans the globe from the original Beverly Hills location, to London, New York, Miami, Malibu, Las Vegas, and Mexico City. Mr Chow bars are a sophisticated experience, with its practitioners displaying the sort of proper etiquette and serious mixology skills that would make James Bond (and, more accurately, 007 actors and actresses) feel at home.
Craving their famous Mr Chow Noodles and Beijing Duck, I recently visited the Mr Chow in Florida, located in the lobby level of the stunning W South Beach, my hands-down favorite Miami Beach hotel for its modern blend of high-style and cheeky sense of fun. I entered the showy restaurant through Lalique-handled doors into a chic jewel box characterized by blue carpet, white tablecloths, and a colorful art gallery from Michael and Eva Chow's private collection. But the table could wait. I headed straight to the bar's high stools—the perfect spot to take in the scene and have the undivided attention of the bow-tied bartender. "Welcome, madam. What would you enjoy tonight—a Champagne Chow-Lini, perhaps?" he asked, suggesting Mr Chow's signature cocktail made of house-made peach foam and Moët & Chandon.
"Surprise me."
His refreshing choice was the relatively new Jalisco cocktail featuring smooth reposado tequila, fresh passion-fruit puree, raw agave, ginger lemon liquor and a splash of lime. Sweet and spicy, it's garnished with a dehydrated orange wheel infused with jalapeño—just the sort of thing that would pair nicely with meaty Mr Chow dishes like the signature Ma Mignon.
The bartender also recommended Mr Chow's Bloody Mary which cleverly features the restaurant's beloved Fiery and Chile sauces, along with vodka, fresh pomegranate, olive, tomato and ginger juice, and a spice-infused soy foam floating on top. The tomato juice spice blend is always secret to a stellar Bloody Mary, so I was pleased to hear that Mr Chow's version can be replicated at home using their grilling and condiment sauces which are now sold in specialty food stores and supermarkets in three formulas: Fiery, Chile, and Hoisin.
To try your hand at two of Mr Chow's delicious cocktails with (and without) Mr Chow Chile and Fiery sauces, the bartenders have shared their recipes.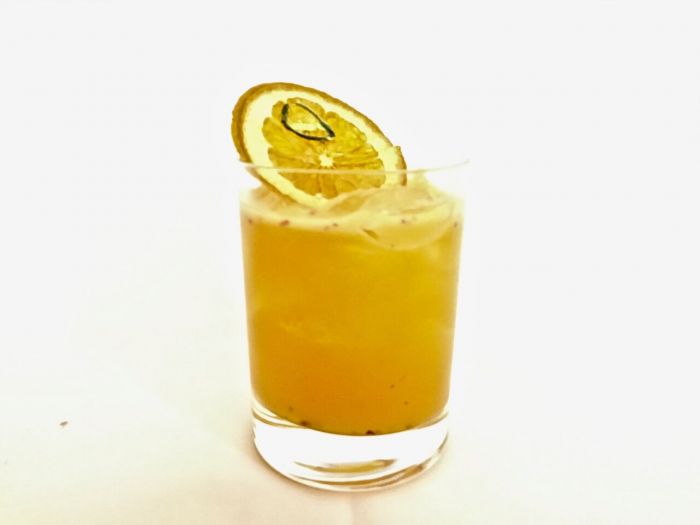 Mr Chow Jalisco Cocktail
2 oz Reposado Tequila
0.5 oz Passion Fruit Puree
0.5 oz Agave
0.5 oz Lime Juice
0.25oz Ginger Meyer Lemon Liquor
a pinch of chili flakes.
a dehydrated orange wheel and jalapeño
Method: Build in a Boston Shaker. Add all ingredients and ice, shake for three to four seconds. Fine strain into a rocks glass filled with ice. Garnish with a dehydrated orange wheel with jalapeño.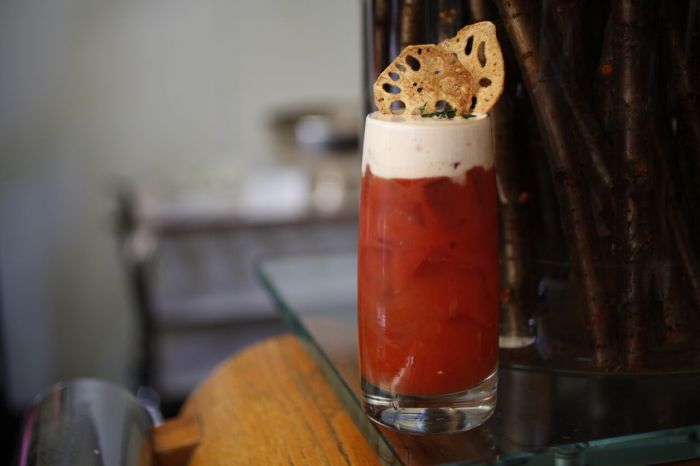 Mr Chow Bloody Mary
Bloody Mary Mix (makes 3-4 cocktails)
6 oz Tomato Juice
3 oz Pom Pomegranate Juice
3 oz Olive Juice (Dirty Sue)
1 oz ginger Juice
1 oz Mr Chow Chile sauce
1 oz Mr Chow Fiery Sauce
pinch of Salt and pepper
6-8 oz Vodka
Tomato Garlic Soy Foam (Foam Gun needed)
8 oz Soy Milk
3.5 oz Tomato Juice
1.5 oz Olive Brine
0.5 oz Fiery Sauce
0.25 oz Garlic powder
Method: Blend the Bloody Mary mix ingredients and chill. For each glass, mix 2 ounces of vodka with 4 ounces of Bloody Mary mix in shaker over ice to blend. Strain into tall glass, two inches from the rim to leave room to top the drink with foam. Blend tomato garlic soy foam ingredients using a foam gun to create top the drink.