All images credit Castello Banfi
Experiencing Tuscan-style Good Living and the Castello Banfi-Il Borgo Winery Estate
For the well-heeled epicurean, a destination that is a must see is Tuscany. There's a mystique and legend around it built over water coolers in faraway places as those who return regale stories of rolling hills of grape, golden sunsets over wide open fields, rustic estates dotting the landscape and, of course, the wine. The fantasy of Tuscany builds beyond that with dreams of staying in the luxurious accommodations in a grand estate and having an exquisite gourmet dinner under the stars with your loved one. It will invariably include swirling, sniffing and tasting wines, in their own terroir, that you've had at the top restaurants in New York or perhaps in London or Hong Kong. This is what we dream of when we think of Tuscany and it just happens to describe what awaits the forlorn oenophile at the Castello Banfi-Il Borgo Winery Estate.
The story of Castello Banfi begins on a distant shore. It is the story of two Italian American brothers who began importing Tuscan wines into the US generations ago. The Mariani family's business flourished so they then sought to produce wines themselves in the heart of the gorgeous Tuscan countryside and in its most famous Brunello wine region. Fast forward and today Banfi wines are among the most respected of Tuscany's wines with their award-winning Brunello di Montalcino, Super Tuscan and Chianti wine.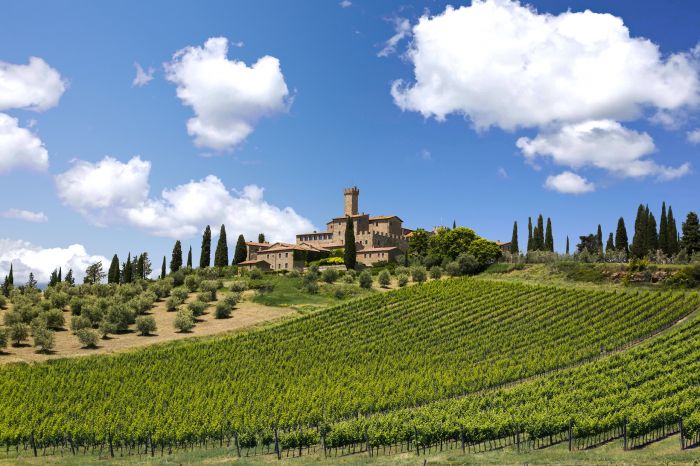 Their success is no accident. Castello Banfi is at the forefront of viticulture and enological research as you'll instantly become aware with a visit to their state-of-the-art winery. As the smell of fermenting wine fills the nostrils, visitors become in awe of the cavernous stainless-steel tanks that rise two stories as well as the rooms of 7000 wood barrels filled with patiently waiting wine.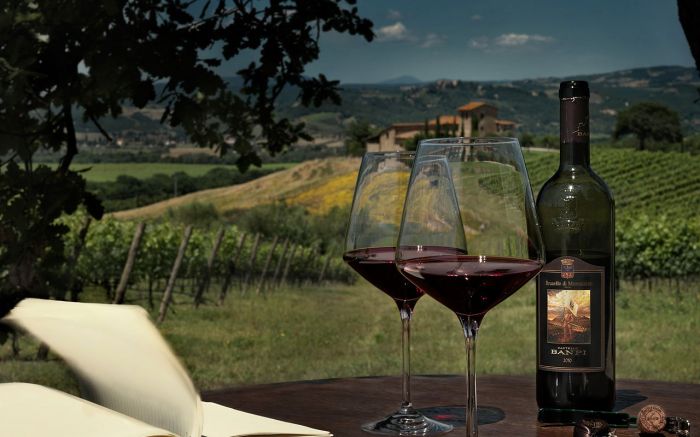 The ponderosa sized estate spreads over 7000 acres with gravel roads lined with stone pine trees crisscrossing hillsides dotted with centuries-old rustic homes. The land is covered with vineyards as well as olive and plum trees, wheat fields, left fallow or filled with 100-year-old forests. The estate includes a medieval castle, Castello Banfi – Il Borgo which is a 14-room boutique hotel, a cellar door, gourmet restaurants, the state-of-the-art winery and numerous experiences for those seeking an epicurean lifestyle holiday.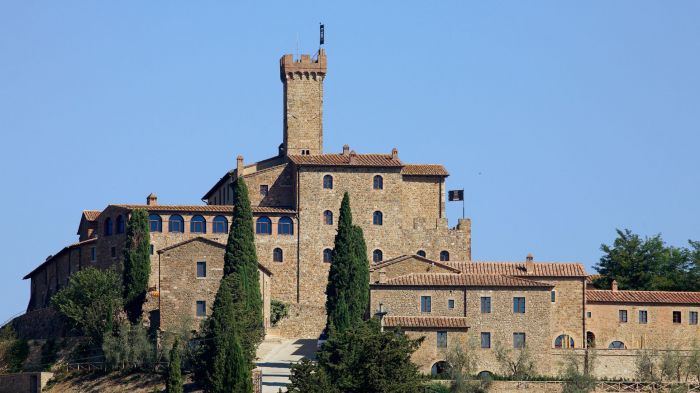 Lording high on a hill above the domain reigns the Castello Banfi. The castle is an imposing fortress of crenelated towers, cobblestone courtyards and ancient walkways surrounded by manicured gardens, outdoor art pieces and colorful flowers bursting with all manner of color. The castle was built in the 13th century and had been painstakingly restored from near ruin by Mariani family.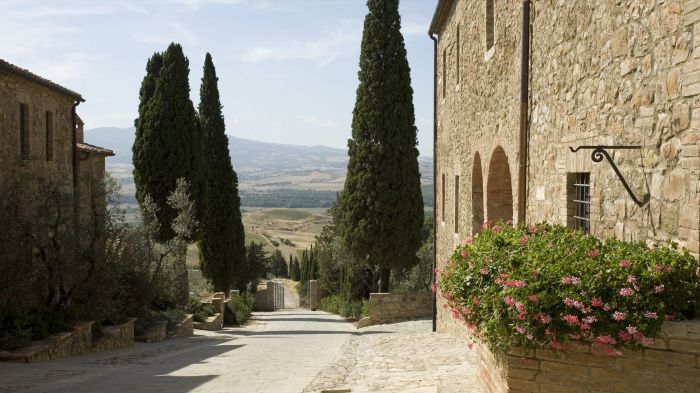 Castello Banfi-Il Borgo is a 14 room five-star luxury boutique hotel adjacent to the castle. Il Borgo translates to hamlet and is the 18th-century dwellings of farmers of the estate. The historic Tuscan architecture exteriors have been restored yet beyond those walls is something completely new and luxurious.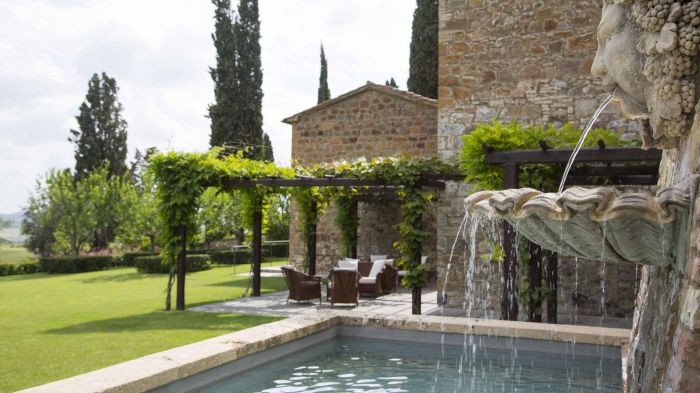 The fairy-tale like scene of the castle and bucolic views of the Tuscan countryside are perfect for romantic walks while watching the sunset. The grounds are of soft grass lawns, fragrant roses and gorgeous colorful flower gardens, a pergola wrapped in vines, and a stone cherub that gurgles water into a deep fountain. The hotel's pool is also a beautiful scene set in landscaped gardens with chaise lounges under canvas umbrellas and delicious views overlooking the vineyards and sea beyond.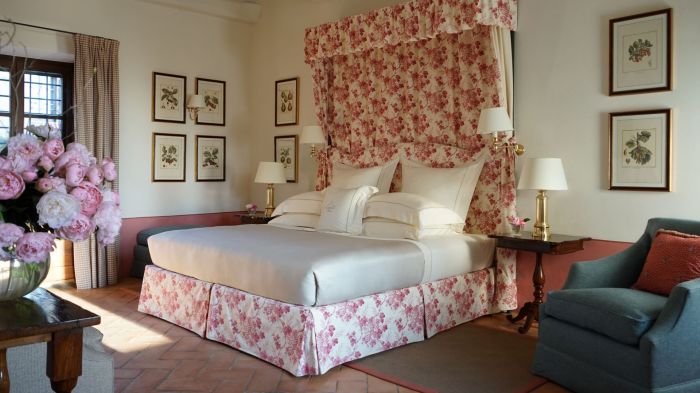 Guest will admire the carefully restored façades of rustic rock and mortar of this authentic Tuscan hamlet. Indoors is completely different with the feeling of an elegant Tuscan country house. There are only nine rooms and five suites with each being unique in terms of style and configuration. One of Italy's most well-regarded designers, Federico Forquet, is responsible for the bespoke décor and touches in the decor.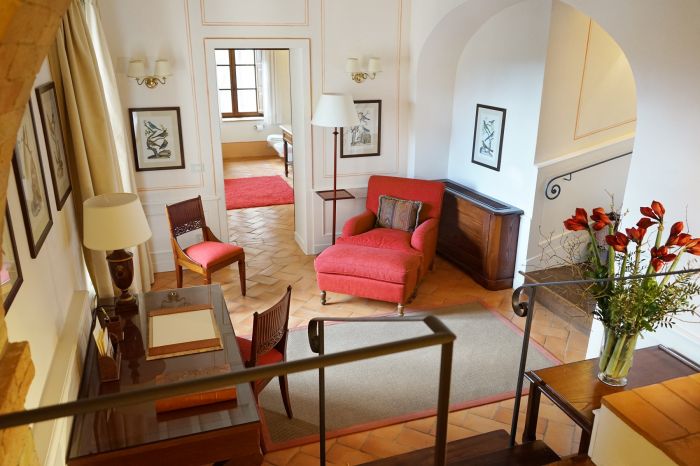 The interiors feature exposed wooden beams, arches covered in stone, dark wood furniture and terra-cotta tile floors. The rich colors are offset with a light pastel color palette of soft light shades and pretty floral fabrics in the window curtains and the valance over the uber comfortable king size bed. All of the accommodations feature lavish bathrooms with walk-in rain-fall showers with handsome Italian tile and separate bathtub as well as bespoke amenities made from the estate's Sangiovese grapes. The suites all are quite spacious with separate living and bedroom and even larger bathrooms.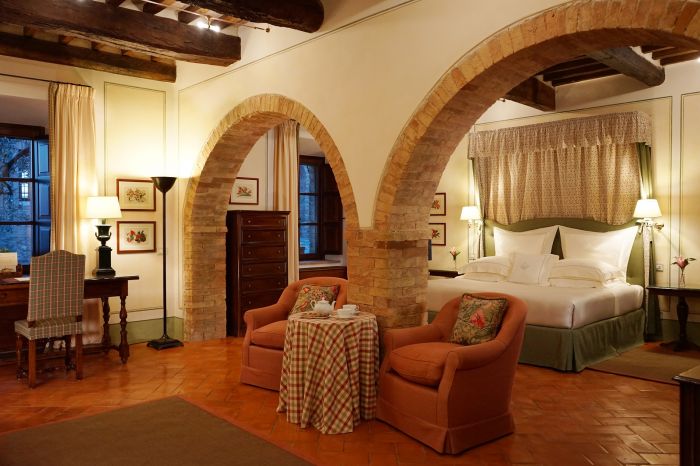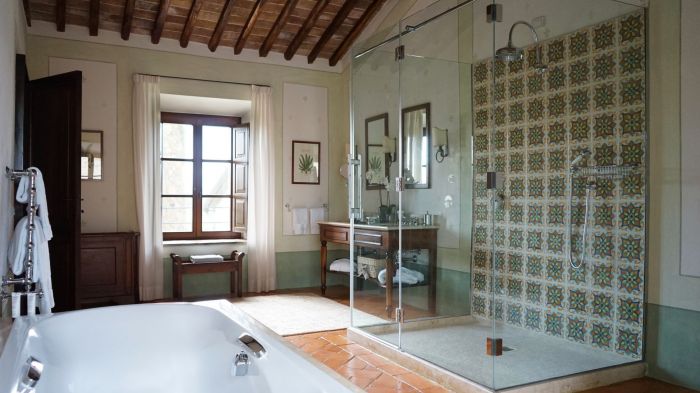 All of the accommodations have stunning views of the Tuscan landscape as well as offer complimentary accouterments of three half bottles of Banfi wines, a Castello Banfi winery tour with the sommelier, a wine tasting experience of three Sangiovese wines. Also included in the room rate are complimentary soft drinks mini bar and snacks as well as an overgenerous breakfast spread.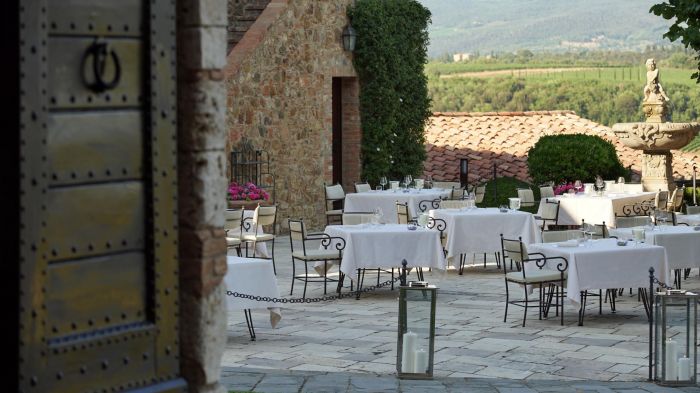 In order to fully appreciate good wine, it must be accompanied by good food; the opposite holds true as well. In the case of Castello Banfi, they hit the mark on both accounts. The most elegant affair is La Sala dei Grappoli which offers sophisticated Tuscan cuisine served in the beautiful setting of the alfresco terrace with the castle as a backdrop. Candles twinkle on crisp cloth covered tables as couples vacillate between looking each plate of culinary art, the beautiful sunset views over the countryside or just gazing at each other.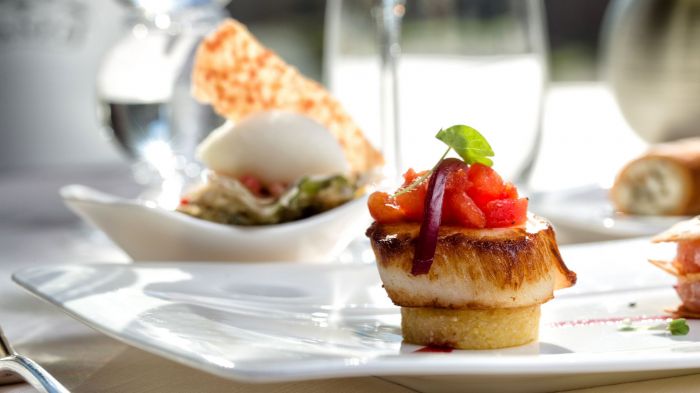 The fine dining menu features a modern interpretation of Tuscan and Italian Mediterranean cuisine with most ingredients sourced from producers and artisan products from the area. The tasting menu offers dishes such as Paccheri pasta with sea urchin, king prawns and burrata cheese or John Dory with crab, seafood and summer vegetables. The culinary masterpiece is well paired with six Banfi vintages including their award-winning Brunello as well as a copious portion of exquisite service.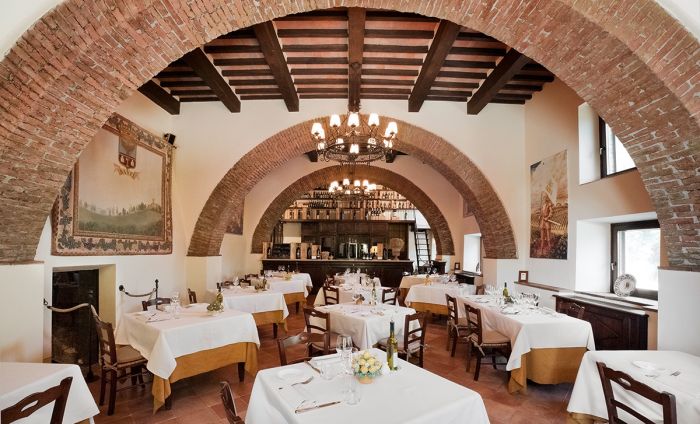 Their second restaurant is a superb yet more casual dining experience. La Taverna serves hearty Tuscan specialties and traditional dishes in a rustic chic setting of a 17th century building with vaulted ceiling, brick archways over an ancient wine cellar.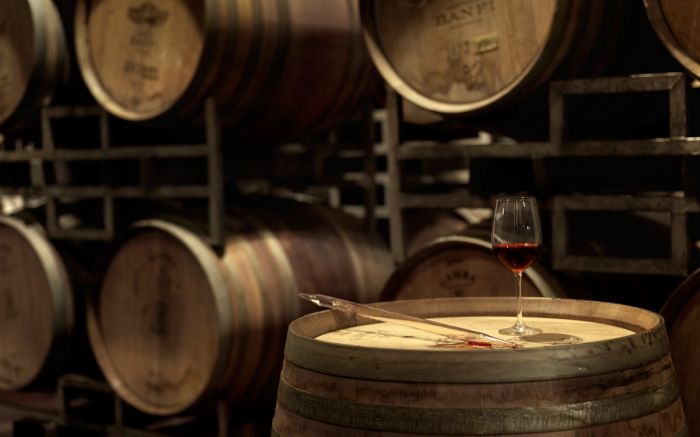 The property is literally a foodie playground with a bevy of options to enjoy good food and wine. After sampling their Banfi Wines, every self-respecting oenophile will definitely want to do a winery tour to see where these amazing wines emanate. Again, the tour is complimentary for hotel guests.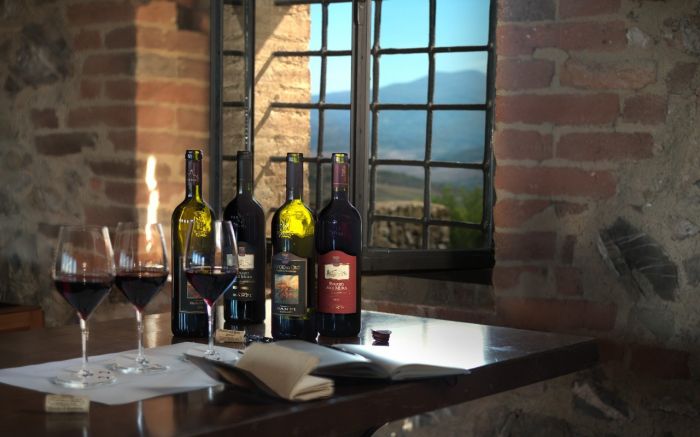 L'Enoteca is their wine cellar offering tastings of their still and sparkling wines accompanied by classic Tuscan prosciutto and locally made sheep's cheese. The estate also produces their own artisanal products including pasta, virgin olive oil, and delicious prunes. One of their most noteworthy enterprises is their Salsa Etrusca which is balsamic vinegar that goes through a 12-year process of evaporation and rotation in a wooden barrel. Guest can pick up a bottle there as well as see the interesting process as it happens in the Balsameria which is adjacent to the Enoteca.
The foodie fantasy continues as guest indulge in a cooking class in a traditional kitchen of a rustic farmhouse. Classic Tuscan dishes are taught including making pasta from scratch. Classmates then enjoy the fruits of their labor on the terrace of the farmhouse overlooking the vineyards.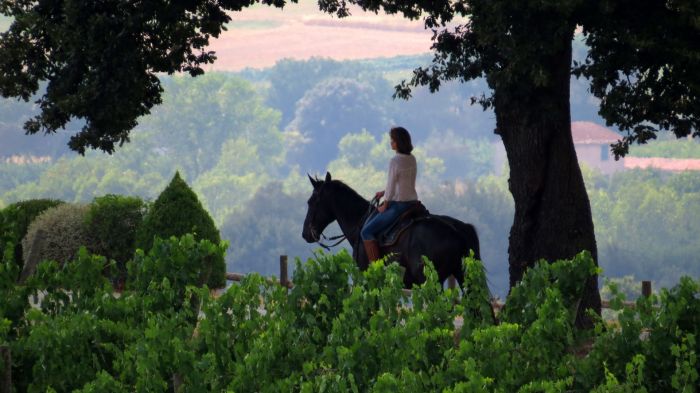 Guests staying for extended periods may wish to venture off and the concierge can tailor arrange visits to other local wineries, hot air balloon rides, horseback riding, private tours, or event picnic for you and your loved one in the vineyards. The entire Castello Banfi experience is made unforgettable by the high level of attentive, friendly and professional Italian service offered by their capable staff.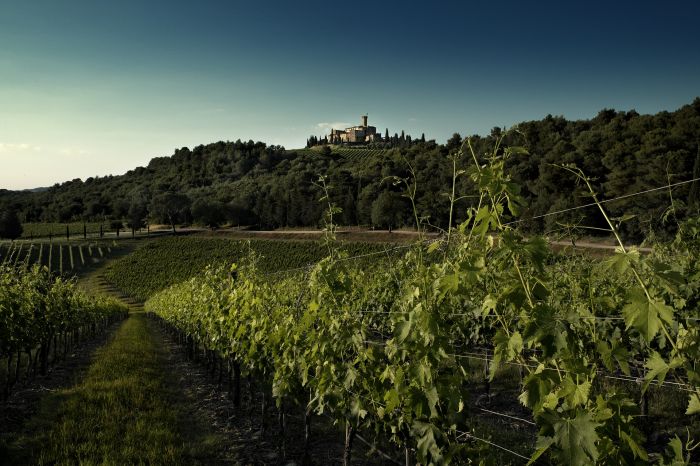 One of Tuscany and Castello Banfi's unforgettable simple pleasures is taking a long walk through the vineyards or finding a relaxing place to just watch the sunset over the rolling hills. Another way to enjoy the outdoors and surrounding area is with a bike ride. No worry about being able to climb those pesky hills, the estate offers complimentary use of their e-bikes allowing you to cover the vast grounds and steepest of hills with ease.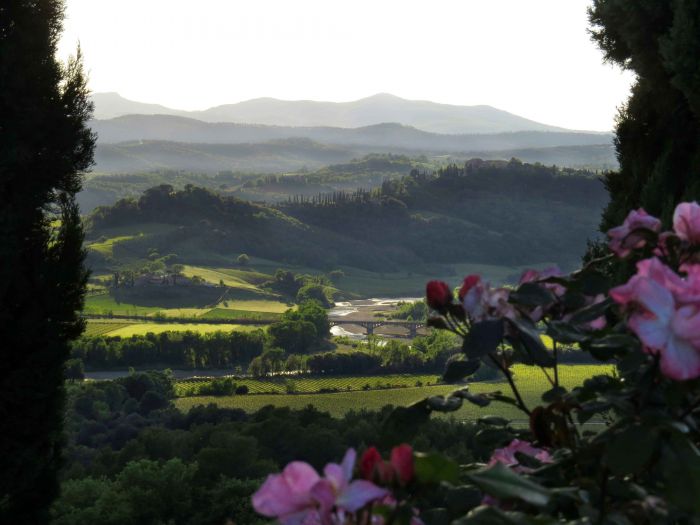 There's a reason why Castello Banfi-Il Borgo Winery Estate has been voted as one of the top 20 hideaways by Andrew Harper, one of the top 10 wine country hotels by Fodors Travel and as the number 19 of the top 25 hotels in Europe by Conde Nast Traveler. It is the quintessential Tuscan experience which guests will long cherish long after the bags have been unpacked back home.