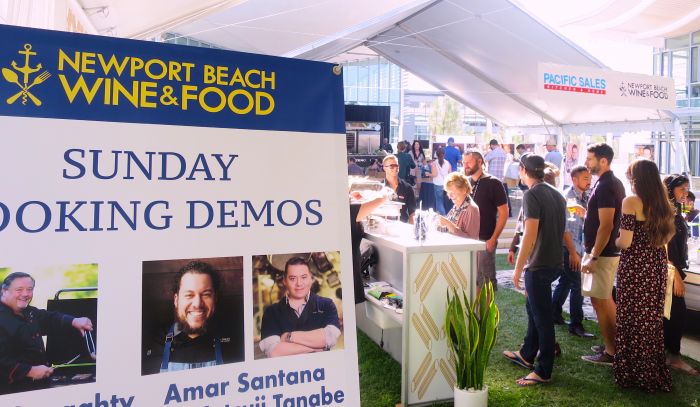 Photo by Michael Reiss
There are plenty of food and wine festivals in gastronomic Orange County, California, but there is only one Newport Beach Wine and Food Festival. This event is considered by many to be one of the most exclusive and upscale three-day epicurean events of the year. Now in its fifth year, the roster of chefs from the area is as dazzling as the list of premium beverages on offer. This is one festival that gourmets put at the top of their "Do It Again List." While many attendees go right to the Grand Tastings on Saturday and Sunday for their annual fix, some of the most memorable events come before.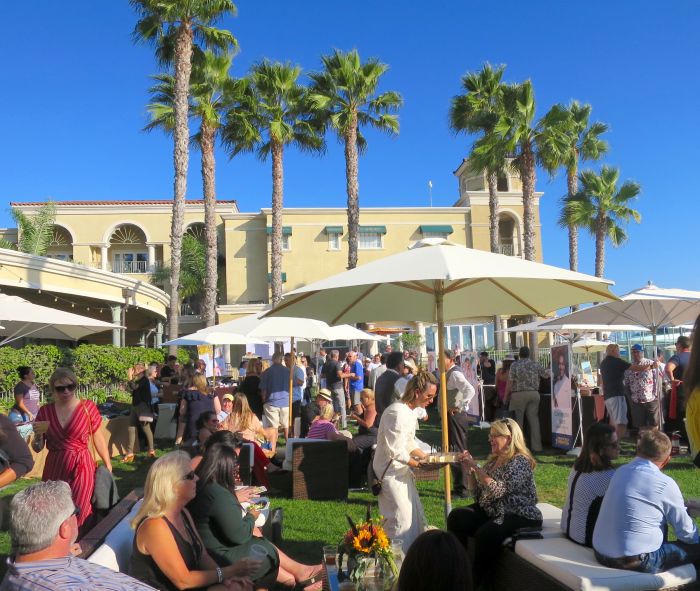 Photo by Michael Reiss
This year the Friday afternoon "Fire It Up" BBQ Bash was held at the Balboa Bay Resort. While strolling on the lawn facing the sparkling bay strewn with mega yachts, nine celebrity chefs, mixologists and the Delano Hotel in Las Vegas plied us with gourmet sips and nibbles.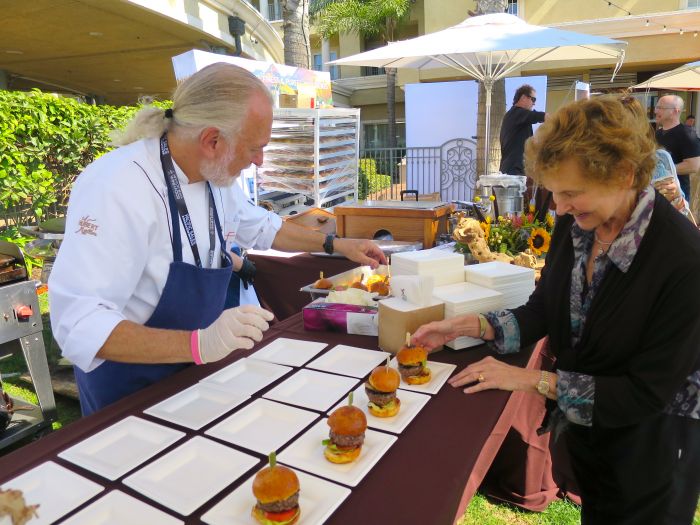 Photo by Michael Reiss
The reigning senior star chef, Hubert Keller raised the bar with his decadent slider. Think a juicy prime beef patty cooked to medium rare perfection topped with seared foie gras, lettuce and tomato all enveloped in a brioche bun.
Quaff this creation with one of the premium wines or cocktails and you're in foodie paradise. Follow with creative versions of blue corn fish tacos, Korean beef lettuce wraps, braised fall off the bone pork ribs smothered with corn salsa, deconstructed crab gumbo, Hamachi ceviche and tiramisu. Dance it off with smooth rock/reggae to make for a memorable beach blowout.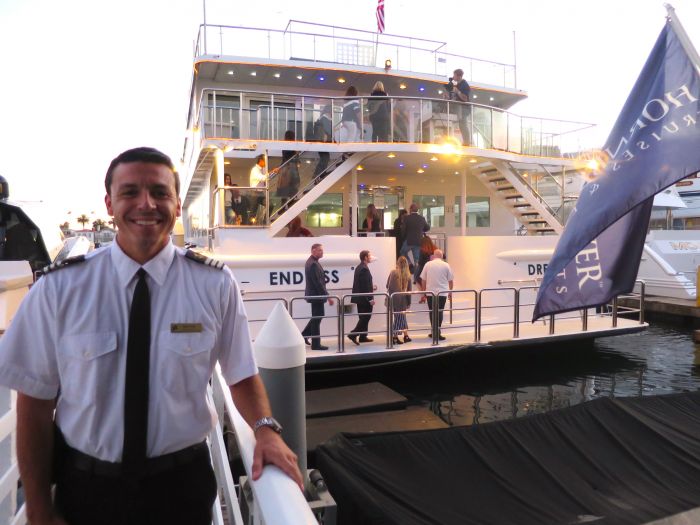 Photo by Michael Reiss
The Friday evening Hornblower sunset cruise aboard the 140- foot, Endless Dreams yacht capped off a delicious day on the bay. Live music, bites, and beverages were on offer to delight guests who chatted with celebrity chefs while they cruised the bay awash with twinkling lights. A perfect ending to the first day of The Newport Beach Wine and Food Festival.
The Saturday and Sunday Grand Tastings showcase 40 different prime area restaurants each day. The chefs vie for bragging rights, each competing to outdo the other in their creations. Add to the feast some 250 premier beers, spirits, cocktails and wines by the likes of Duckhorn, Chateau Montelena and Boisset to take this festival to another level.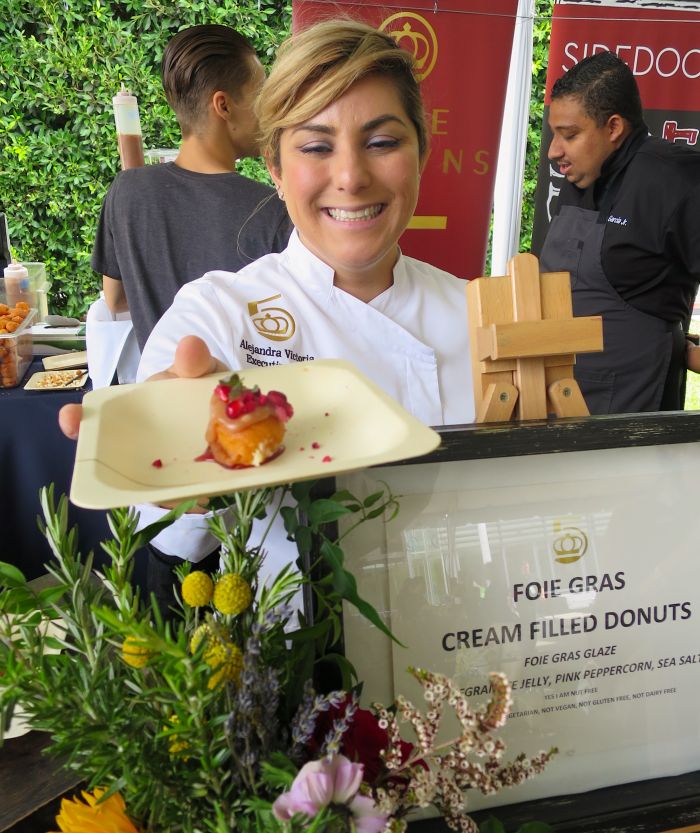 Photo by Michael Reiss
One stand-out bite included Sidedoor's Chef Alejandra Padilla's Foie Gras Cream Filled Donuts.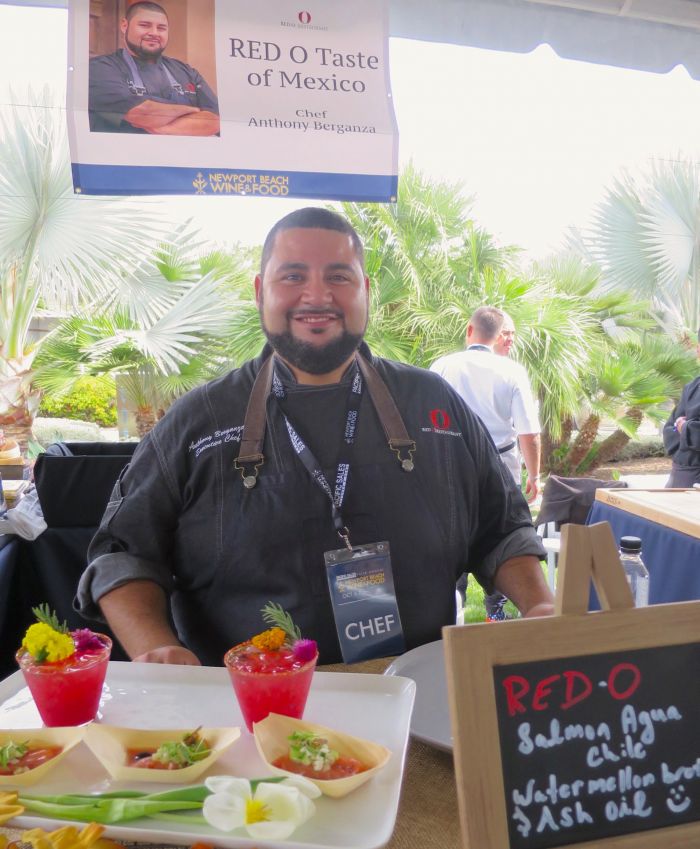 Photo by Michael Reiss
Another memorable bite was Red O Taste of Mexico's Chef Anthony Berganza's Salmon Agua Chile.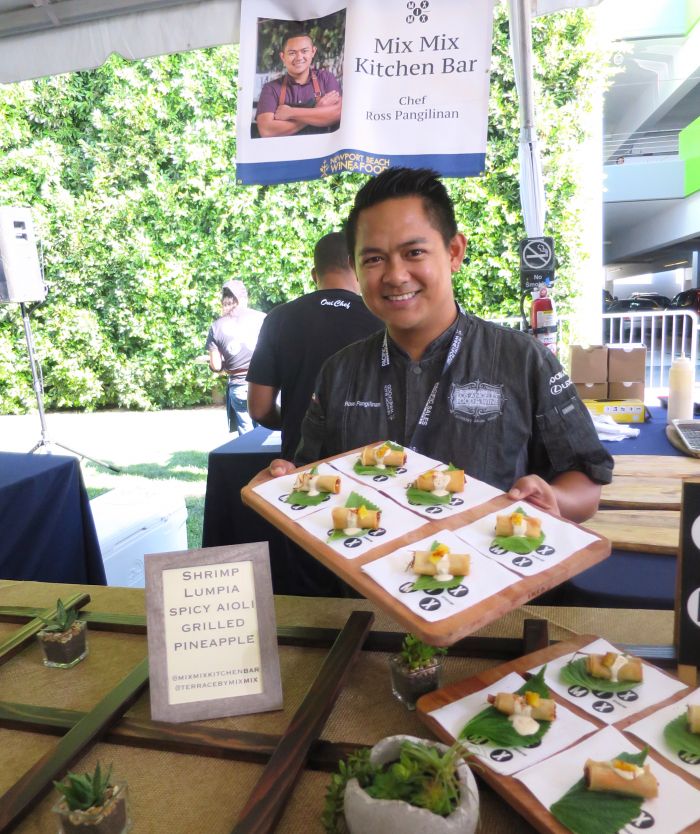 Photo by Michael Reiss
A third creative bite was Mix Mix Kitchen Bar's Chef Ross Pangilinan's Shrimp Lumpia.
Photo by Michael Reiss
Besides the nonstop noshing, notable chefs including Michael Mina and Hubert Keller shared their culinary secrets at demos held throughout both afternoons.
It's no wonder that "VIP Early Entry Status" is the first to sell out, as repeat attendees eagerly savor every delicious moment.
This is one weekend that is more than worth the price of admission. For this year's full list of participants and events as well as details to plan for next year, visit: Newport Beach Wine and Food Festival.