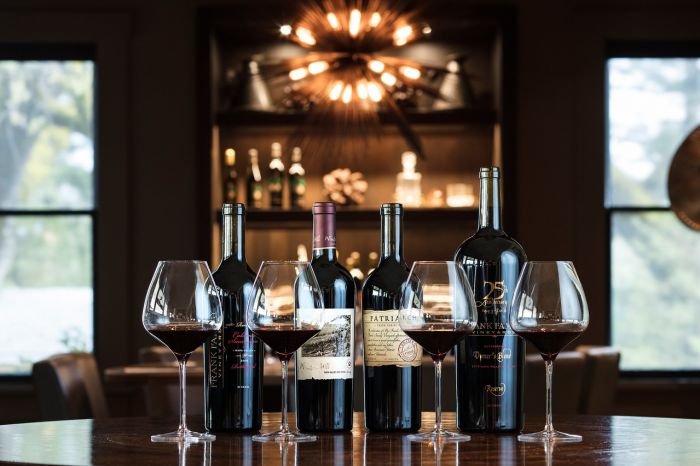 Frank Family Vineyards' Wines of Winston Hill
A household name for lovers of premium Napa Valley Chardonnay and Cabernet Sauvignon, Frank Family Vineyards provides some of wine country's most favored tasting experiences. Situated in the north end of the valley off of Larkmead Lane in Calistoga, the varied tasting rooms located within the winery's picturesque 1930's pale yellow Craftsman home, and its surrounding sun porches and gardens are the stuff of wine tasting dreams. Genteel, unrushed, and convivial – these are the hallmark characteristics of a Frank Family Vineyards visit. It's not uncommon to find proprietors Rich and Leslie Frank strolling the property, chatting amiably with guests, and making it abundantly clear that this dynamic duo puts their hearts and souls into their product and their brand.
That heart and soul has never been more evident than in the winery's newest 'The Wines of Winston Hill' tasting experience at which is revealed the backstory of the Frank Family vineyards (each is named for a Rich Frank grandchild), the thought process and production techniques utilized by star winemaker Todd Graff, and best of all, a bit of Frank Family lore.
"The Wines of Winston Hill Tasting was conceived with the Napa Cabernet lover and collector in mind," says Liam Gearity, director of direct to consumer sales and hospitality. "It is our most story-centric experience, showcasing the incredibly varied and exquisite wines of our prized vineyard site with average vine-age of 30 years."
Winston Hill is located on Rich and Leslie's 107-acre estate, on the east side of the Napa Valley along the Vaca Mountain range in the heart of the Rutherford appellation. It is home to approximately 35 acres of planted vines with Cabernet Sauvignon being its primary variety, along with small amounts of Merlot, Cabernet Franc, and Sangiovese. Due to its southwest exposure, Winston Hill receives some of the longest hours of sunshine in the valley. Typical warm summer days give way to cool nights with soft mountain breezes. Extensive hand labor balances the vine canopy and maintains yields to produce rich and concentrated wines. The vineyard is sustainably farmed and is certified Napa Green.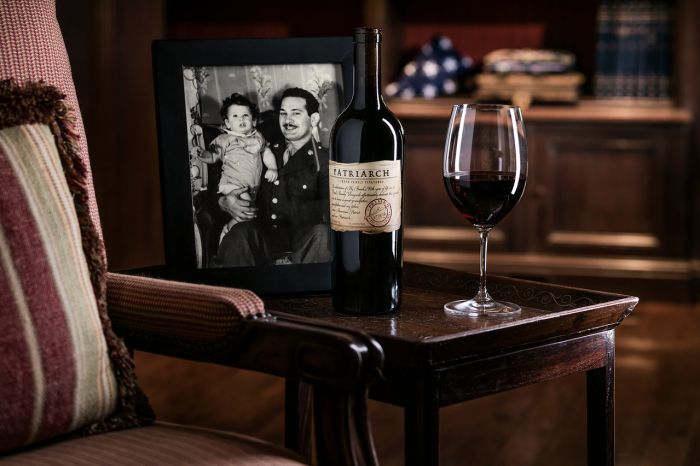 Patriarch Cabernet Sauvignon honors Rich Frank's father Hy Frank
The Wines of Winston Hill tasting is offered Wednesday through Sunday at 1:30pm and 3:30pm and features the following limited-production wines: Rutherford Reserve Cabernet Sauvignon ($95), Winston Hill ($150), Patriarch ($225) and Owner's Blend from magnum ($400). The cost is $70 per person and $30 per person for wine club members, and the compelling story behind 'Patriarch,' Rich's homage to his father, is alone worth a scheduling of this luxe tasting. The Patriarch label provides a snapshot to its provenance:
"Hy Frank, born in Brooklyn in 1916 to Anna and Lorenzo Frank, enlisted in the United State Army at the height of WWII, wanting to defend the freedoms and opportunities his grandparent sought when he immigrated from Lithuania. Forced to leave behind his loving wife Edythe and their 10-month old son, Hy was deployed to Normandy and landed on Omaha Beach amid the carnage and devastation four days after D-Day. He drove support vehicles for the First Army and General Patton's Third Army as the troops moved from town to town liberating the French. At the end of the war, Hy returned home to his family and started Heide's Meat Company with his friend Gus, which he operated successfully for 30 years. His hard work provided the means to send me, his first son, to university. His ethics, commitment and discipline exemplify the very nature of a man who weaves the strong figure of family, community, and country.' – Rich Frank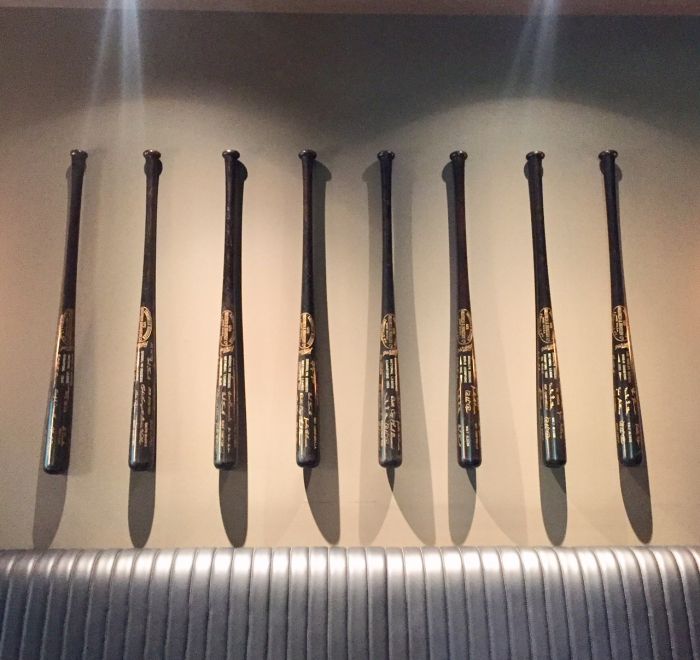 Brooklyn Dodger autographed baseball bats line one wall of the Patriarch tasting room
This wine's story is made even more captivating when enjoyed within the winery's new Patriarch tasting room, furnished with items honoring Hy Frank, such as a life-sized portrait of the young soldier holding baby Rich, and a wall lined with autographed Brooklyn Dodger baseball bats.
As president of Disney Studios throughout the 1980's, Rich never 'imagineered' a career in the wine industry. His transition to vintner could be described as a happy accident. When seeking a relaxing retreat from the hustle and bustle of Hollywood, he found peace within Napa and in the classic Tudor home that would become his permanent residence. Completely unaware of the riches upon which the home stood, he was surprised when his phone began to ring incessantly with purchase offers for the grapes surrounding his Winston Hill property. It was then that he realized a vocational change might be in order.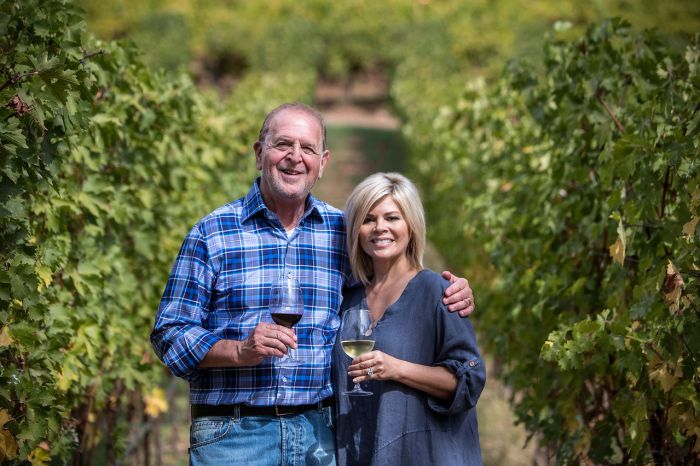 Rich and Leslie Frank
Rich ultimately bought the old Hanns Kornell Champagne Cellars winery, and in 1992 founded Frank Family Vineyards. Today, Rich and Leslie own 380 acres of some of the finest vineyard land in Napa, and produce nearly 75,000 cases annually. Rich actively runs all aspects of the winery, from vineyard purchases, to sales and marketing, to hosting winetasting groups, while Leslie oversees marketing and branding and coordinates Frank Family's charitable giving initiatives.
1091 Larkmead Lane, Calistoga (707) 942-0859