I never tired of the local lobster roll and blueberry pie- JRN
Some people visit Maine for the charming seaport villages, historic lighthouses, or to stare memsmerized at the over-the-top, fall foliage display. Don't get me wrong. It really all was quite stunning, but it couldn't compare to my delight upon discovering Maine's bountiful seafood!
Although I only had a couple of days to eat my way around Portland, I managed to dine on about a dozen of the most incredible seafood dishes imaginable. My mantra quickly became, "A day without lobster is like a day w/o sunshine." Whether I was indulging in a generously stuffed lobster roll from a ramshackle, seafood shack, or dining on a sophisticated lobster creation embellished with Shishito pepper, corn and pistou, prepared by Chef Matt Ginn (the 2015 Maine Lobster Chef of the Year) at Evo Kitchen & Bar, I was one happy camper.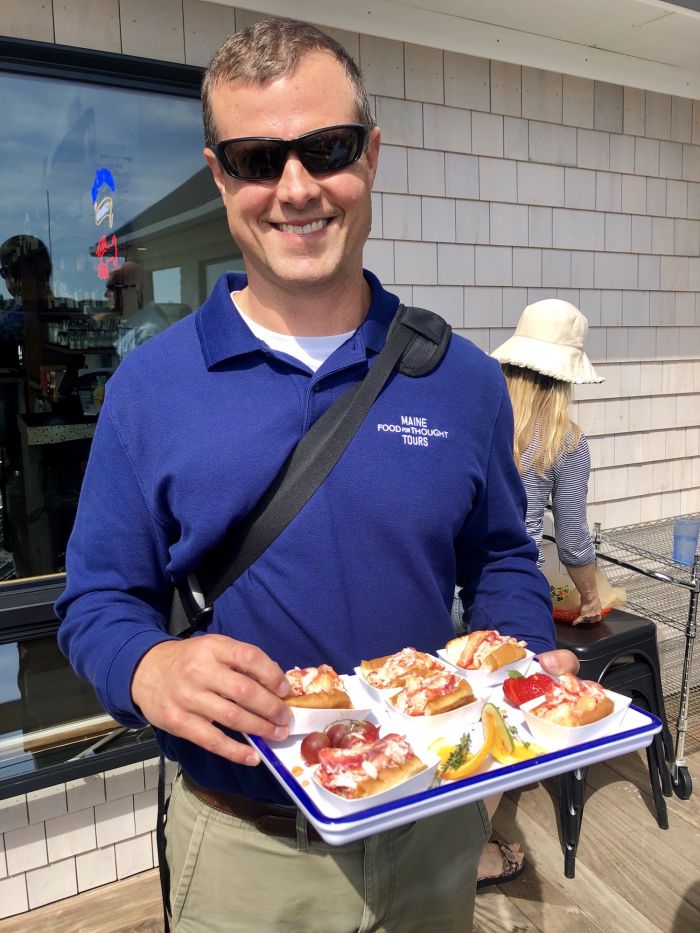 Bryce Hace - our superb culinary guide for Food for Thought-JRN
For a well-curated look at Portland's tastiest spots, sign on for one of Sarah and Bryce Hace's Food for Thought tours. We opted for the Land, Sea to Fork tour, which covered tastings at six unique restaurants. During the next three hours, Bryce enthusiastically shared inside stories on the people behind the locally, sustainably, and responsibly sourced food.
Some culinary highlights from our walking tour were: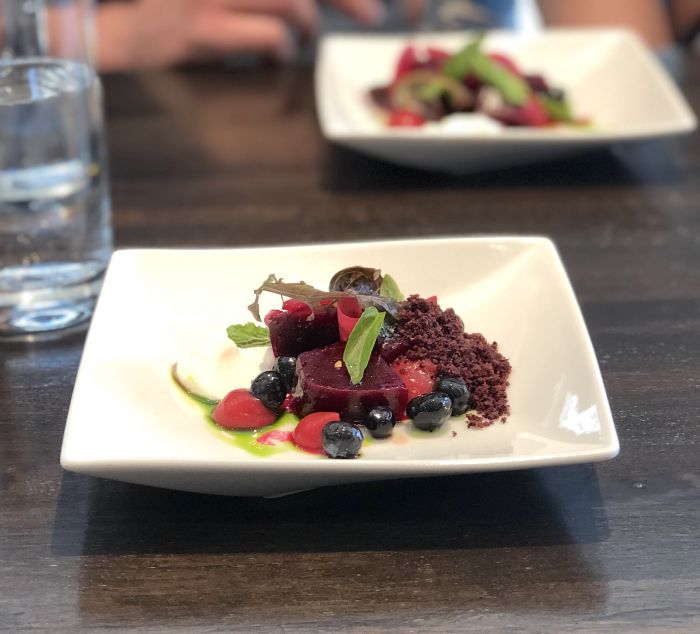 hus began my love affair with the lowly beet at EVO-JRN
EVO Kitchen + Bar turned me from an affirmed beet-hater to a total addict with the most killer beet presentation. It was a still-life beauty composed of both slow-roasted and pickled beets embellished with lemon yogurt and dried olive crumbles. It was so incredible that we made a return visit for dinner the following night, which somehow managed to surpass our sky-high expectations. Chef Matt Ginn (a popular contestant on Food Network's "Chopped") showcases the finest local ingredients using Mediterranean preparations. While looking over the menu, be sure and order a trio of spreads served with homemade pita.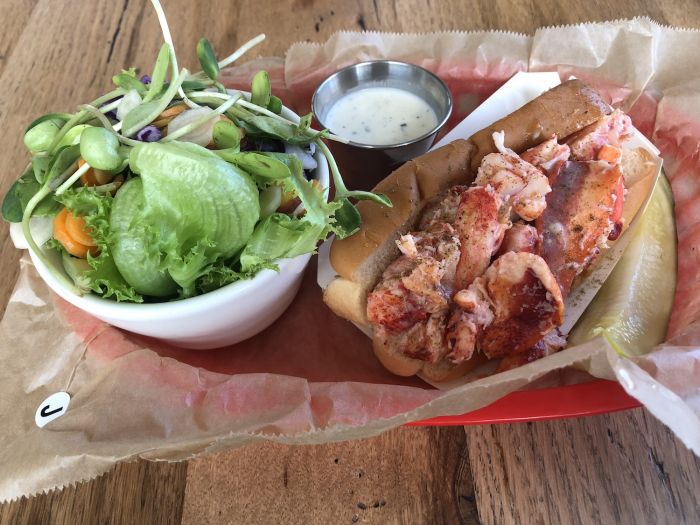 Luke's salad and lobster roll, JRN
Luke's Lobster at Portland Pier, a relative newbie to the scene, can best be described as an extremely attractive lobster shack. Nab a seat outside where you can watch the lobstermen unload their catch.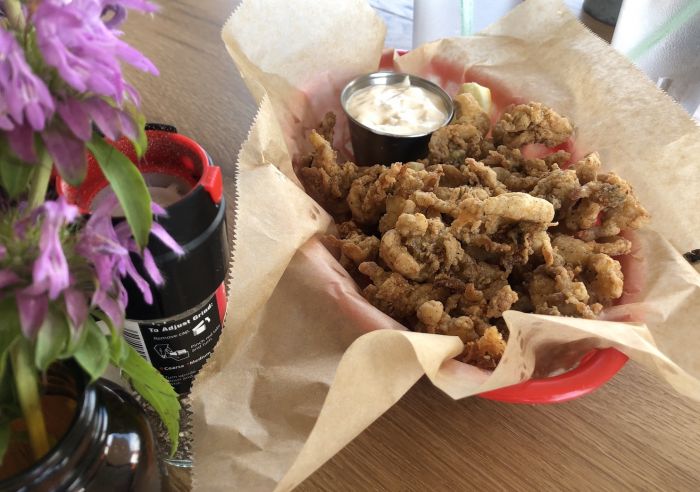 Crispy, greaseless clam bellies-JRN
Replace the chips with the Lighthouse Salad made from local greens topped with a flavorful kelp buttermilk dressing. Then use the calories you saved for the Fried Whole Clam Bellies enveloped in a barely-there rice-flour coating.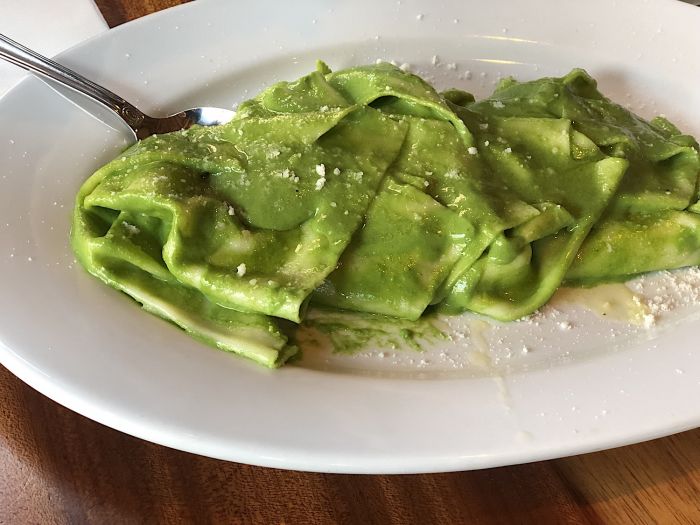 Mandilli al Vero Pesto Genovese, JRN
Sheer pasta perfection awaits you at Solo Italiano, when you bite into the Mandilli al Vero Pesto Genovese, which translates to "silk hankies in pesto." Chef/owner Paolo Laboa, won the World Pesto Championship in Genoa with this complex, seven-ingredient basil pesto. We learned that he tweaked the recipe for 30 years before his mother finally gave it her blessing.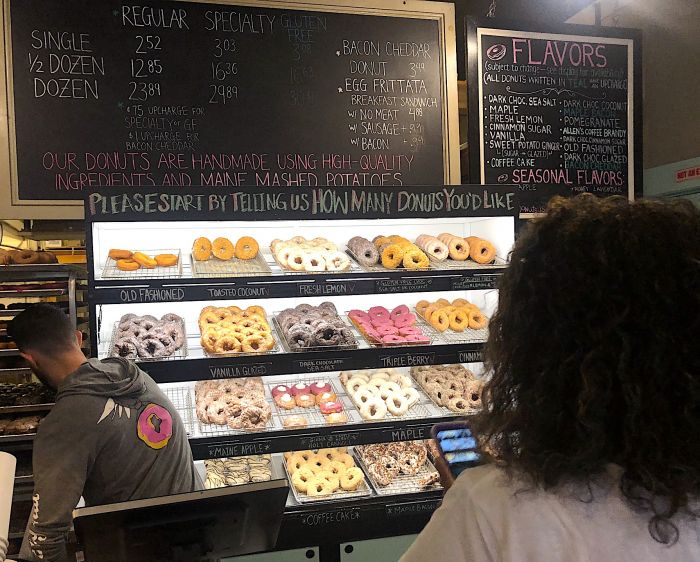 Pop into the Holy Donut after the tour-JRN
And then there's Holy Donut, the Holey Grail of donuts. Last year they sold over two million of these puppies. The secret to their simultaneously moist, chewy, melt-in-your-mouth texture is the addition of mashed potatoes! The roster of trendy flavors include such hits as maple bacon, chocolate sea salt, and Allen's Coffee Brandy which is Maine's fave, cheapo liquor, favorite cheap & delicious liquor.
Where to Stay
Two totally wonderful but completely different choices are: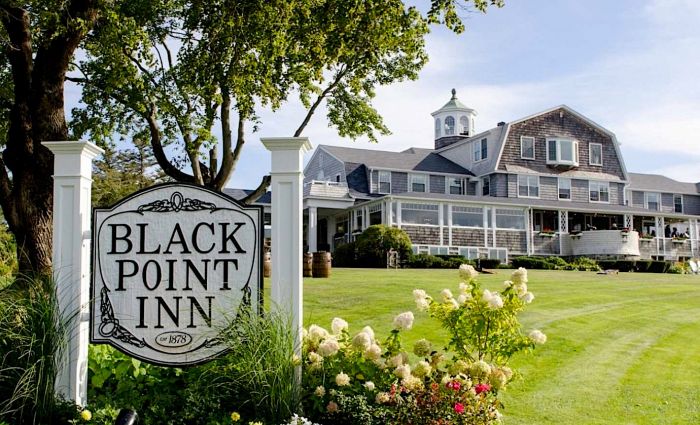 Black Point Inn is a class act-Courtesy of Black Point Inn
To experience the real flavor of fashionable New England getaway, head slightly out of town for a stay at the Black Point Inn, which has graciously been welcoming guests since 1878. Overlooking beautiful Prouts Neck, there's nothing like relaxing in an Adirondack chair while taking in the same views that so enthralled Homer. Other activities include a swim in the heated saltwater pool, biking, kayaking, and outdoor yoga.
Cozy-comfy guestrooms are all bright, airy and uniquely furnished, but I highly recommend reserving one with water views.
The inn features many special events such as Jazz Tuesdays, Wine tasting Wednesdays, etc. plus their annual gastronomical weekend highlighting a different region. This year it is October 25-27, 2019 and features the spectacular food and wine of Australia and New Zealand.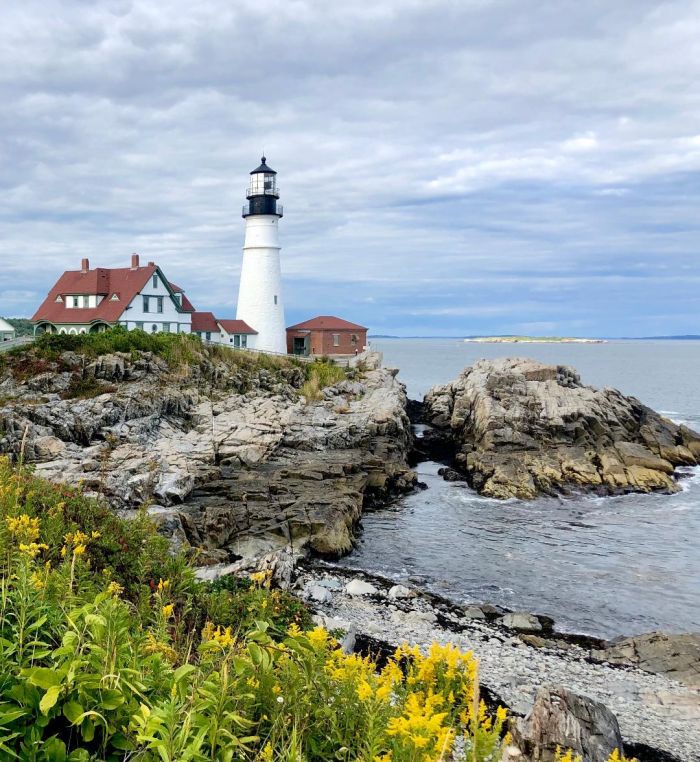 Pretty as a pic, Portland Head lighthouse-JRN
On the drive to Black Point you might want to take a short detour to see Portland Head Light, Maine's oldest and most photographed lighthouse.
If you'd rather stay in town and you're looking for a uber-cool boutique property, the Press Hotel, Autograph Collection, located in the 1923 Portland Press Herald building makes a fun choice. Loved the blast-from-the past touches such as a huge wall installation made up of antique typewriters, over-sized wooden typeset letters behind the front desk, and found art made from colorful stacks of leather typewriter cases. Even the wallpaper is adorned with actual quotes from old newspapers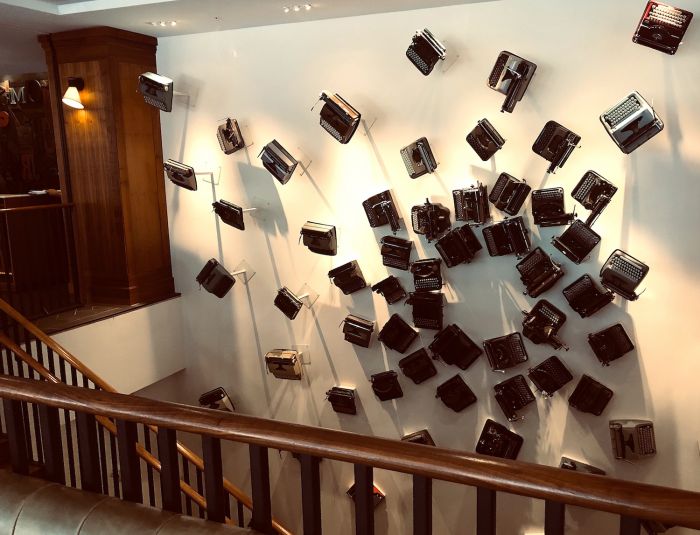 The typewriter wall-JRN
Opt for the Penthouse suite to enjoy a majestic Old Port, Portland view from your private rooftop patio. You might even want to bring out the restored, 1925 Royal typewriter to type a few 'wish you were here' letters!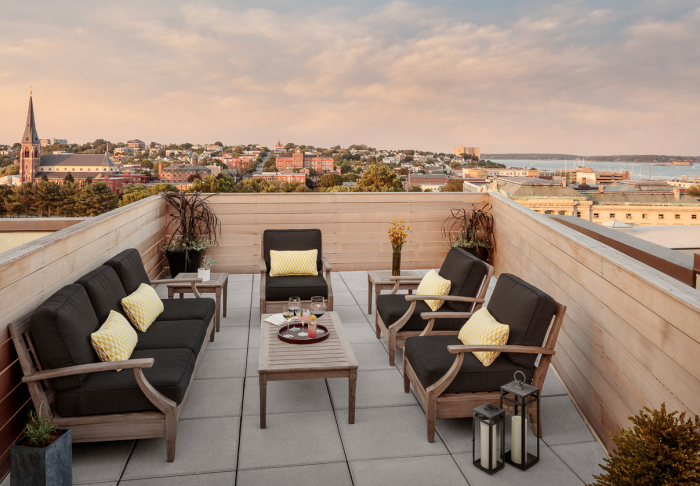 Private Penthouse patio-courtesy of The Press Hotel