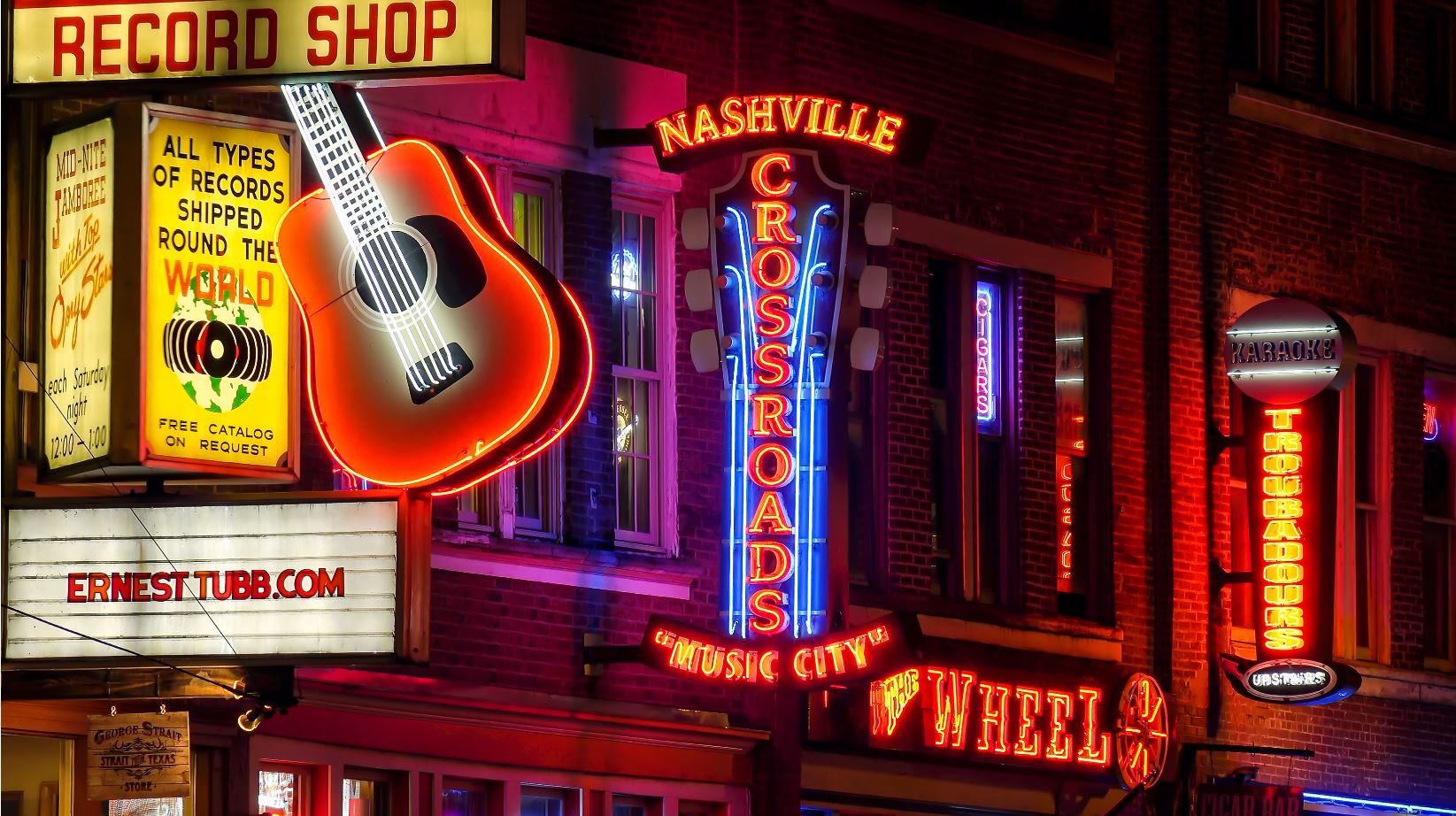 Photo Credit: Shutterstock
Take a stroll down Nashville's famed Broadway strip and one thing is majorly apparent – Music City knows how to party. But beyond the honky-tonk clubs and dive bars that continue to beckon countless groups of bachelorettes each year, there's another side to Nashville getting a lot of attention lately: the dining scene. And we're not just talking burgers and hot chicken.
In 2019, Nashville has seen more than 30 high-profile restaurant openings, attracting the likes of celebrity chefs Maneet Chauhan and Sean Brock. So, on a recent weekend visit, I decided to scope out this Southern city's food culture for myself.
From a top-notch steakhouse to a one-of-a-kind immersive chef's table dinner, here are six Nashville dining experiences you don't want to miss.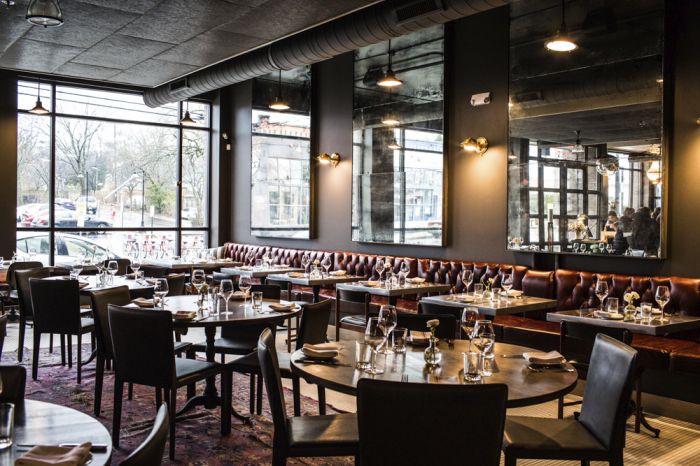 Photo credit: Josephine
Dreamy Dinners
Josephine: Located in Nashville's trendy 12 South neighborhood, Josephine serves up elevated farmhouse cuisine in an elegantly cozy atmosphere. Led by Chef Andy Little, whose distinct culinary style has earned him two James Beard semifinalist nominations since the restaurant's 2013 opening, Josephine's menu combines Little's Pennsylvania Dutch roots with Southern classics, resulting in an experience that's unpretentiously sophisticated.
There are plenty of standout dishes, including the Duck Fat Hash Browns topped with trout roe, pickled turnip and crème fraiche, and the Heirloom Tomato Bruschetta, which uses fresh, locally grown tomatoes. As far as entrees go, I recommend the Swordfish, which was delicate and flaky, and served withwarm potato salad topped with truffle vinaigrette. The Whole Chicken for Two also seemed to be a popular choice on the busy Saturday night I visited–it was served with crispy potato, kale and grilled onion vinaigrette.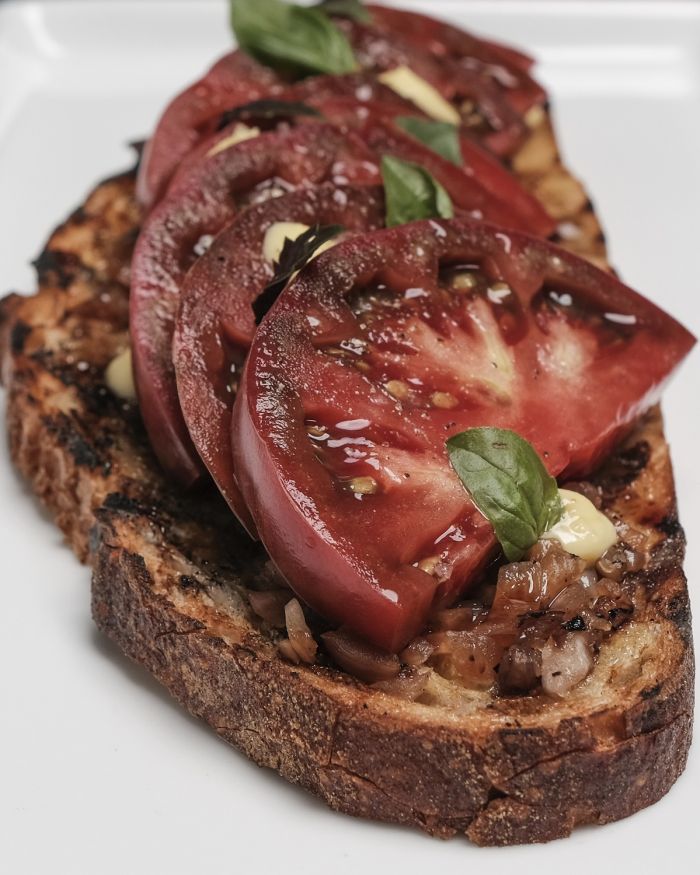 Photo credit: Josephine
As a foodie with a major sweet tooth, I appreciated Josephine's selection of desserts, which had decadent options like a Chai & Hazelnut Panna Cotta and Chocolate Peanut Butter Cake. But the must-try is the Apple Cobbler for Two served withhouse made vanilla ice cream. This dessert is as adorable as it is delicious.
Josephine is open for dinner Sunday - Thursday from 5 p.m. to 10 p.m. and Friday - Saturday evenings until 11 p.m. The restaurant also offersX|X: Josephine, a special 10-course menu of carefully curated chef selections, available on Friday and Saturday evenings at 7 p.m. (by reservation only).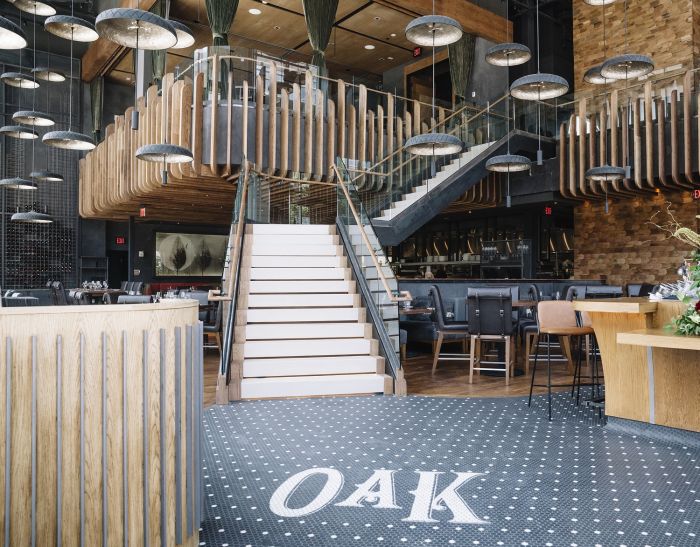 Photo credit: Oak Steakhouse
Oak Steakhouse: Located in the heart of Downtown Nashville, Oak is a modern take on the classic American steakhouse, featuring a menu of Prime Certified Angus Beef selections, along with small plates and seasonal entrees that celebrate fresh Tennessee ingredients.
Among Oak's menu standouts were the Charred Octopus (seasonal dish) served with grilled peaches, arugula, black garlic and shoyu mirin glaze, and the filet mignon. We also got a taste of the Wagyu beef cheek (served inside agnolotti), which can only be described as buttery and delicious. There is also a generous list of shareable sides to go with the steaks. I highly recommend the Crispy Brussels Sprouts and the Mac & Cheese, which is made with both fontina and white cheddar.
If you have room for desert, Oak's Chocolate Layered Cake is the stuff of dreams – espresso-soaked chocolate cake, manjari chocolate mousse and peanut butter buttercream.
Oak Nashville opens for dinner at 5 p.m. Closing times vary.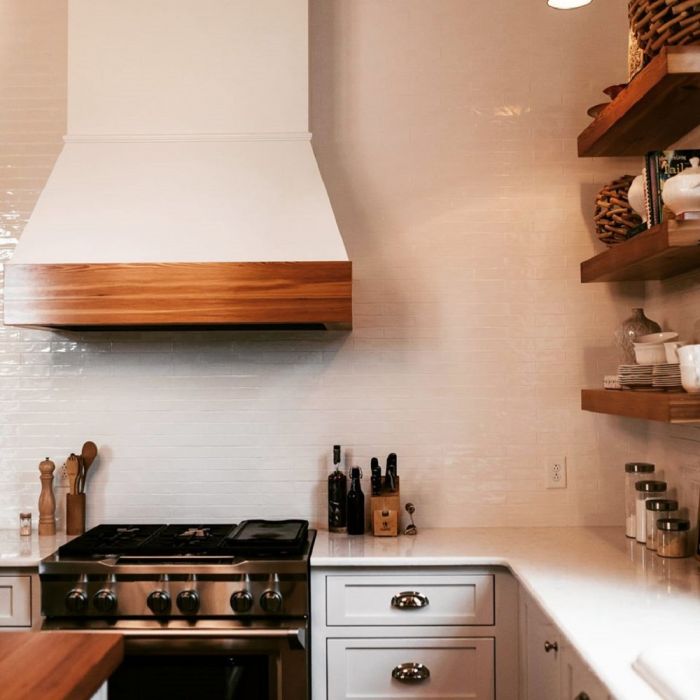 Photo credit: Food Fire + Knives
Food Fire + Knives: If you're looking for a dinner experience with a touch of added exclusivity, allow me to introduce you to Food Fire + Knives, a unique hybrid private dining service and interactive cooking class. Available in several cities including Charleston, Savannah and most recently Nashville, among others, this on-demand service connects you with local expert chefs to create a private, in-home (or in-Airbnb) experience. The best part: cleanup is taken care of for you.
Menus run the gamut, from Italian to Asian, but for our own personal dining experience, we chose the Whiskey Business menu by Chef Michael Koretoff. For a Nashville newbie, this menu offers the perfect selection of the South's best staples, elevated with the sweet, smoky notes of Tennessee whiskey.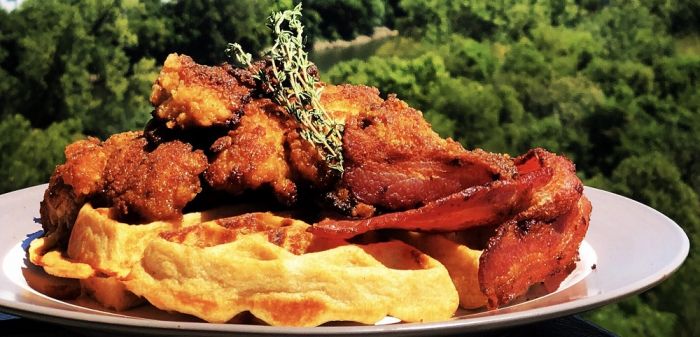 Photo credit: Michael Koretoff
Expect choices like Corn-Dusted Fried Green Tomatoes, using locally sourced tomatoes, arugula, pepper jelly and garden salsa; a refreshing Endive Salad tossed with candied pecans, honey, bleu cheese and crisp Washington apples; and Chef Michael's spin on traditional Nashville Hot Chicken over a vanilla bean buttermilk waffle and topped with a Fireball Peach Drizzle. My favorite dish: the Roasted Cauliflower Soup with smoked hazelnuts, maple-bourbon glazed bacon crisps and fennel.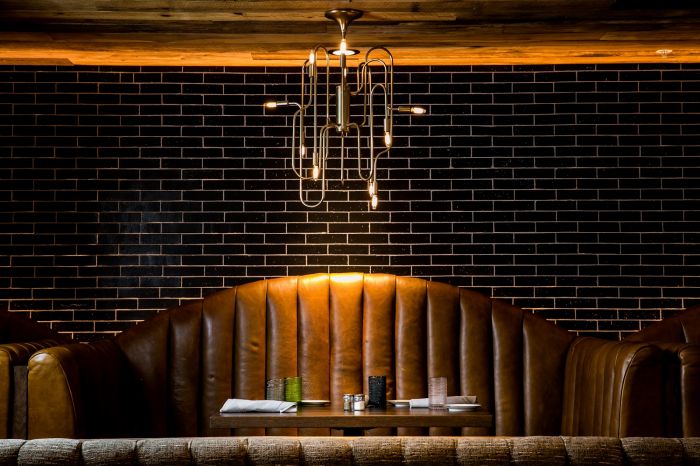 Tavern at Bobby
Other Must-Try Spots
Tavern at Bobby: Located in Downtown Nashville amidst all the action, this restaurant, inside the stylish Bobby Hotel,offers locally sourced, globally inspired cuisine. I recommend this spot for breakfast (the omelets are very tasty) or for enjoying afternoon cocktails (my drink of choice:Go Thyme, made with New Amsterdam Gin, creme de Violette, blackberry + thyme simple syrup and lemon).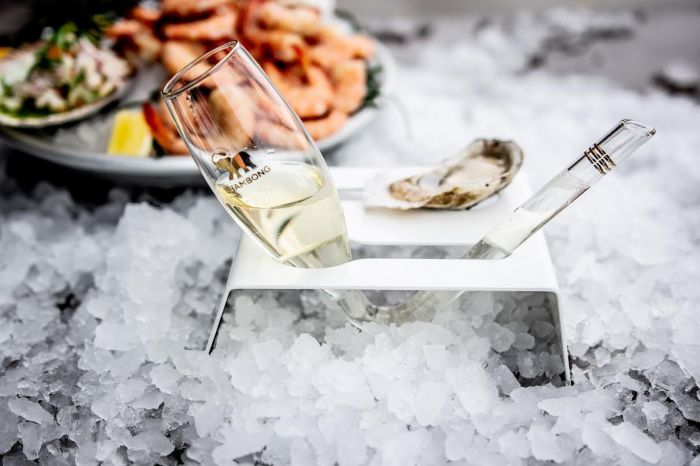 Photo credit: Mayter Scott Photography via Marsh House -Chambong
Marsh House: If you're exploring the Gulch, definitely stop by Marsh House for Happy Hour. Situated on the ground floor of the Thompson Nashville, this gorgeous restaurant – outfitted with chrome-accented furniture and lighting fixtures and a beautiful turquoise painted ceiling – is just steps away from Nashville's famous "What Lifts You" wings mural, and serves up some deliciously creative cocktails, including an oyster and Chambong special.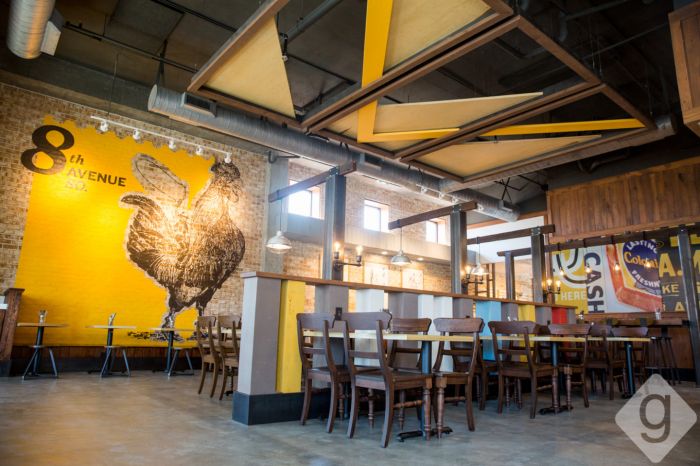 Holler & Dash /Nashville Guru
Holler & Dash: You can't leave Tennessee without having a Southern biscuit (or two, in this writer's case). And while I'm sure there are tons of places to get a decent biscuit anywhere in the city, I absolutely fell in love with Holler & Dash.
Under the culinary direction of Chef Brandon Frohne, a Tennessee native whose passion and talent have earned him appearances on TV shows like Food Network's Chopped, Holler & Dash is a contemporary Southern biscuit house that's big on fresh ideas and fresh ingredients.Menu favorites include theChicken Holler, Pork Ramblerand Kickback Chicken.
They also show major love to local purveyors, using everything from locally crafted wooden tables, to locally sourced honey and coffee.