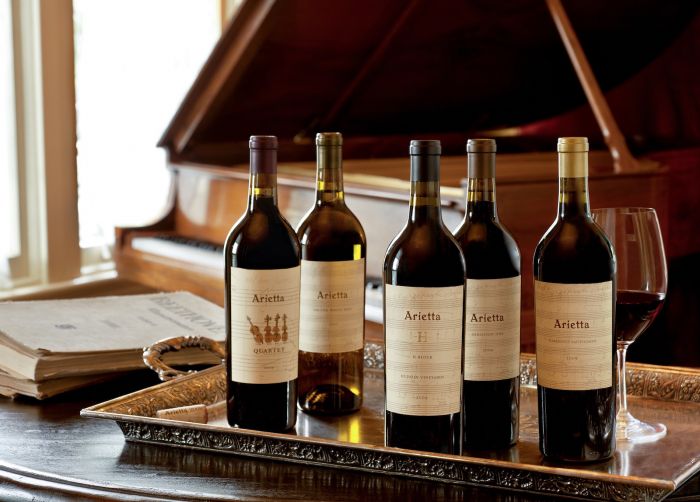 Photo courtesy of Arietta
Born of a love of both wine and classical music, Arietta is one of Napa Valley's best kept winery secrets. Founded in 1996 by classical music fans Fritz and Caren Hatton, in partnership with winemaker John Kongsgaard and his wife Maggie, Arietta takes its name from Beethoven's Arietta movement of his last Piano Sonata, Opus 11, and the Bordeaux-style, small production wines are as melodious as their inspiration.
Proprietor Fritz Hatton is well-known among charity wine auction attendees for his booming voice, bow ties, and jovial manner. He musters millions of dollars for worthy causes at events like Auction Napa Valley and L'Ete du Vin. Wine collectors also know him as the man who launched Christie's US wine department. But so covert is Arietta, few are aware of Hatton's role as the vintner behind the label that features a detail of Beethoven's original Opus 11 manuscript – written long after the composer had lost his hearing – making the piece one of the most revolutionary pieces of music ever composed. Fewer still are aware of Hatton's classical piano training and love of opera, the inspirations for his winery.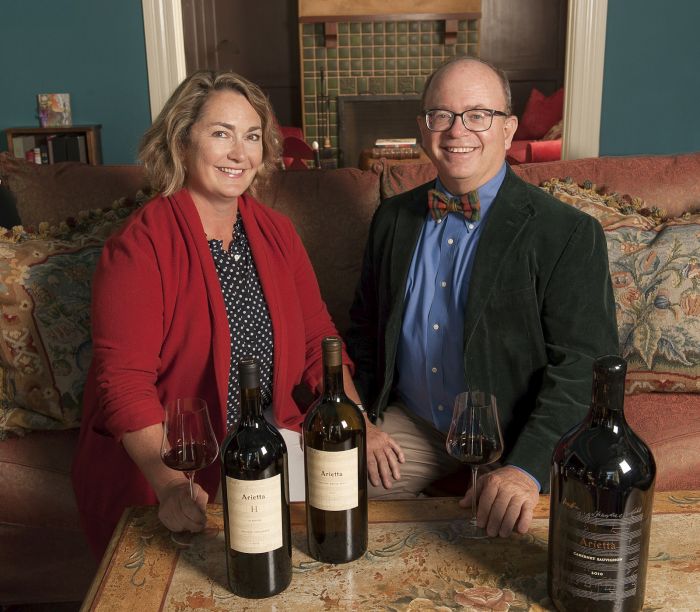 Caren and Fritz Hatton. Photo courtesy of Arietta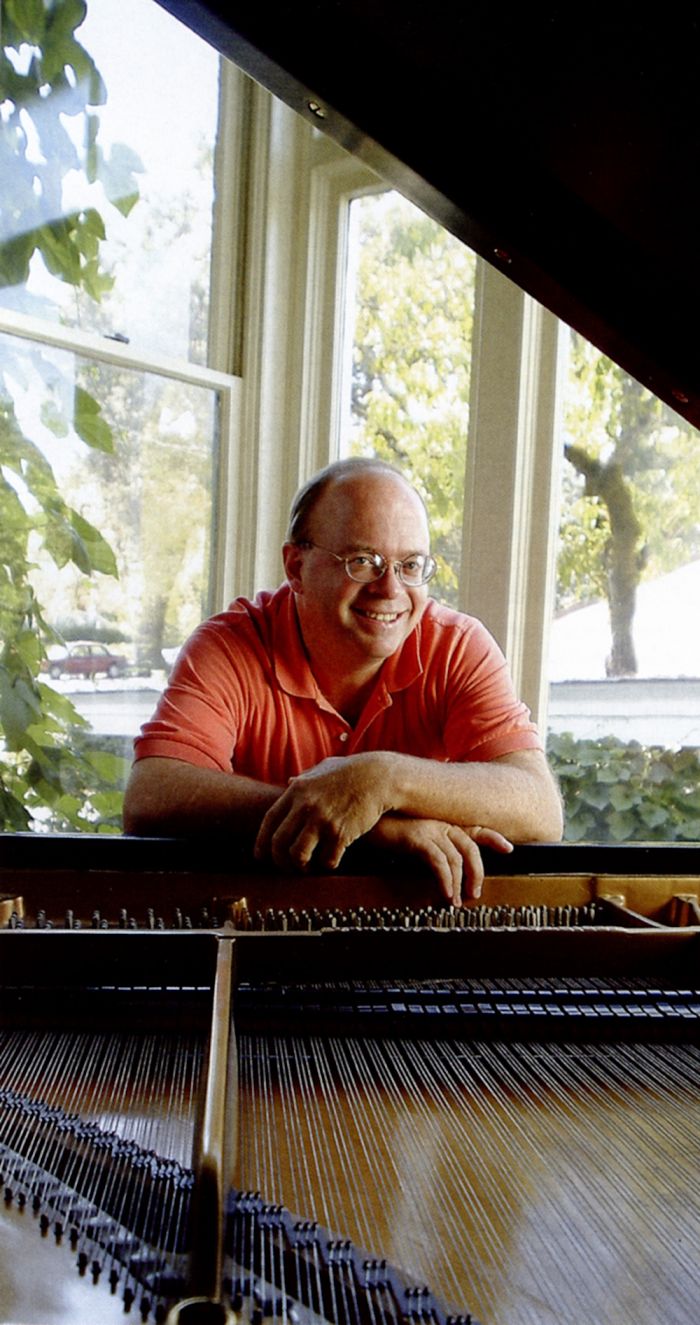 Fritz Hatton. Photo courtesy of Arietta
Serendipity struck during Arietta's founding year when the vintners' friend Lee Hudson gave them access to fruit from his spectacular two-acre block of Cabernet Franc in Carneros. The fruit from this vineyard block still provides the melodic core of the Arietta H Block Hudson Vineyards Red Wine. Merlot and Syrah grapes are from other superb blocks of Hudson Ranch Vineyards, and additional Merlot, Cabernet Franc, Cabernet Sauvignon, and Petit Verdot are from a three-acre Coombsville vineyard planted by renowned viticulturist David Abreu. Sauvignon Blanc for Arietta's white Bordeaux-style blend is sourced from hillside vineyards on Sonoma Mountain, and the Semillon from two old-vine blocks in Carneros' famed Hyde Vineyards.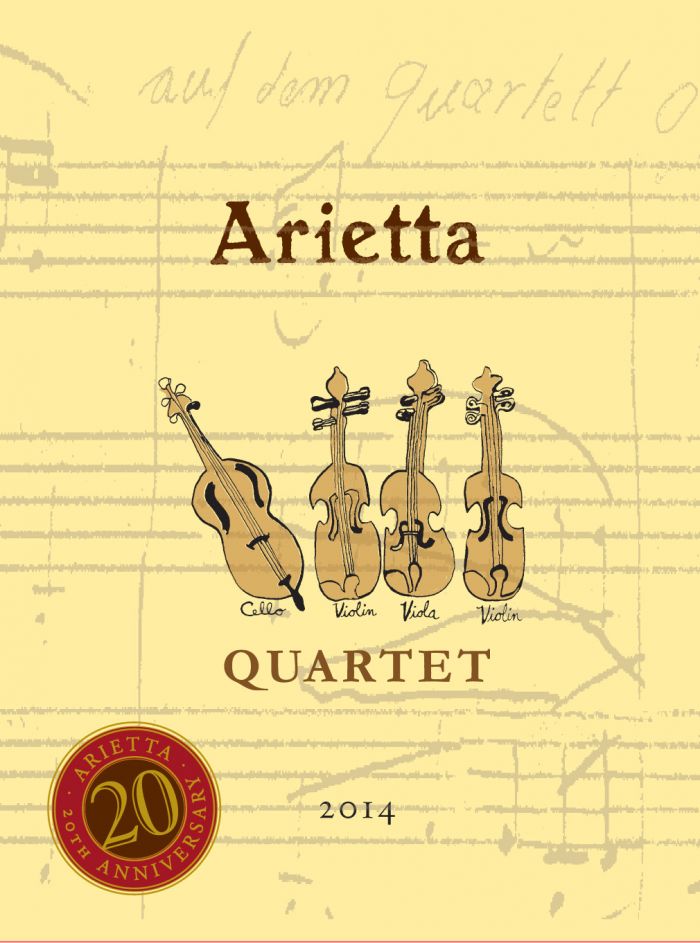 Photo courtesy of Arietta
Renowned winemaker Andy Erickson 'composes' the luxe Arietta wines from these carefully selected vineyard blocks in cool-climate regions of the Napa Valley. Erickson produces five limited production red wines—H Block Hudson Vineyards, Variation One, Cabernet Sauvignon, Merlot Hudson Vineyards, and Quartet, the label of which features a childhood drawing of string quartet instruments by the Hatton's daughter Libby. Arietta's one white wine, On The White Keys, is a mouthwatering blend of Sauvignon Blanc and the viscous and honeyed texture of Semillon that produces vibrant flavors.
Arietta's 2020 Release Schedule includes:
Arietta Spring Release - White Wine 4/9/20
2018 Arietta On the White Keys
2019 Arietta Rosie's Rose
Arietta Spring Release - Red Wine 5/7/20
2018 Arietta Cabernet Sauvignon
Arietta Summer Release 6/11/20
2018 Arietta Red Wine Quartet
Arietta Fall Release 9/10/20
2018 Arietta H Block Hudson Vineyards
2018 Arietta Merlot Hudson Vineyards
These super-premium Arietta varietals are available directly from the winery via their mailing list, and small quantities may be found in fine restaurants and retail shops in thirty states. The winery is launching an auto-allocation program called SYMPHONY that will allow subscribers to specify the wines and quantities they would like to receive with each new release. It's fully customizable, and includes special flat-rate shipping for case quantities.
Arietta hosts by-appointment, private tastings in an intimate space among the barrels at St. Helena's Chateau Boswell.
To make Arietta wine tasting reservations, call 707-963-5918 or email info@ariettawine.com.