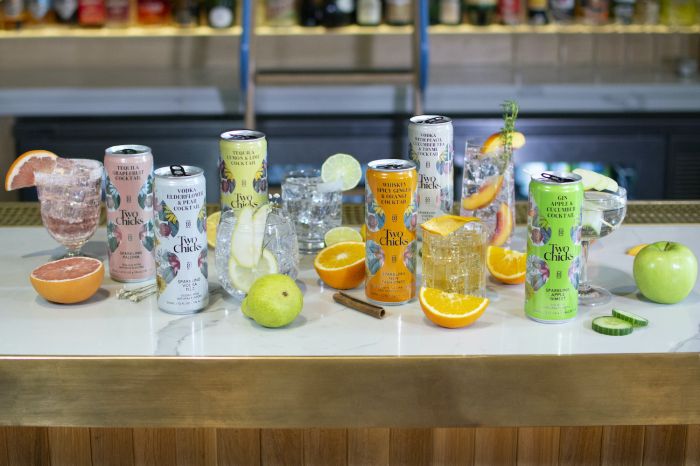 Photo: Two Chicks Cocktails
Holiday season is here, and though celebrations might be a bit different this year, one thing is certain - cocktails and wine will be imbibed. If you find yourself as host, consider making things easy for both yourself and your guests by providing 'contactless,' read-to-drink libations such as these:
Six different flavors help to ensure that everyone in your crew finds something to quaff: Sparkling Citrus Margarita (Tequila, lemon, and lime), Sparkling Vodka Fizz (Vodka, Elderflower, and pear), Sparkling Paloma (Tequila and grapefruit), Sparkling New Fashioned (Whiskey, spicy ginger and orange), Sparkling Vodka CuTea (Vodka with peach, cucumber tea, and Thyme), and Sparkling Apple Gimlet (Gin, apple, and cucumber.) Each is natural, gluten and sugar free, and made with real premium spirits and botanicals at 5% alcohol, and each can be consumed in-can or over ice.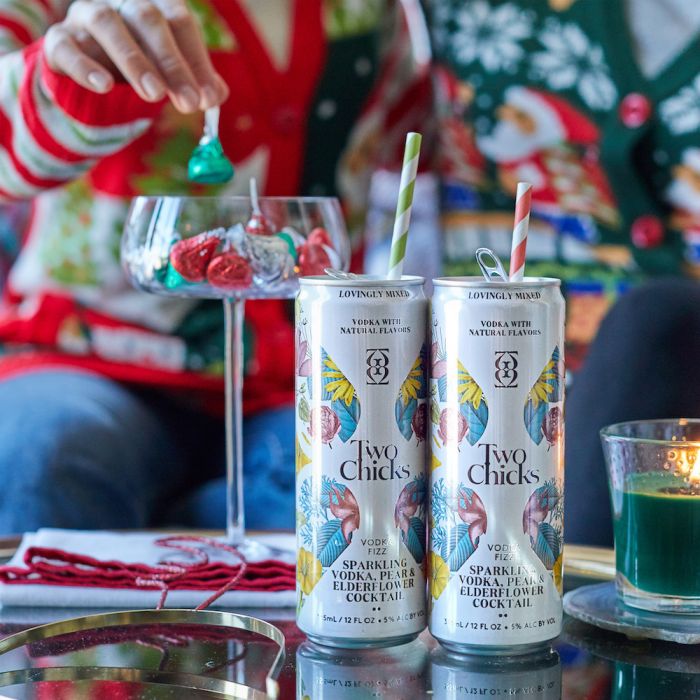 Photo: Two Chicks Cocktails
Founded by Meghan Hanna and Linda Cash, the two endeavored to create deliciously designed canned cocktails as a means to a movement, one that encourages inclusivity, laughter, and conversation amongst women. Little did the duo know that their products would also meet a moment – the COVID moment – and that the cocktails' delivery system would prove to be au courant. (No hassle, no mixing, no cooties.) About $18 per four-pack.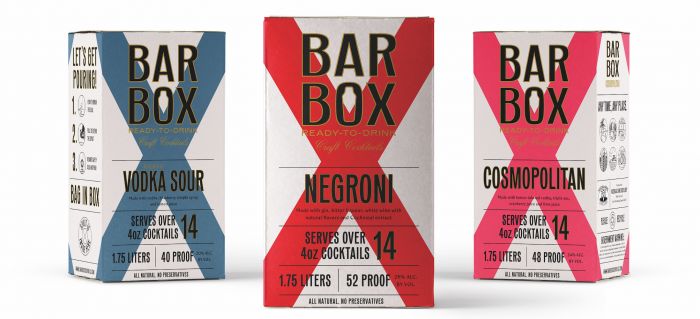 Photo: BarBox
BarBox offers a variety of premium yet playful craft cocktails easily imbibed on the go. Made with fine artisan spirits and carefully selected all-natural ingredients, BarBox is served in signature eco-friendly boxed packaging that is lightweight and convenient. BarBox combines fresh ingredients and distinguished spirits and is designed with modern convenience in mind making it perfectly suited for on-the-go, outdoor gatherings. Simply push to break the seal on the box, pull to extend the spout, pour the cocktail over ice, then garnish for a complete bar experience.
The BarBox launch collection includes three timeless cocktails: The Cosmopolitan, featuring lemon-infused vodka, triple sec, cranberry juice, and lime juice, serves a fruit-packed, thirst-quenching flavor, The Negroni with gin, bitter liqueur, white wine with natural flavors, making for a sweet and herbal experience, and The Vodka Sour showcasing vodka, blueberry simple syrup, and lemon juice for a simple yet expressive take on this classic cocktail.
Each BarBox serves more than 14 four-ounce cocktails and retails for $24.99 SRP. BarBox will be available for purchase at select retailers this holiday season in Florida, California, Colorado, Illinois, and New York.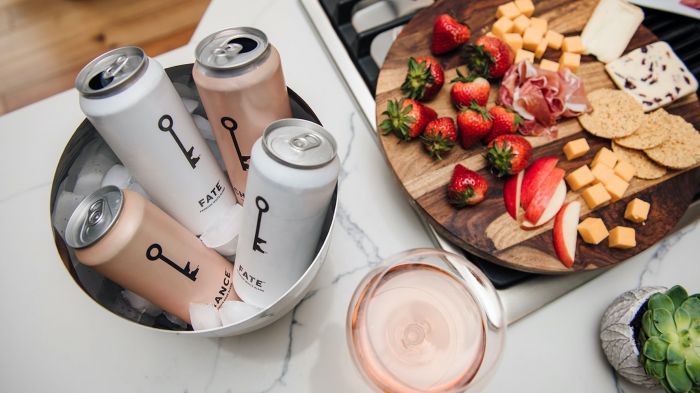 Photo: WineSociety
This award-winning line of convenient, eco-friendly 500ml canned wines is an ideal option for wine lovers. Founded by entrepreneur and wine enthusiast Angela Allison, she works with notable growers in the heart of Napa Valley to produce three blends that are 90 calories or less per serving, and are low in sulfites and residual sugar. Try TEMPT, a Syrah Blend with notes of dark cherry, plum, and cedar spice that earned a 94-point score from the International Wine & Spirit Competition. FATE is a Chardonnay with hints of peach, bosc pear & fresh citrus, and CHANCE is a Rosé blend of Zinfandel, Syrah, and Barbera, redolent of white peach & raspberry. Find WineSociety at retailers including BevMo!, Whole Foods Market, and a selection of fine grocers and liquor stores, or sign-up for CLUB WineSociety and allow wines to be delivered quarterly directly to you for less than $40 per shipment.