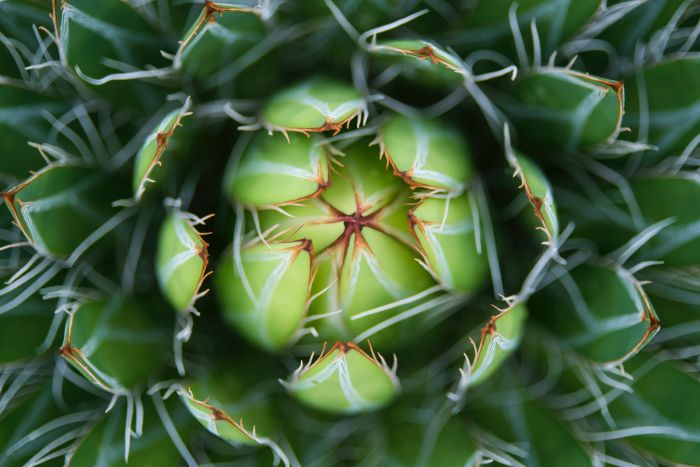 (credit: Joe Pilié - unsplash)
The agave plant is native to the hot and arid regions of the Americas and surprising to most, especially for the tasty elixirs the plant produces, it requires very little supplemental water to survive. Along with producing edible flowers, the sap from the agave plant is best known for producing pulque, an alcoholic beverage, which can be distilled to create mezcal (which tequila is a derivative of) as well as other lesser known varieties (including: sotol, raicilla, and bacanora). Known locally as maguey, agave plants stand up to ten feet tall before maturation and live eight to 20 years, where skilled jimadores remove the plant from the ground and trim the plant down until only the heart, or piña, remains. From the piña, the juice is extracted and distilled to create a wide varying spectrum of taste notes to create beautiful agave spirits. These bars and hotels across the United States have shown through their collections that they are amongst the top in the world for their agave spirit collections.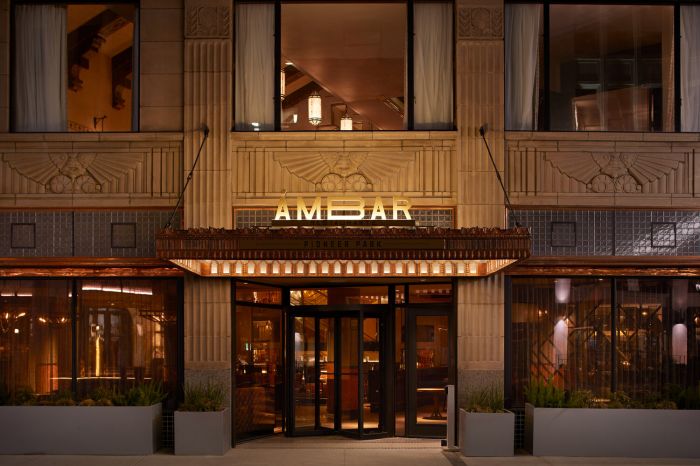 (credit: The Plaza Hotel Pioneer Park)
Ámbar Restaurante (El Paso, TX)
Newly restored, The Plaza Hotel Pioneer Park is a historic boutique property set in the heart of downtown El Paso's Las Plazas Arts District. The iconic building has hosted everyone from locals to politicians to Hollywood stars since 1930 and now features 130 premium suites and guest rooms, a rooftop bar and lounge and more. Following the completion of the restoration in 2020, the new lobby bar at Ámbar Restaurante offers one of the largest selections of agave spirits in the nation with over 800 bottles. The hotel is also home to the only bottle Lalique Patron in all of Texas ($1,750 per shot) and fine sipping tequilas and mezcals as well as komil, pulque and other rare Mexican spirits.
(credit: MGM Resorts International)
Mama Rabbit Bar (Las Vegas, NV)
With a nod to mezcals and tequilas, Mama Rabbit Bar at Park MGM is a true Oaxacan experience featuring modern Mexican cocktails, entertainment, a pop-surrealist art installation from Okuda San Miguel and more. Taking its name from 'Mayahuel,' the goddess of agave and fertility, the brightly decorated 4,400 sq-ft venue is divided into three distinct spaces – a double-sided bar, a lounge and a taverna. Boasting Las Vegas' largest agave-based spirits collection, with over 500 labels of mezcal and tequila, Mama Rabbit serves mezcal in traditional veladoras from Oaxaca and each pour includes a unique pairing to amplify its flavor, such as an Oaxacan chocolate truffle. The bar also has tasting flights; a gourmet salt-rim program which it uses for its signature cocktails; and exclusive spirits, including rare finds such as the world's first mezcal-barreled Blanco tequila, a Centennial Blend featuring 10 aged tequilas in one bottle adding up to 100 years in age and the first-of-its-kind mezcal aged in premium Mendocino pot still brandy casks.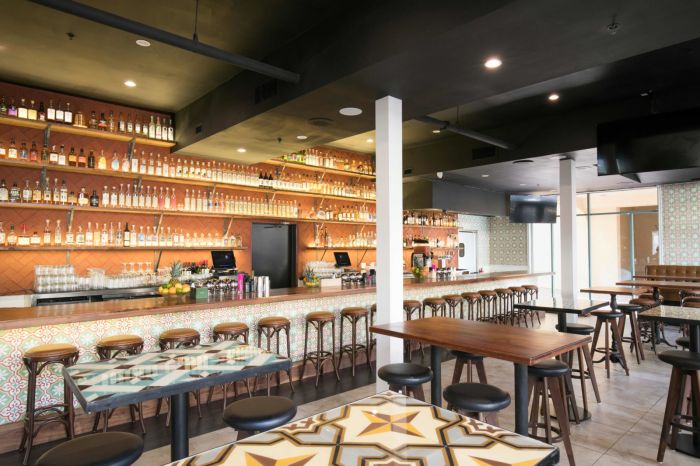 (credit: Jakob Layman)
Madre! Restaurant and Mezcaleria (West Hollywood, CA)
Madre! Restaurant and Mezcaleria, a mezcal bar and elevated Oaxacan concept, opened in West Hollywood in November 2020. A significant departure from owner Ivan Vasquez's previous two locations (with their flagship in Torrance and a smaller destination in Palms), this new dining concept has a deep focus on embodying Oaxaca in all its forms. At Madre!, Vasquez continues to purchase mezcal from small mezcaleros, sourcing all his products directly from Oaxaca. The restaurant offers a vast collection of over 400 rare mezcal bottles, the most available at any restaurant or bar in the United States. The exclusive batches for Madre! include: Real Minero-Largo, Espadin and Cuishe; Chacolo-Lineño; La Locura Pechuga-Raining Season. Last but certainly not least, their most expensive offering is the Real Minero Pechuga (Special Edition).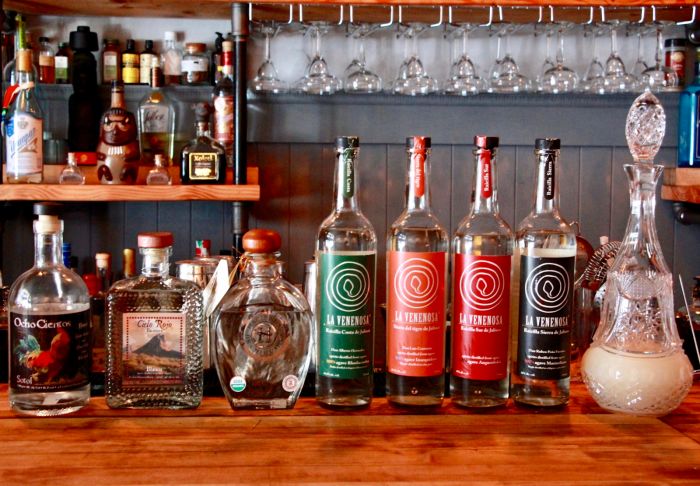 (credit: La Contenta Restaurants)
La Contenta Restaurants (New York City, NY)
With two locations in New York City, one in the Lower East Side and the other in Greenwich Village, La Contenta Restaurants have an agave-centric beverage program offering one of the largest selections of tequila and mezcal in NYC. Overseen by beverage director Alex Valencia – who hails from Guadalajara, Jalisco, Mexico, the birthplace of tequila – La Contenta Restaurants each feature over 350 bottles of high-end tequilas and mezcals. Featuring a wide range of regional mezcals and agave species, La Contenta was also the first restaurant in NYC to offer lesser-known spirits such as sotol, raicilla and bacanora, served neat or in their craft cocktails as well as feature Pulque (the fermented sap of the agave plant) prominently on their menus.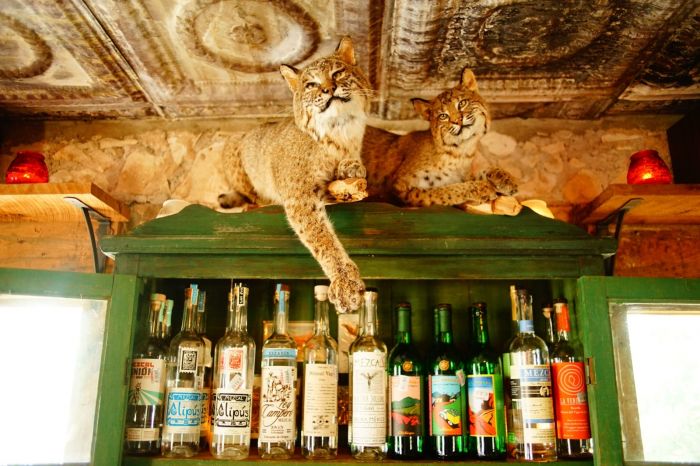 (credit: Mezcalería Tobalá)
Mezcalería Tobalá (Austin, TX)
On bustling 6th street in Austin, Mezcalería Tobalá is Whisler's Mezcal speakeasy housed on the second floor. The intimate space offers a hand on experience with knowledgeable bartenders sharing their passion and expertise and is only open on the weekends from 7pm-2am. Fashioned after a traditional Oaxacan mezcal bar, Mezcalaria Tobala houses over 200 selections of Mezcal, both Espadin and wild and rare varietals. All mezcal offerings, some others are Sotol, Bacanora and Racillia, are served in traditional vessels- copitas or veladoras and they also offer Sal de Gusano-mezcal flights are also available for a fully immersive experience.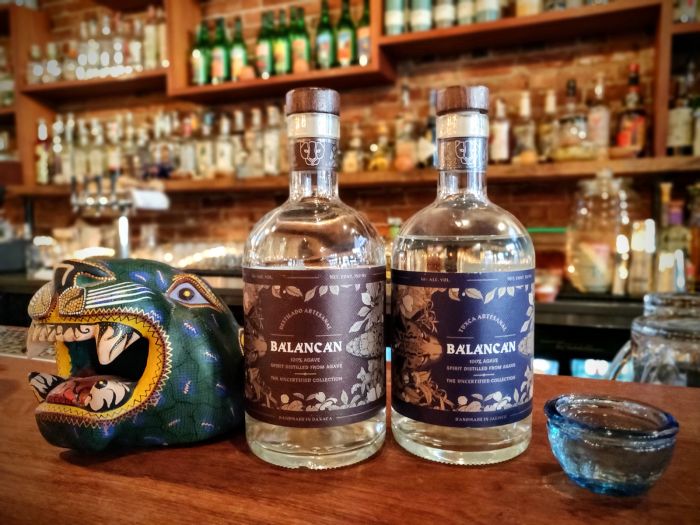 (credit: Jaime Duggan)
Gracia (Seattle, WA)
Founded on the deep admiration and reverence for Mexican culture and cuisine with GRACIA being the Spanish translation for the word grace, Gracia preserves and honors the history and techniques of traditional Mexican cuisine. Alongside chef/owner Chester Gerl's fresh menu is a spirit list featuring 111 Mezcals, 93 different Tequilas and 20 different agave or sotol distillates that have their own classification that separates them from Mezcal and Tequila. Their agave list (which can be found here) features wildly unique agave distillates - like Balancan Tuxca Artesanal which ferments the pulque in bull's hide and then distills the spirit in tree trunks - along with some truly top-notch one- or two-ounce pours. Their top mezcals, each at $100/pour, include the Leyenda Montana, Del Maguey 1995 Stagg's Leap Cask, while a cool $140 gets you a Clase Azul Anejo Tequila.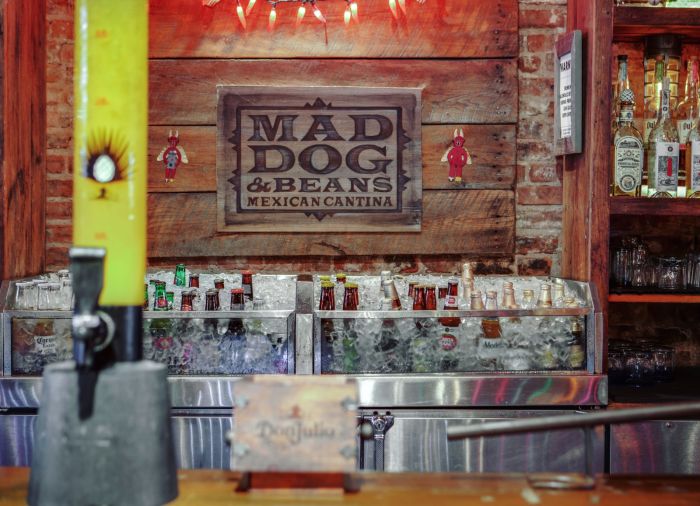 (credit: Virtual360NY)
Mad Dog & Beans (New York, NY)
Mad Dog & Beans is a casual-upscale Mexican cantina with two locations in the city, one in the Financial District and one in Midtown. offering up classic Mexican cuisine, margaritas and a large selection of tequilas. Along with offering a massive 100-ounce margarita tower with a required four people to finish it, they currently offer 145 different types of tequilas and mezcals from 60 different brands. The most expensive bottle on their menu is the Tequila Clase Azul Añejo and right behind is the Tequila Gran Patrón Piedra Extra Añejo. In terms of mezcals on the menu, the most unique is the Scorpion 7 Years (a discontinued varietal that has an actual scorpion in it!) priced at $64 a shot.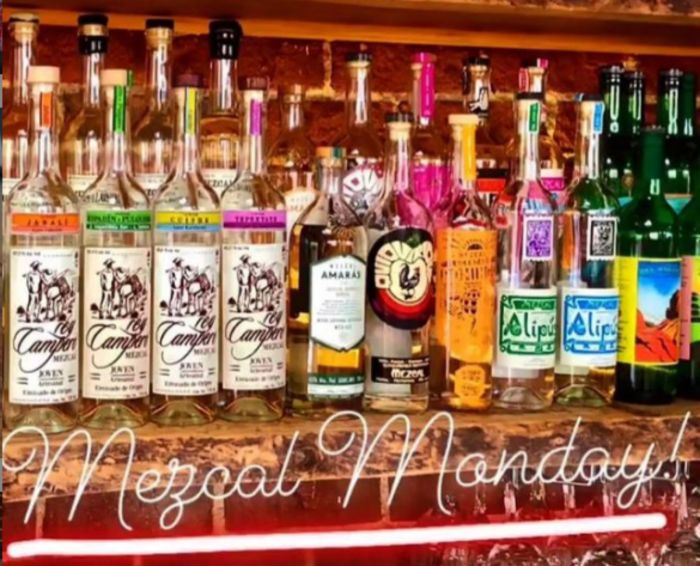 (credit: @prizefighterbar)
Prizefighter (Emeryville, CA)
Near the Berkeley-Emeryville border, Prizefighter is a community cocktail bar that embodies the industrial feel of the neighborhood. Whether on their patio out front or inside, they feature a large cocktail menu and122 Mezcals and 26 Tequilas. Included in the Mezcal count is their "Rare and Allocated" section featuring all of the Del Maguey Vinos de Mezcal including special bottlings, and other rare examples from Neta, Vago and Wahaka Mezcals.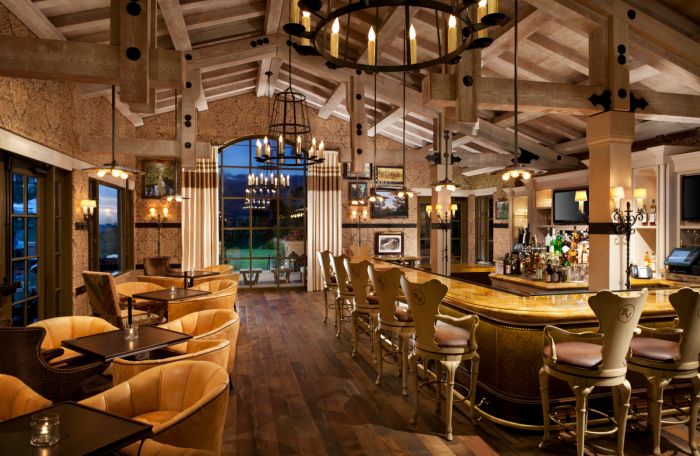 (credit: Rancho Valencia Resort & Spa)
The Pony Room (San Diego, CA)
At Rancho Valencia Resort & Spa, a Spanish colonial hacienda-inspired enclave in Rancho Santa Fe, California, guests are presented with fresh and seasonal dining experiences. The equestrian-themed Pony Room bar and restaurant (which serves breakfast, lunch and dinner) offers an extensive tequila program led by mixologist, Ted Gibson. Located on the ground floor, the bar and restaurant offers over 100 variations of tequila, that are available for tasting and used in handcrafted cocktails–especially on the restaurant's specialty margarita menu. Offering live music during dinner service Wednesdays through Sundays, the Pony Room is a favorite among locals and resort guests alike.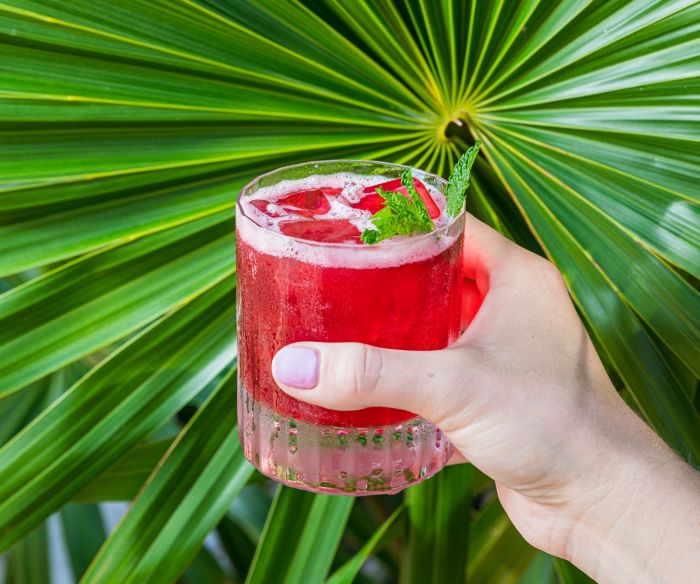 Mezcalista (Miami, FL)
The newly opened Moxy South Beach hotel which is bringing a combination of style, sass and elevated comfort to the area will open Mezcalista this spring, an intimate lounge focused on mezcal offering over 100 types of mezcal and tequila. Designed by Saladino Design Studios and run by the team behind Miami's uber-popular Coyo Taco, the new hotspot will offer a selection of flights as well as mezcal-focused specialty cocktails created by award-winning mixologist Christian Rubio, who is known for deftly combining Mexican herbs, fruits, and spirits.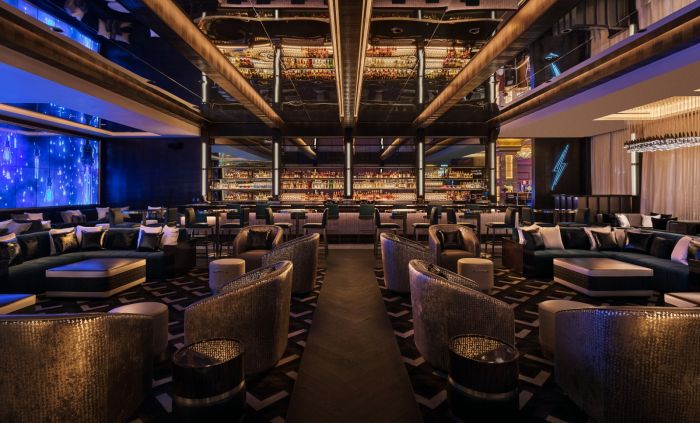 (credit: The Venetian Resort Las Vegas)
Electra Cocktail Club (Las Vegas, NV)
Located on the casino floor of The Palazzo at The Venetian Resort Las Vegas, Electra Cocktail Club is currently open Friday – Sunday from 5 p.m. to 1 a.m. Presenting an inventive collision of energy and style, Electra's back bar features a diverse selection of spirits with a focus on rums, agricoles, and mezcals. With a total of 35 different tequila and 71 different mezcal options, noted barman Sam Ross uses these spirits to feature cocktails that are both imaginative and playful with a bend toward the tropical. Standouts include neat pours of the rare Clase Azul Día de Muertos 2020 Edition (only 2000 bottles were created world-wide) to Puntagave's Bacanora or Raicilla, or the signature cocktail, Age of Aquarius (Mezcal, passionfruit, lime, honey and Campari).