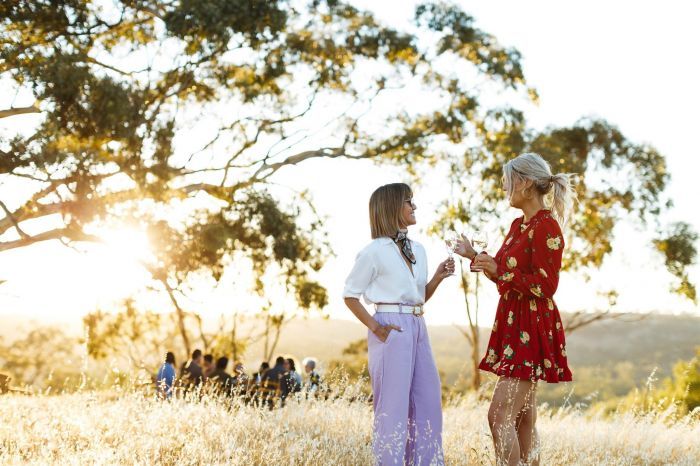 All Images Credit Clare Valley Wines
Australia is indisputably one of the top producers of new world wines. Since the late 1800s, immigrants from Europe brought their way of life and love of food and wine to this island continent in the far reaches of the globe. In the highlands two hours away from Adelaide in South Australia is where you'll find the Clare Valley. A piece of heaven found on rolling hills and pastures that produce highly acclaimed cool-climate wines. A celebration of this region's traditions and love of food and wine takes place once a year during Clare Valley Gourmet Week that is nothing short of a gourmand field of dreams.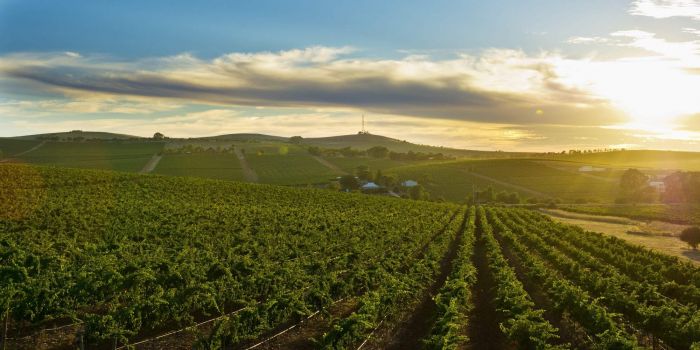 We often think of America as the land of opportunity. Once upon a time, it was known as a place where the streets were paved in gold. America was not the only country that welcomed immigrants who then left their mark on the land and created wonderful traditions and prosperity for the next generation. Australia has its own claim to the title of the land of opportunity where immigrants flocked since the 1800s. Nowhere is that more evident than in their wine industry. Germans, English, and Italians brought their viticulture traditions as well as vine cuttings from their homeland. Throughout Australia, they found similar growing conditions in the soil, sun, and salty sea breezes and then they began to plant their wine grapes. The wines were mainly for local consumption until 1951 when Max Schubert, winemaker mastermind at Penfolds in Adelaide, created a Bordeaux style shiraz blend and entered it into several international wine competitions. The critics agreed that this was indeed a world-class wine and as, they say, the rest is history. From then on, wine-making in Australia received a new level of respect and admiration for oenophiles around the world.
Clare Valley is located in the bucolic farmlands and mountain ranges with several quaint towns and plenty of friendly locals. The area could not be more beautiful, with a mix of woodlands, livestock paddocks, and farms. This high elevation means a cool climate and just beyond the mountain ranges, sea breezes bring their moist salt air adding a distinct crispness to the wines produced.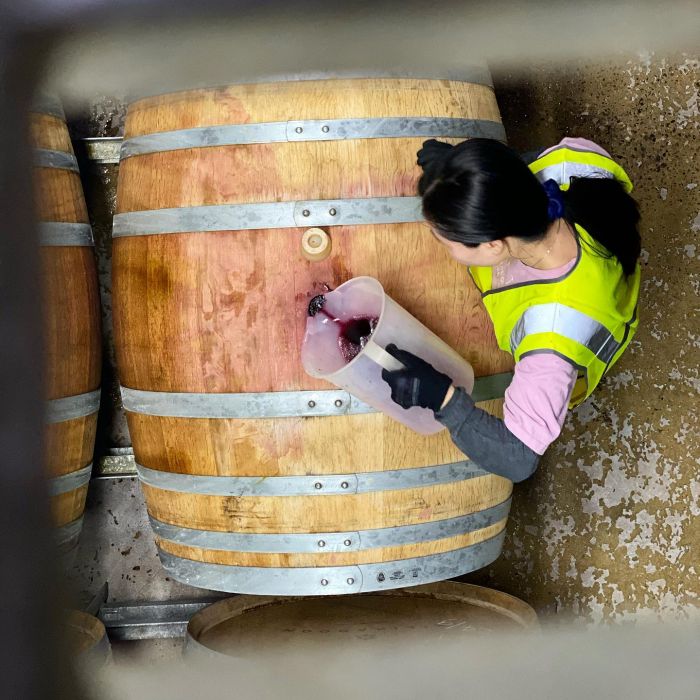 This is the land of the cool climate wines and most notably, Riesling followed by chardonnay, shiraz, and grenache. In terms of the Riesling wines, forget the sweet and at times syrupy wines that you'll know from Germany. These wines are crisp and dry with notes of stone fruit and citrus, pairing well with seafood, pork, and Asian dishes. And Clare Valley is ground zero for Australia's Riesling wines with over 50 winemakers located one after the next along endless vineyards and a winding country road known as the Riesling trail where wine lovers are welcomed to come in for tastings in their cellar doors.
The Clare Valley Gourmet week is a celebration of Clare Valley's wine tradition. It honors the generations of winemakers while exposing today's wonderful wine and gourmet experiences as well. Over the 10-day celebration, 26 wineries put on 40 events from long table lunches, fun-filled lawn parties, private dinners, and immersive wine experiences.
O'Leary Walker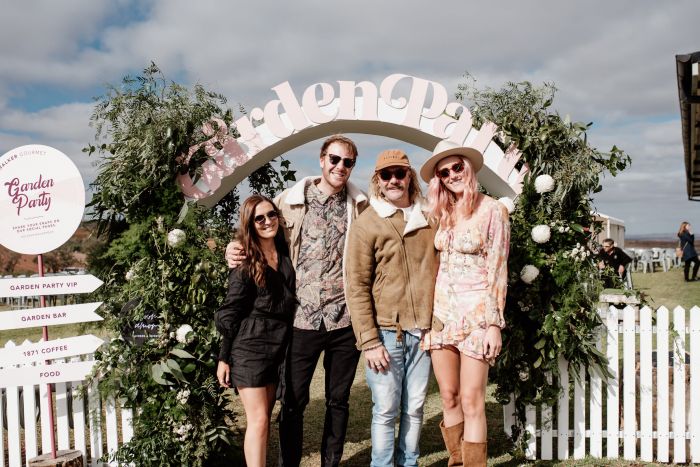 Credit: Elliot Thompson
O'Leary Walker is one of Clare Valley's most acclaimed wineries and cellar doors are known for their, of course, Riesling. O'Leary Walker is best known for their Polish River Riesling and their Pinot Noir, grown in the nearby Adelaide Hills. A visit to their cellar door is like a drive to the clouds, set high up on the mountain range overlooking the hills and valleys carved into a patchwork of farms, woods, and vineyards.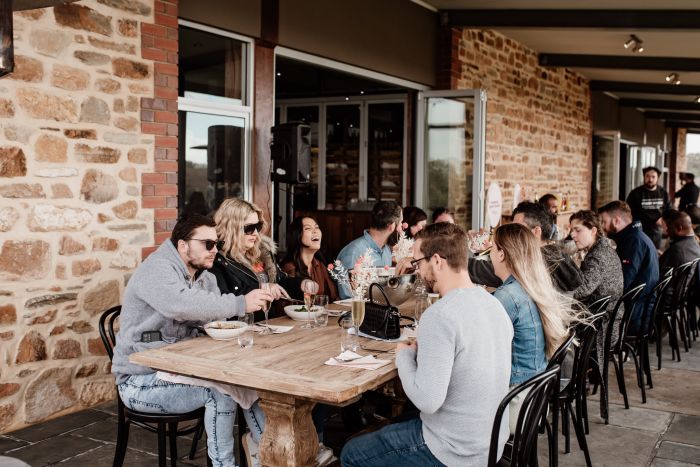 Credit: Elliot Thompson
Their cellar door and winery made the perfect location for several of the festival's most popular events including lawn parties where guests mingled and moved to the live music while enjoying their range of wines and some yummy culinary treats. The day also hosted an exclusive group of guests who were treated to a bottomless bubbly brunch dining on a gourmet meal with and a bottomless glass of their Hurtle sparkling chardonnay and pinot noir wine.
Kilikanoon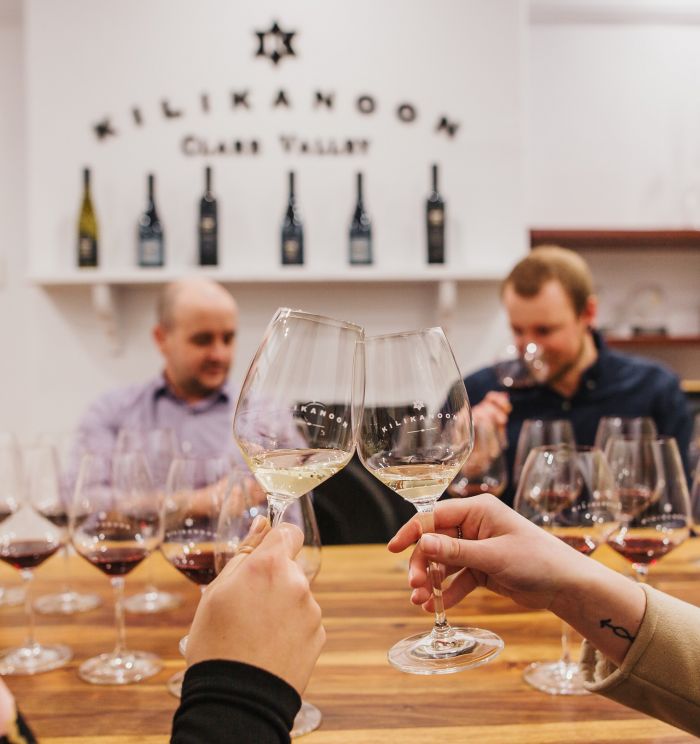 Kilikanoon is one of Australia's highly respected winemakers producing several internationally awarded estate wines with their GSM (Grenache, Shiraz, Mataro) as their most prestigious wine. Needless to say, winemaking is no easy task. It is part of science, art, luck, and magic to get the wines just right in terms of color, smell, and, most of all taste.
Kilikanoon hosted an event for the wine lover that allowed guests to blend their own wine. Armed with their beaker, wine dropper, and stock of base wine, guests tried their hand with several combinations of fresh wines recently harvested. Guided by their expert winemaker, the want-to-be winemakers created their ideal concoction for the six bottles of wines which were labeled and shipped, and ready for cellaring.
Pikes Wines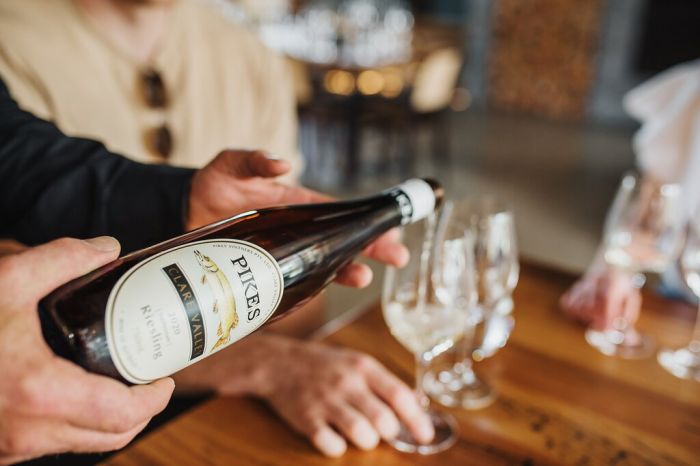 Pikes Wine is one of the premier wine labels of the Clare Valley. In 1985, Andrew Pike and his brother Neil began the label which grew not only in size but in international recognition to become one of the most prestigious wines in Australia. Fast forward a generation and now the next generation is set to take the reins producing exceptional wines on their 250-acre estate. Beyond Riesling, Pikes produces highly acclaimed Shiraz and Cabernet as well as 20 other varietals. Their most notable wines are their E.W.P. Reserve Shiraz, 'Hill Block' Reserve Cabernet, and their most popular 'Traditionale' Riesling.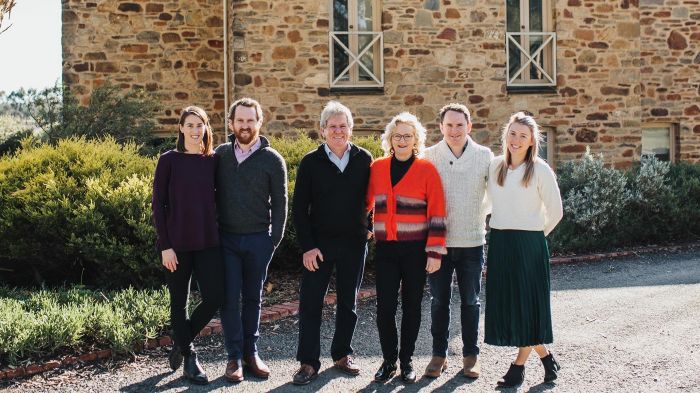 Pikes Wines put on an exception lawn party during Clare Valley Gourmet week with great live music, exceptional regional food, and of course, their delicious wines.
Reillys Winery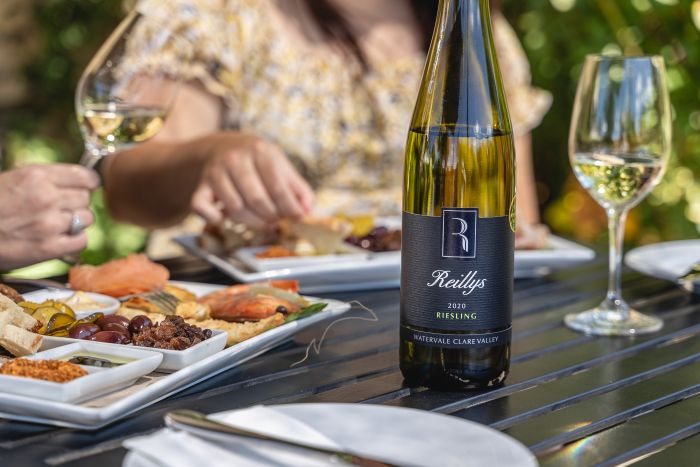 Not all of Clare Valleys winemaker stories began in the nineteenth century or even generations ago. Reillys Wines are from the winemaker Julie and Justin Ardill, a former surgeon, who traded in their stethoscope to begin winemaking just 30 years ago. Their winery and restaurant are located in the heritage-listed hamlet of Mintaro, a quaint and idyllic town with little more than a pub, a few churches, a general store, and a clutch of lovely residences.
The Reillys' cellar door is in the painstakingly restored shoemaker's home from 1856. The storybook home, built with rustic stone walls and thick wood beams, could not have been a more fitting location for an intimate five-course degustation dinner perfectly paired with their estate-grown wines. The boutique winery is best known for its RCV ultra-premium and limited-release wines made from handpicked fruit from their dry-grown Clare Valley vineyards. Most notable are their 'Epitaph' Shiraz, 'Stoneflower' Merlot Cabernet Sauvignon, 'The Dancer' Cabernet Sauvignon, and their 'Pressings' Shiraz.
Jim Barry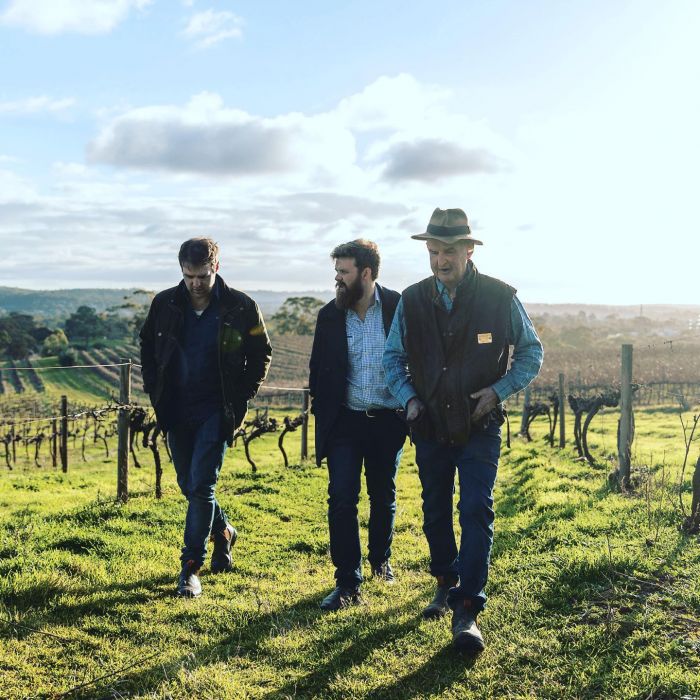 One of the Clare Valley's most respected wines is Jim Barry. Just two generations ago, Jim Barry, a pioneer of the Australian wine industry, came to the Clare Valley in 1959 and has been producing trophy-winning wines ever since. Their fruit is estate grown on their 800 acres estate in Clare Valley and on more vineyards in Coonawarra in the south. The estate produces many prestigious wines with their most awarded being the Armagh Shiraz with a cellaring potential of 30 years. The Florita is their other must-try acclaimed Riesling wines made from handpicked small plot estate grapes and also made for cellaring.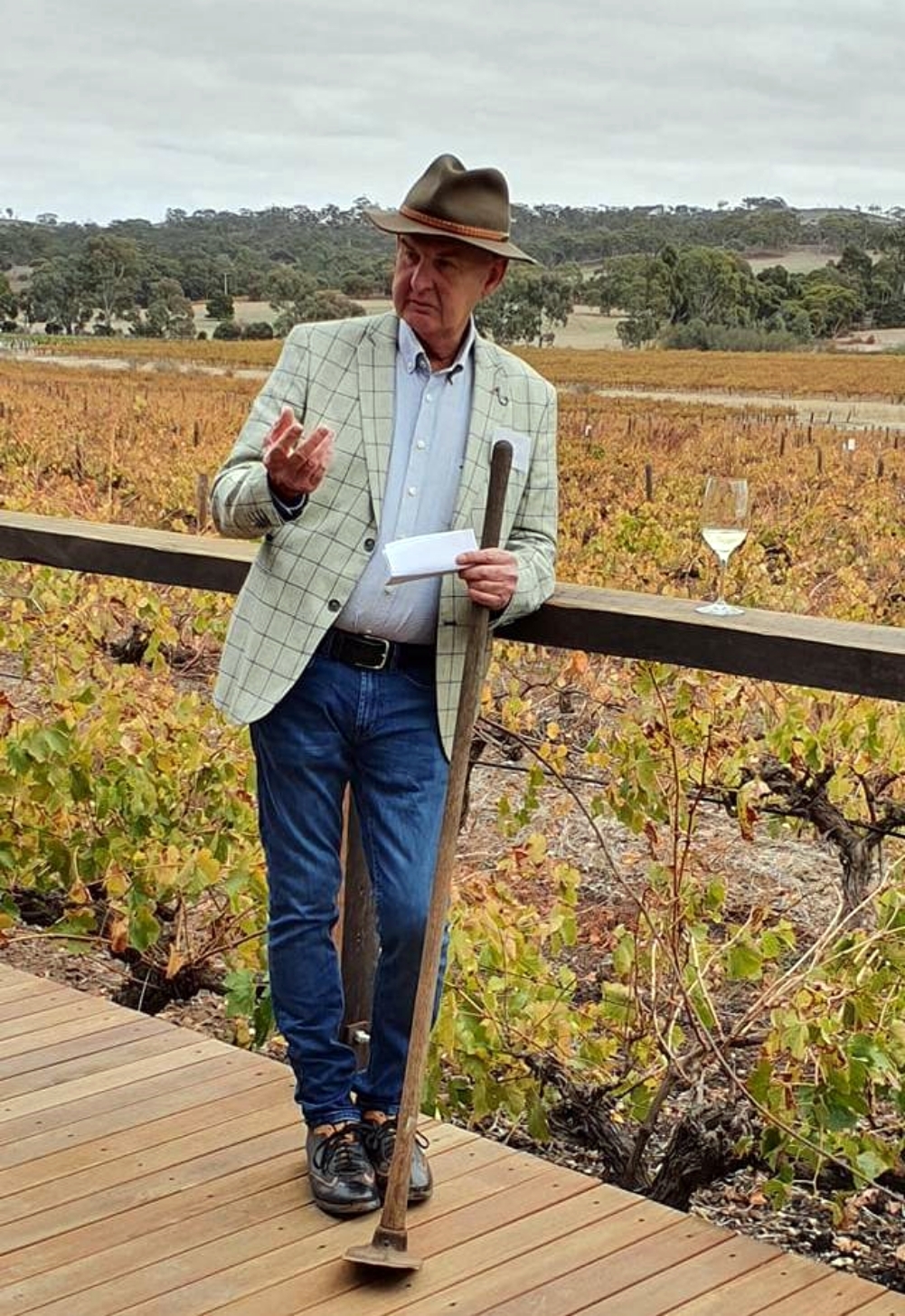 Peter Barry of Jim Barry Wines
During Clare Valley Gourmet Week, Jim Barry Wines hosted an exclusive group of guests for a true celebration of food, wine, friendship as well as time with the Barry family to learn about their way of life and of course their wines. The vine cutting lunch took place in their iconic Armagh Vineyard overlooking the landscapes where their most acclaimed fruits are grown.
Set on a tin farm shed overlooking the vines a group of 24 guests came for a day of wine exploration, great food, and connecting with new friends. With wine in hand, the day began with guests hearing from managing director and patriarch Peter Barry, as he regaled stories of growing up at his father's coat tales while he grew the wine business, crop after crop, harvest after harvest, and vintage after vintage to become one of Australia's premier wine brands that it is today.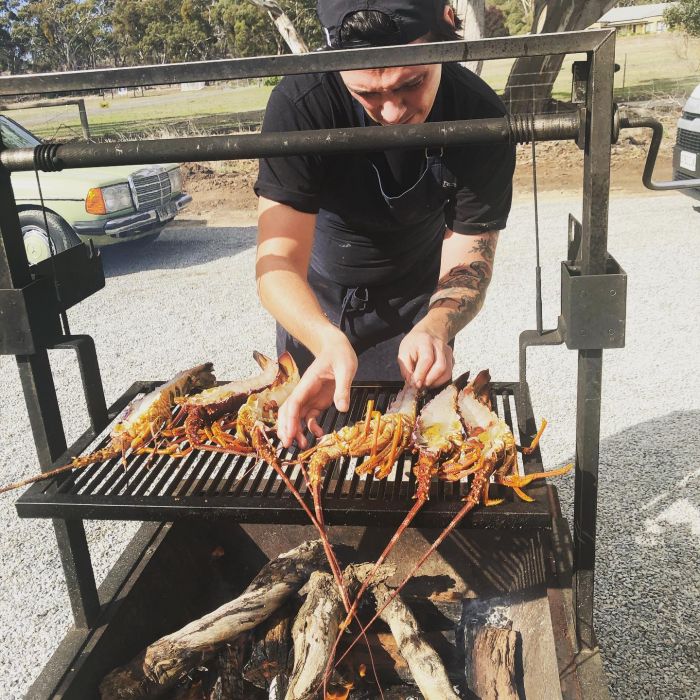 For the day, the Barry's enlisted the culinary talents of celebrity Chef Jake Kellie whose pedigree includes working at the most prestigious kitchens around the world including Heston Blumenthal's The Fat Duck in London. Today Chef Kellie is known for his unique style of cooking over an open wood flame. The gastronomic fantasy and long lunch were savory from the outset with dish after dish of succulent fare including his legendary grilled lobster with salmon roe. The gasps followed by oohs and ahhs of the diners seemed to only subside when they stopped to swirl, smell, and sip perfectly paired Jim Barry wines.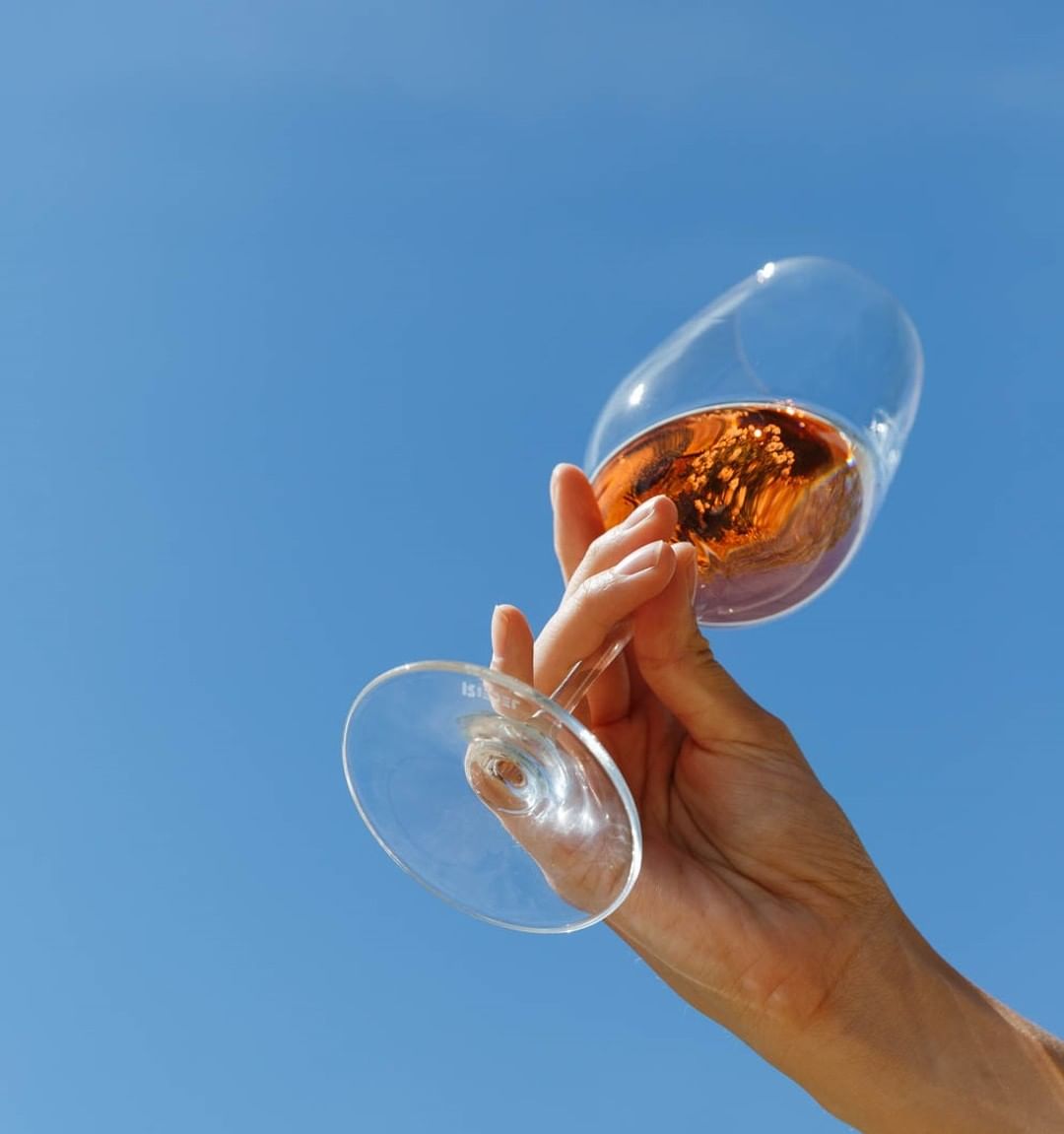 Clare Valley is a place made for the oenophile. The tradition, beautiful landscapes, and the generations of winemakers have created a special place where wine lovers can immerse themselves in all of the wine wonders that this decadent valley has to offer. The Clare Valley Gourmet Week is the ideal time to visit and sip in all of the epicurean wonders this region has to offer.