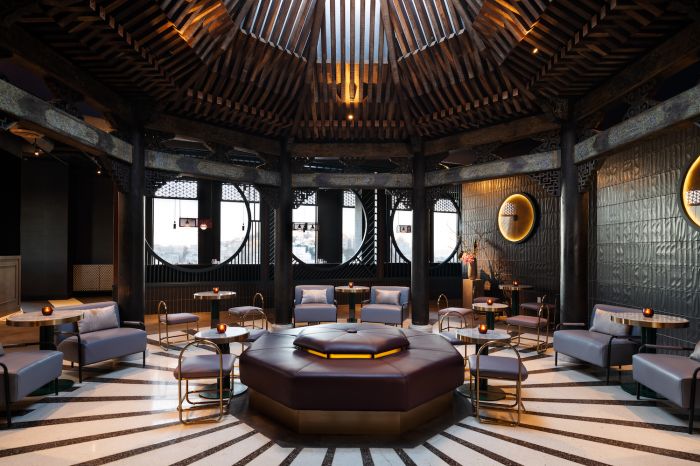 Photo by Jean Bai
Maybe it's the iconic sixth floor Chinatown location with panoramic vistas of the San Francisco skyline. Or maybe it's the curved, peacock blue leather booths and the center stage antique wooden pergola. It's most definitely Chef Ho Chee Boon's delicious cuisine and the crafted cocktails. Whatever the motivation, Empress by Boon is San Francisco's hottest dinner reservation for which both gastronomes and design enthusiasts are clamoring.
Identifiable from the street only by its Grant Ave. address, Empress by Boon continues to feature the marquee of Empress of China, the restaurant's former occupant that held court in the same location for 48 years before shuttering in 2014. The 7,500-square-foot space with seating for 156 is accessed via an elevator that opens to that stunning antique wooden pergola, a salvaged tribute to the restaurant's previous life. It now frames the restaurant's tea lounge featuring a central circular leather couch surrounded by plush seating and low tables.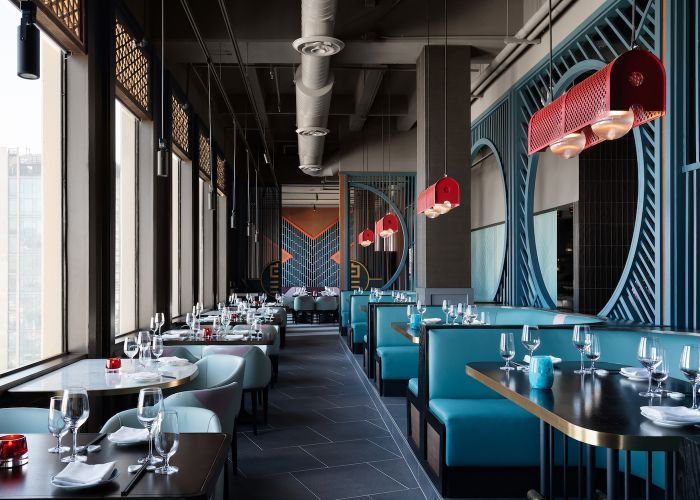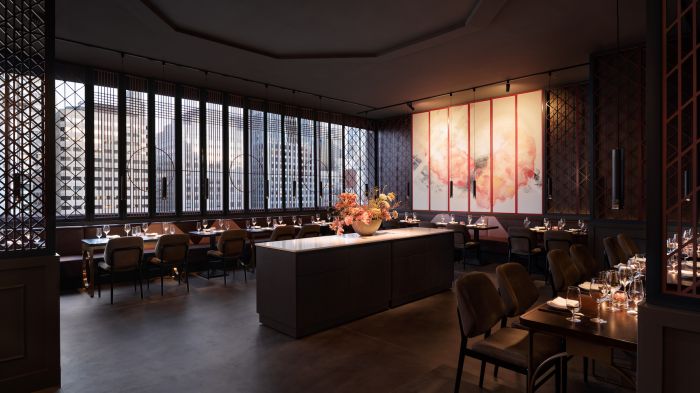 Photos by Jean Bai
Two distinct dining rooms feature varied views. Coit Tower and Telegraph Hill are visible from those peacock blue, north facing booths, and Salesforce Tower and its business district are the star attractions of the eastern-oriented dining room with its carved wooden screens. Choose your vantage point and the restaurant will do its best to grant your wish, though your attention may well divert to the striking interior, designed by Atelier LLYS.
Empress by Boon is the brainchild of Michelin-starred Chef Ho Chee Boon, best known as the longtime executive chef of international Chinese chain Hakkasan. The Malaysia-born Boon brings nearly 30 years of experience to this, his career goal. "I'm very pleased that my dream has come to fruition here in the United States' most historic Chinatown," said Boon. "The delays this past year due to COVID-19 have only made our team more grateful to open; we look forward to contributing to the revitalization of this beloved community."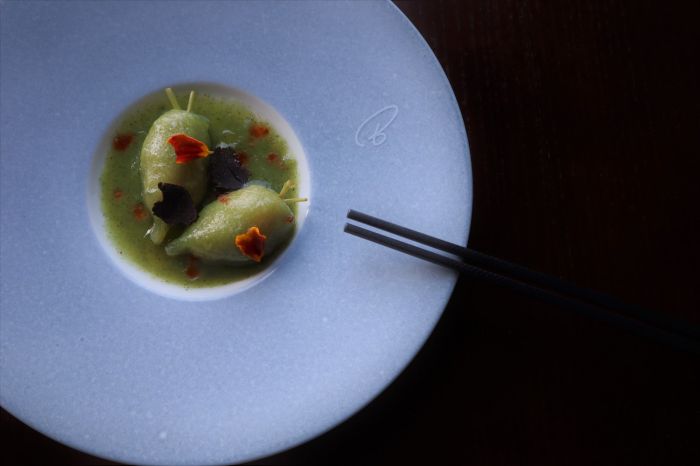 Steamed zucchini-prawn dumplings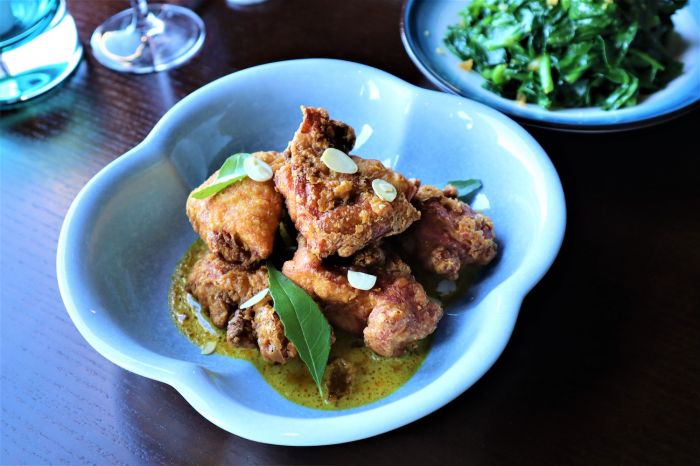 Crispy chicken
Boon's international culinary expertise transforms any restaurant and its cuisine into a true epicurean experience. His traditional techniques utilize fresh ingredients from local purveyors (including the restaurant's own organic farm in Gilroy) to produce dishes that are contemporary, but with the essence of traditional Cantonese cuisine. Boon currently presents an ever-changing prix-fixe menu ($78+/pp) with a subsequent option to add wine and cocktail pairings, as well as signature dishes such as Peking Duck sourced from Joe Jurgielewicz & Son, a fourth-generation farm in Pennsylvania that can be ordered a la carte. On this night, the menu consisted of delicate Iberico ham Shanghai Xiao Long bao, sesame coated cigar-shaped fried prawn roll, steamed zucchini-prawn dumplings topped with slivers of black truffle, grilled Alaskan black cod prepared with soy and sha cha sauces, lightly fried crispy chicken nuggets served in a spicy curry sauce, Lotus Rice with dried scallop and shrimp and shitake mushrooms, and seasonal braised greens.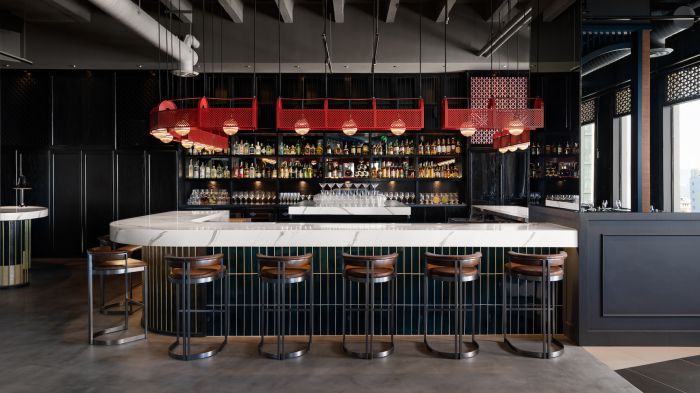 Photo by Jean Bai
From the list of specialty cocktails, the standout was the Old-Fashioned equivalent Nanjing cocktail consisting of duck fat rinsed Knob Creek Rye and bitters. The extensive wine list is curated by the talented Haley Moore, CEO and founder of Acquire. And tea service is not to be missed.
838 Grant Avenue, San Francisco (between Washington and Clay streets)
Book via www.theempresssf.com or by calling 415.757.0728
Photos courtesy of Empress by Boon