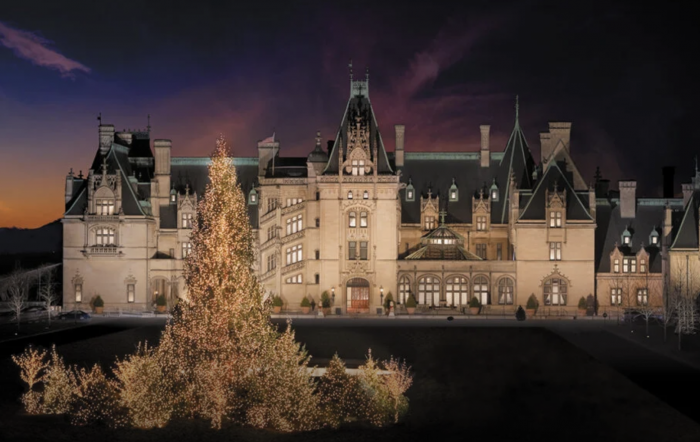 Biltmore Estate - Photo by Biltmore
In the spirit of the holidays, George Vanderbilt's famous Biltmore estate is decorated exquisitely for the holidays. Sitting on 8,000-acres, Biltmore is known as the largest privately owned home in America. It's an elegant step back in time during the American Gilded Age, a period of immense economic change, where huge fortunes were made.
Reserved tickets are now available to tour the beloved Biltmore Estate during the holidays. The halls are bedecked for Christmas with bright lights, ornaments, decorations and enchanting trees that illuminate grand rooms.
Entrance includes a daytime visit of the estate with an audio tour guide. Explore acres of estate gardens, and visit Antler Hill Village and Winery for a complimentary Biltmore wine tasting.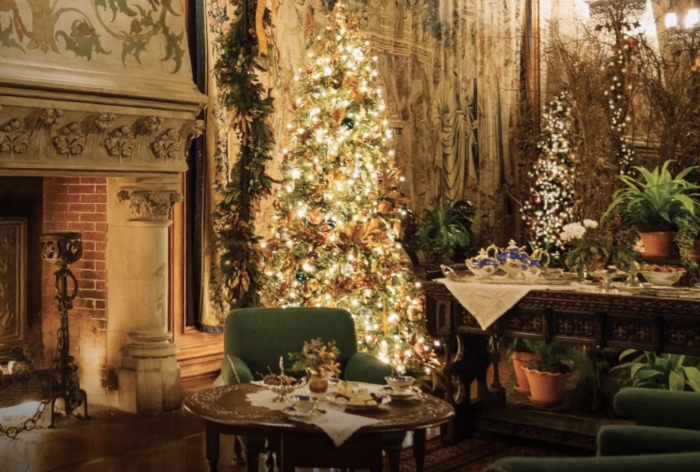 Christmas at Biltmore - Photo by Biltmore
Wine tastings at the estate will spark interest in serving Biltmore Estate wines during your holiday meals. Throughout the year winemaker Sharon Fenchak at Biltmore Winery makes award-winning North Carolina wines.
The 50 acre vineyard nestled in the Blue Ridge Mountains of Asheville, grows an abundance of grapes to harvest and handcraft red, white, rosé and bubbly Brut. The winery produces 150,000 cases of wine a year.
Fenchak is an authority on North Carolina winemaking and has helped build the state's wine industry. She received her bachelor's degree in food science from Penn State University, a Masters in food science from the University of Georgia, and a MBA from Western Carolina University.
She joined Biltmore in 1999 as an assistant winemaker to veteran French winemaker Bernard Delille, and became head winemaker in 2018, creating wines worthy of the finest Vanderbilt traditions. 'Anytime that we can have a product that says North Carolina on it, really makes me feel good in my heart,' said Fenchak. 'My love of science at a very young age helped shape what would become my passion for winemaking, and I fell even more in love with the idea and romance of wine when I was stationed in Vicenza, Italy,' said Fenchak. She served in both the US Army and the US Army Reserves.
'I never make wine for myself, I always make wines for the Biltmore guests,' said Fenchak. 'We are the first introduction to wine for many visiting guests. We make and offer 45 different varietals.'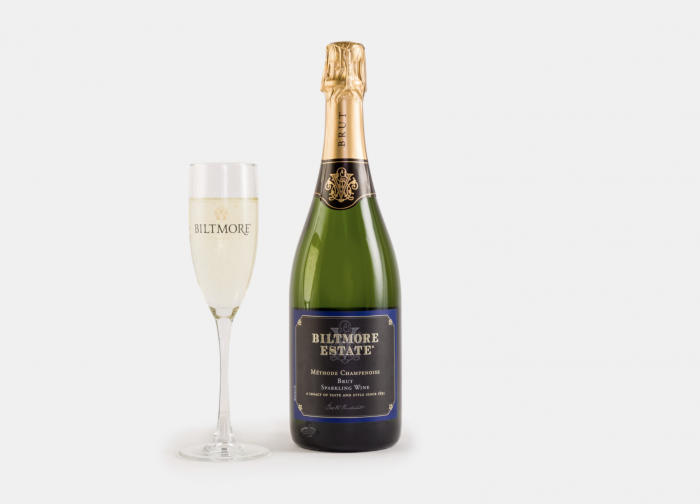 Biltmore Estate Brut - Photo by Biltmore
Toast to health, family and friends with a flute filled with Biltmore Estate Brut. Handcrafted in the traditional méthode champenoise at the estate winery, this bubbly is a beautiful blend of Chardonnay, Pinot Noir, and Pinot Meunier.
The estate harvested grapes, as well as grapes grown in California create a crisp sparking wine with delicate bubble that lingers on your palate. These bubbles release the aroma bursting bright notes of acidic citrus, white tea, jasmine and sweet notes of strawberry. Hints of honey on the finish enhance the full texture and taste.
This Biltmore Estate Brut pairs well with a cheese platter and seafood tower topped with crab and prawns. 'This wine is a great way to greet guests at your front door during the holidays', said Fenchak.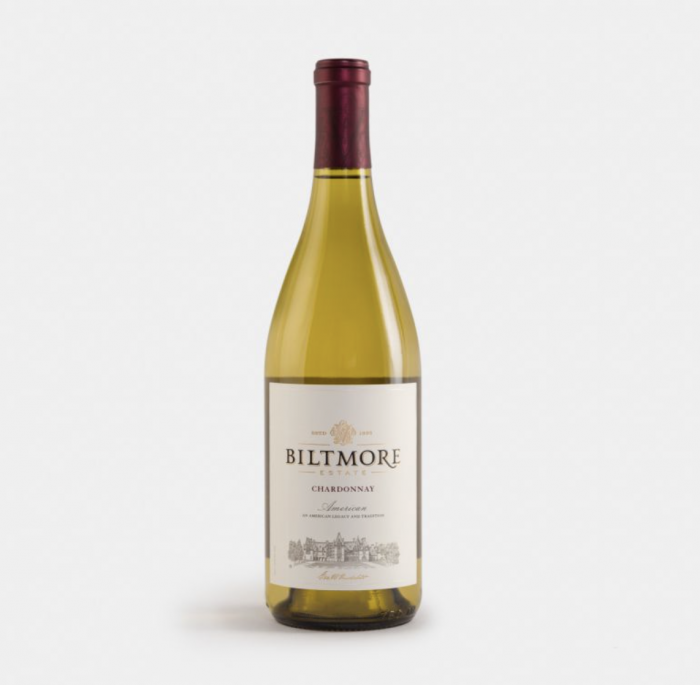 Biltmore Chardonnay - Photo by Biltmore
About one-third of this beautifully smooth and balanced Biltmore Chardonnay was aged in oak barrels. It's ideal to serve with a holiday roasted turkey with grilled vegetables and all the fixings.
This North Carolina Chardonnay is crafted from Biltmore Vineyard's finest grapes. Taking a sip, the full-bodied white wine is smooth and offers a good acidity highlighted by notes of citrus, vanilla and a wisp of butter. This oaky Chardonnay is fun to drink.
Enjoy throughout the year with grilled fish and pasta with a velvety cream sauce.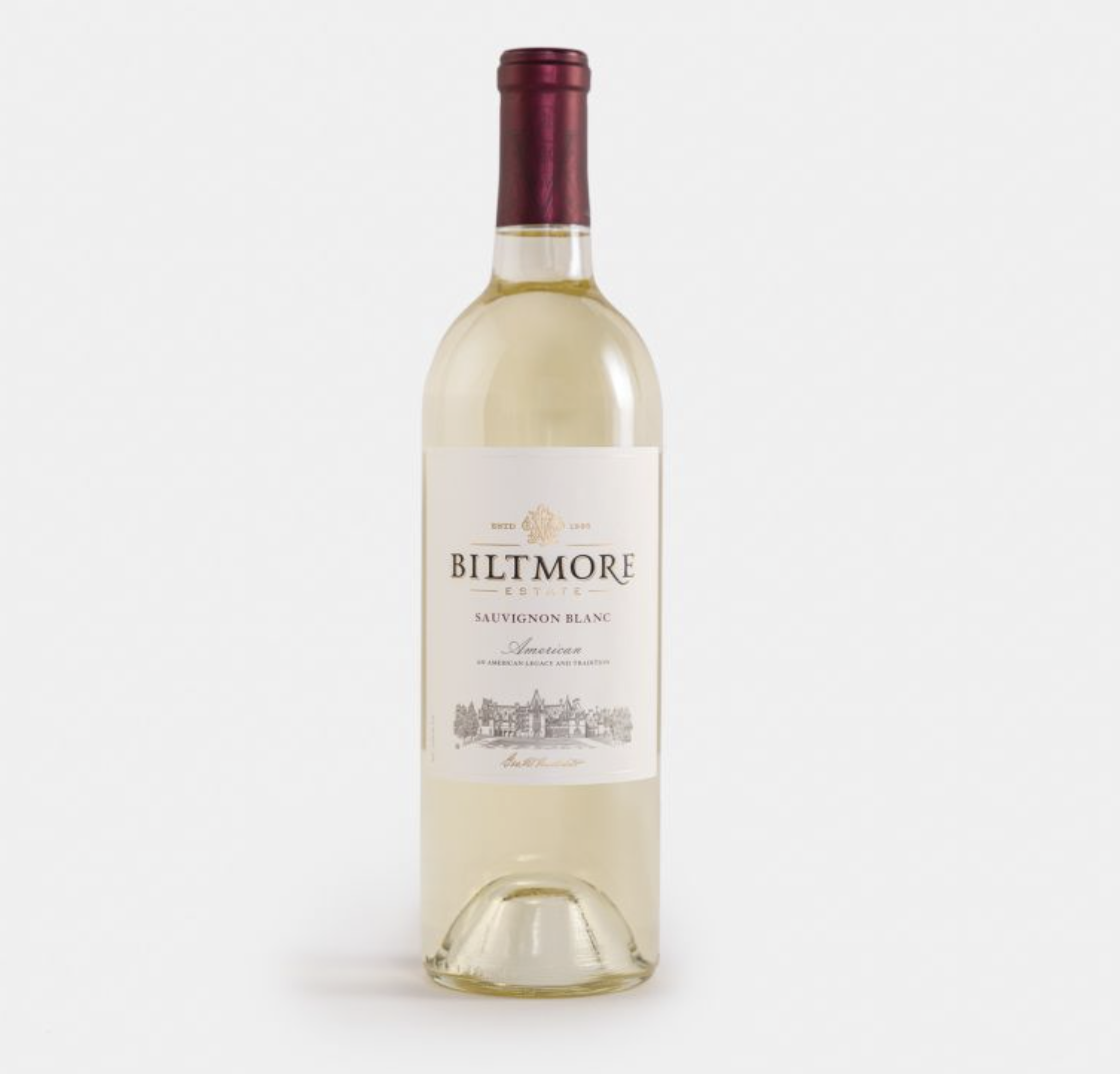 Biltmore Estate Sauvignon Blanc
For those who prefer a juicy ham during the holidays, Biltmore Estate Sauvignon Blanc is a crisp white wine that will bring out the sweet flavors of a rich sliced ham. Priced at $18, it was aged 6-8 months in oak barrels and offers hints of peach with each sip.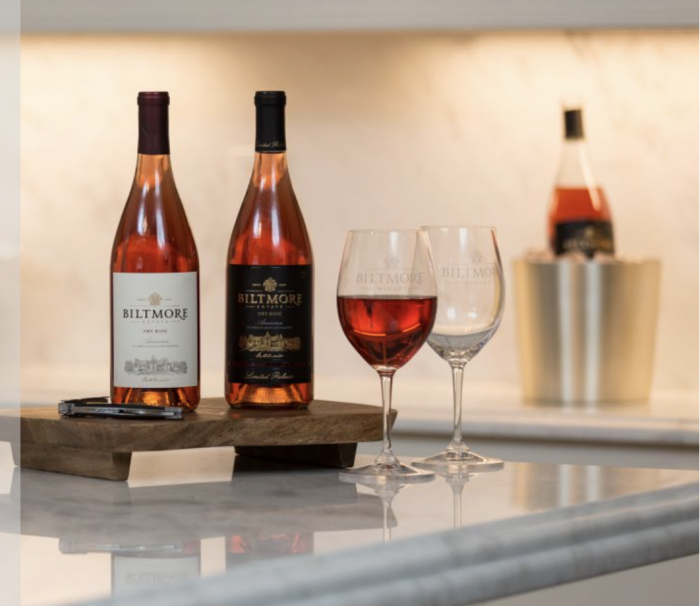 Photo by Biltmore Winery
Rose' is known as a warm summer month wine, and Biltmore Estate Dry Rosé is handcrafted at the estate to be served and enjoyed all year. This beautiful salmon colored wine has a subtle raspberry and strawberry bouquet. The refreshing layers of delicate ripe berry flavors are bright with a hint of butter notes.
'Dry Rose' is common on the East Coast,' said Fenchak. 'We make wine that our consumers really enjoy. It used to be a sweet wine, but now is more on the dry side.'
This 2021 field blend is ideal to serve on your holiday table displaying roast turkey, chicken, pork, salmon, and sausage for optimal flavor. Priced at $18.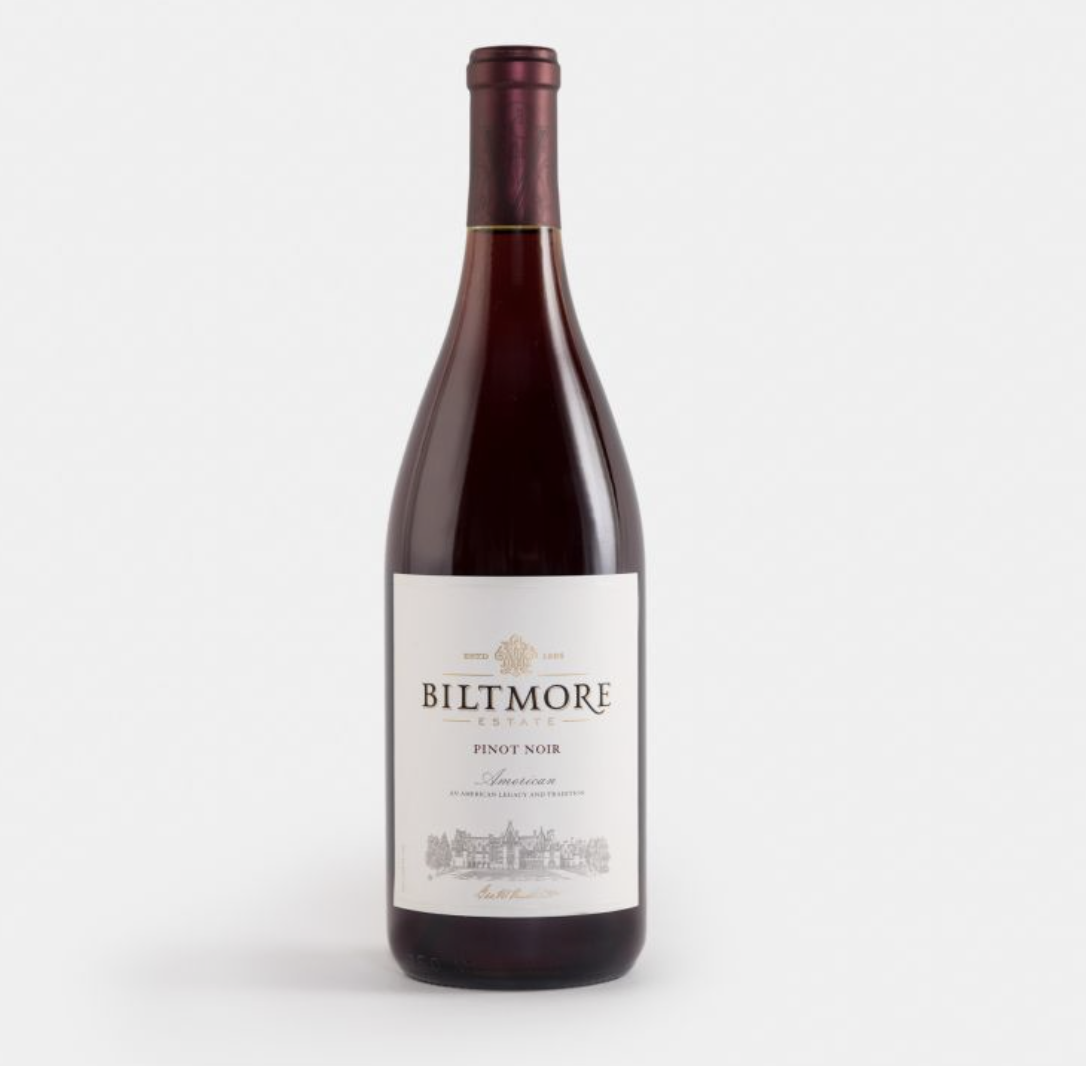 Biltmore wine - Photo by Biltmore
Red wines can also be an elegant, well-balanced wine to serve with roast turkey. The Biltmore Estate Pinot Noir celebrates ripe red fruits providing an extrasensory experience.
Rich wild cherry aromas fill a glass with delicate raspberry flavors. Aged for 10-18 months in oak barrels, it's priced at $22.
For those who won't be visiting Ashville, North Carolina this winter to have a Biltmore wine tasting, Biltmore Christmas can arrive at your home. Shop online to purchase Estate wines, Biltmore decorative pillows, classic ornaments and holiday gifts to be shipped to your front door.
'A Biltmore Christmas' movie was filmed last January at the estate. It will debut this holiday season on the Hallmark Channel. Open a bottle to enjoy while viewing the movie for a visual trip to Biltmore Estate. Starring Bethany Joy Lenz and Kristoffer Polaha, 'A Biltmore Christmas' premieres on Sunday, Nov. 26 to experience Biltmore at home.