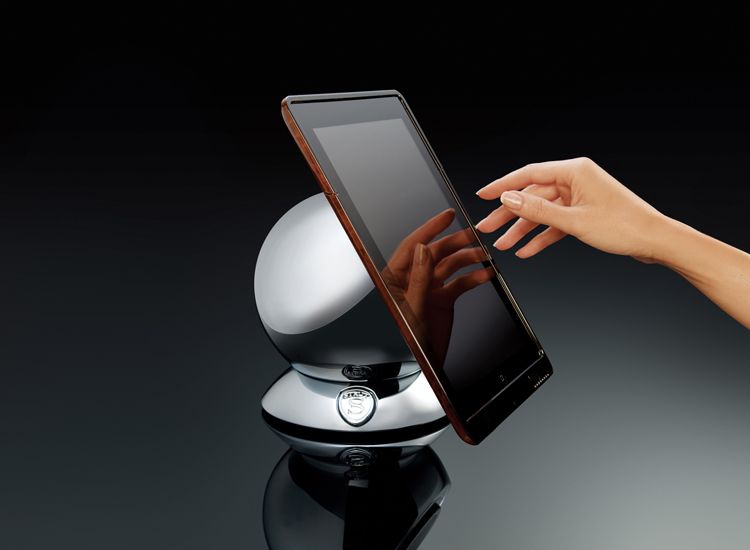 Photo Courtesy of STRUT
Looking to make your iPad more stylish?  STRUT, a
luxury gadget
company that specializes in extravagant automotive accessories, has branched out to design a sleek, innovative charging system for the Apple product. The STRUT Launchport System includes an iPad case, a wireless charging pedestal and accessories.
The pedestal included in the system charges the iPad whenever it is docked, allowing you to use it without the hassle of wires.  Powerful neodymium magnets attach the iPad securely, even if it is knocked into. These docks are hand-crafted from stainless steel and come in chrome, gloss white and matte black finishes.
To add to the classy look of the pedestal, the LaunchPort has come out with protective cases with designer finishes including walnut burl, white or black carbon fiber, leopard print and sparkle pink. These cases will also come with seven custom order case finish options.
"This is a truly innovative accessory that blends a practical and convenient iPad charging technology with the timeless quality and elegant finishes of a luxury product," says James Peterson, STRUT Launchport Vice President of Sales and Marketing.
If you want to get your hands on this new product you are in luck, the Launchport is being unveiled on August 20 at the New York International Gift Fair.  It is scheduled to become available for purchase in mid-September, conveniently around Apple's expected iPad mini and iPhone 5 announcement.  The system will be distributed in luxury jewelry stores and gift boutiques, department stores, catalog businesses, and STRUT's website.
Cases and pedestals can be purchased together as a package or separately to create different mix-and-match combinations.  We think the matte black pedestal goes perfectly with the walnut burl case and would look great on the desk of an executive.
The complete system will cost $1,250; the cases will be offered at $250 each and the pedestals at $1,000.
For more information on the system, visit
STRUTLaunchport.com
.