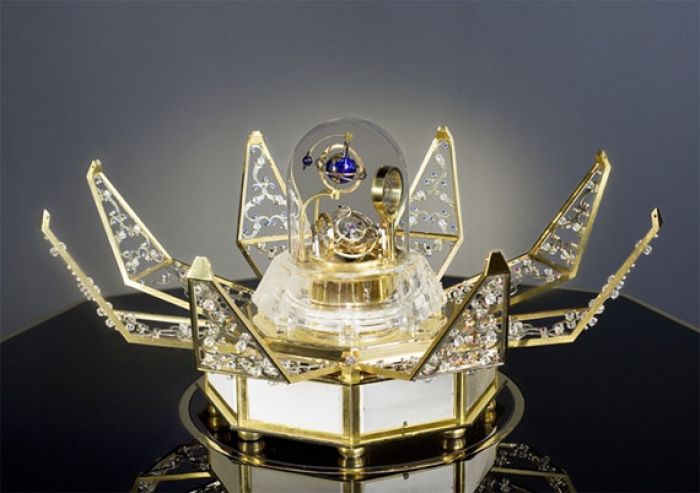 Photo Courtesy of Timekeeper
A gorgeous clock is a great addition to any home and the new Timekeeper Chronometrie "Mystery of Time" will brighten up any room and definitely spark up conversation among your guests.
Ten years in the making, the "Mystery of Time" Trible Axes Tourbillon with Planetary is a limited edition
timepiece
, with only 12 clocks produced. The stunning timepiece is in the latest collection from a company that pays homage to the nearly lost art of watch making, with modern production techniques, as purposed by the visionary watchmaker Tilmann von dem Knesebeck.
The very unique clock is filled with luxury materials and brand new technological advances for a very special timepiece. The interior of the clock is inspired by the planets, with an Earth, Moon and Sun center, surrounded by a bell-shaped glass dome. This central figure is then surrounded by a crystal encasement that is elegant when closed and breathtaking when opened.
The planets are made of 18 karat gold and the crystal body is handmade, as are the clock's other components, including an innovative mechanical sliding drive. The "wings" that open and close, as well as the inlays, are also 18 karat gold.
Other special offerings from Timekeeper include the option for customers to work with the company and customize their timepiece, using the exquisite materials that make Timekeeper so unique. Choose your own engravings, casings, gemstones and movement to create a piece unlike any other, limited only by your imagination (and your pocketbook).
The "Mystery of Time" is the latest limited edition collection from the imagination of Knesebeck and the craftsmanship of the
Timekeeper
workshop.
See our picks for
Best Home Accessories