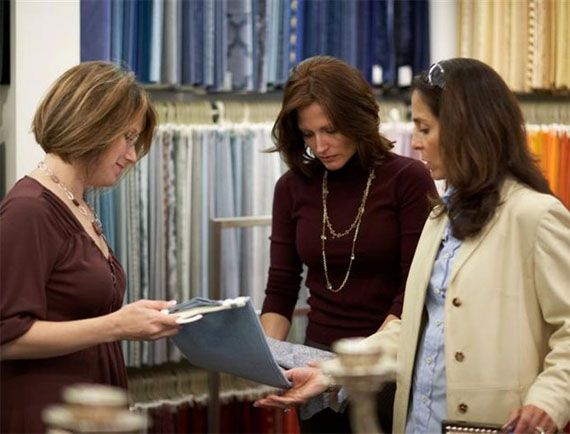 Photos Courtesy of ASID
Excerpts from an interview with Autumn Conrad, Public Relations Manager at the American Society of Interior Designers (ASID).
What is the value of hiring an interior designer?
Autumn Conrad:
From working in the field you probably understand that there is a perception in the community at large that
interior design
is about creativity and coming up with a fabulous design concept, which is what designers ultimately do in the end. Interior design really involves a lot of technical problem solving skills so really it's finding a blend between that and creativity to achieve a successful design solution that's going to have long-term value for the client. 
Interior designers have training, expertise and experience about building codes, construction, plumbing, electrical, lighting, materials and products. They are continuously researching materials and finishes, and they create new and innovative ways to create amazing spaces. 
It all seems so easy and fun from the outside, doesn't it?
AC:
That's true. When someone sees the finished product, they are seeing the result of a lot of planning that isn't always obvious. Interior designers must have extensive technical knowledge, problem-solving skills, psychology, resources, people and project management skills. It's a complex job with many moving parts, and it is a time-consuming process.
Consumers don't necessarily know how to hire an interior designer. What questions would you suggest they ask?
AC:
We actually have some resources on our
ASID.org
website for consumers. We give a check list of questions that consumers should ask of a designer. The top level questions that should really come first are obviously: "Is the designer accredited? Does the designer have experience in the type of project you're planning to do? Does their portfolio demonstrate that?" When you check their references, find out if they are reliable, and ask if they were mindful of the budget. You absolutely must talk about budget. Maybe you don't know how much things cost, but you do know how much you're willing to invest. Don't withhold this information because you don't want your designer creating great work that you can't afford. Checking references is extremely important.
What are the questions that consumers might not ask, but should?
AC:
Interview your designer as if you were hiring them to work at your company. Scenario-based examples can help filter some of those issues that might come up. For instance, "Tell me about a time that you designed X project, or describe the type of projects or client relationships you enjoy." Ask about the challenges and solutions that were a part of that project. You'll get a better sense of how they work and how they approach each problem and also how they apply creative solutions to address those problems as they come up on the project.
How do you recommend that consumers ask about fees?
AC:
That's an interesting question. A lot of designers don't like to talk about fees initially while others do. First figure out if you're interested in working with this designer. Then ask them how their fees are structured after you've determined they are a good fit with experience, personality and their body of work. Some work by the hour with a mark-up, some offer a fixed or Value Based Fee, cost per room, cost per square foot, so it varies by each designer.
How do you determine the differences between one designer and another?
AC:
Well I think you know that you'd want to start with this designer's area of specialization or expertise. Some designers do residential only, and some do commercial. From there you may need someone who specializes in areas like sustainability, historic restoration, ergonomics, lighting, window treatments, construction, kitchens or baths, etc. It's probably best to go with someone who specializes in what you want to achieve.
What are the differences between the designers who have professional designations versus those who practice without an affiliation?
AC:
If a designer has an affiliation, whether it is with ASID or another organization, they have demonstrated that they have a certain amount of professional experience combined with educational experience.
What does the ASID credential tell consumers?
AC:
It shows that the interior designer has completed a minimum of professional and educational experience. They can be assured that the person is qualified based on their testing and experience. However, they should still select based on the personality fit, portfolio and the skill and experience with the specialty of design for which they are hiring.
What are the differences between designers who have the professional designations versus those who practice without? Many of the top decorators and designers that are featured in shelter magazines aren't members of ASID or other professional organizations. Should consumers be concerned?
AC:
Magazines may not always indicate if a designer is a member of a professional organization, so the consumers should ask.
Who should a consumer hire: a decorator, a designer, or an architect?
AC:
 It depends on the type of project. If you don't need to have any sort of major structural changes, or your project doesn't require building permits, an architect isn't required. Some states allow accredited designers to pull permits, but they cannot submit drawings that require moving load-bearing walls. They can have an architect or engineer review their plans and stamp them, though. 
If you're doing a basic refresh of your materials and furnishings and accessories for your home then possibly a decorator or someone who hasn't completed a degree and taken the NCIDQ exam might be appropriate if you like their work. If your project is more involved and it might involve building permits and opening up or demolishing, a designer with more technical expertise and training is appropriate. 
What information does ASID offer to consumers?
AC:
Our website has a plethora of resources for consumers; everything about learning about interior design to checklists to ask a designer when you're interviewing them. We also have our designer referral service and there is no charge.
What would you say to consumers that love HGTV and want to do it themselves?
AC:
Everyone is qualified to purchase products, but are they the right scale, proportion, and quality? If they are remodeling, the structural integrity of a project should be considered. Are they selecting the right materials for the uses they are considering? What resources are available to do the project? Designers spend years developing their resources and team. They develop a long-term relationship and process that saves the consumers time and money if the consumer is interested in a high-quality solution that will last...
...Working with a designer should be collaborative. Working with a designer doesn't mean you have to give up control, nor does it mean you have to do everything the designer suggests. Most designers love working with their client to achieving the clients' vision.
I have one last question. What do you think about consumers hiring designers online to do projects?
AC:
I think it's good for the design industry. I think that people are going online more and more to get things accomplished. So it's not surprising that this would be something that is taking off a little bit. Ultimately, it gives more exposure to the designers, and more access for consumers to find designers, I think it's great.