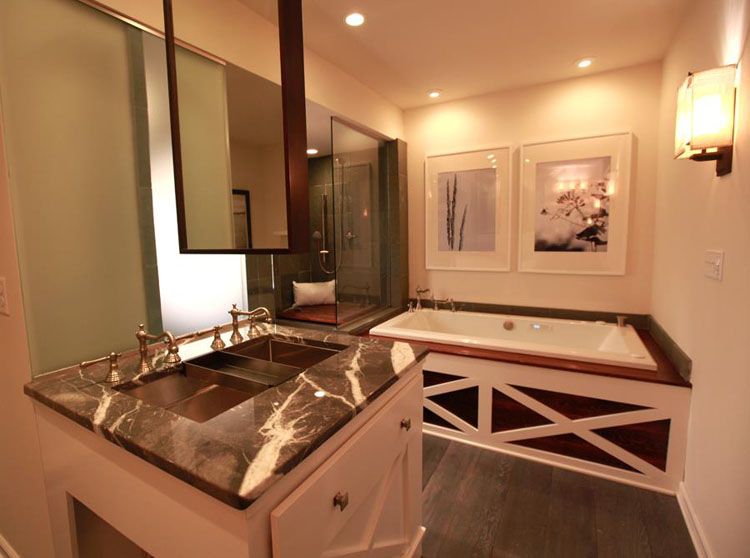 Photo Courtesy of Franke
Modern aesthetic design, unsurpassed construction and exceptional functionality. These are just a few qualities that quickly come to mind when describing the Franke Peak luxury kitchen sink.
The Franke brand has singlehandedly commanded the luxury sink market for the past century since its inception. We recently asked Cathy Gutkowski, Franke's director of marketing, what has been the secret of the company's continued longstanding success.
"Our heritage speaks to who we are," she said. "Some manufacturers try to do things less expensively, which is the antithesis to who we are. We don't sacrifice quality and integrity. Our steel is purchased from Germany, Spain, Belgium and Finland. None of our steel is purchased from a low-cost country, which is a big deal because some sink manufacturers offer a sink with the counter top installation as a special to entice customers. If people knew they were getting steel from a low-cost country, they would rethink their purchase."
We decided to see for ourselves what the Franke brand was all about. When doing a recent kitchen renovation, we selected the Peak PKX11028 super deep stainless steel single bowl undermount sink for its modern sharp edges and contemporary design.
The interior dimensions of this unit are 27 9/16" x 16 1/2" x 9 7/8" which fit to size in our 30" maple cabinet. We love the unsurpassed satin finish that shines through and square drain cover that not only complements the Peak sink's overall sleek design but also functions as a strainer hiding the waste disposer while at the same creating an ergonomic flat surfaced bottom center ideal when placing large pots and pans into the bowl. This stainless steel corrosion-resistant sink is easy to clean and requires very little maintenance to keep it looking like new in the years to come.
"When cleaning our sinks, it is recommended to use just warm soapy water and never use a stainless steel pad or chlorine-based cleansers," she said. "You shouldn't have anything too acidic sitting in the sink either. If you put a spoon with mayonnaise or mustard and leave it overnight, it can leave a mark. The best insurance policy to prevent these stains is our bottom grid. The grid fits in the bottom so the sink looks 20 years from now as it did the day you bought it."
Are today's homeowners looking to purchase single bowl or double bowl sinks? "The trend we are seeing now is that the single bowl is growing in popularity," Gutkowski noted. "Today's consumers are becoming more and more knowledgeable and researching exactly what they want. People are really learning how to maximize the sink base capacity. When thinking about what type of sink you are considering, you need to think about how the sink is to be used, if you want a garbage disposal, where you want the drain hole (whether it's on the back or right side), if you want a single or double bowl and how you are going to use the sink in terms of food prep and cleaning. These are all important factors."
When upgrading your sink, be sure to consider the Franke waste disposer to further enhance the simplicity of your overall cooking, preparation and cleaning process. "The Franke waste disposers are energy efficient and operate with a D/C motor at a higher revolution per minute," said Melissa Evans, Franke's product manager. "This results in a faster grinding time and less energy consumption. The unit itself is lighter than most so it's easier to install as well.
Franke continues to be the world's largest purchaser of stainless steel so it has first pick of the best raw materials in the industry. Each sink is constructed with the thickest sheet of stainless steel available to not only prevent denting and bowing but also maintain a high temperature water in the sink while at the same time reducing the level of noise from the below garbage disposal.
The result? A modern design marvel that will withstand the test of time. Who wouldn't want that for their luxury home?
For some helpful information on selecting a sink that is right for you, visit Franke.com.