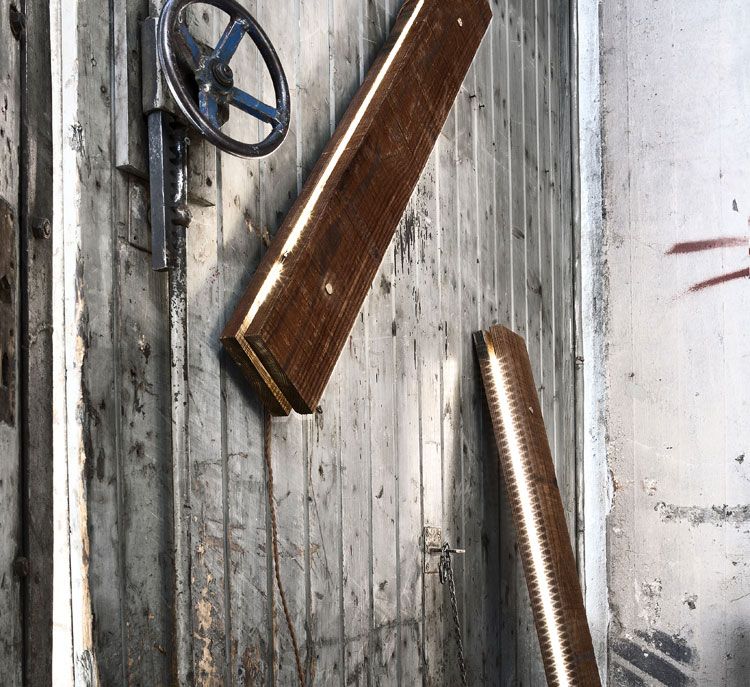 home décor
options. Integrating light design with art and mood, the lamps come in playful shapes like a butterfly, a moose head, and an exploding bulb. However these fixtures are not tacky; they are artistic and well-suited as sculpture and light sources within the home or office.
Northern Lighting was founded in 2005 and uses a team of young, up-and-coming-designers as well as established artisans to create lights that evoke the country's unique geographical and cultural heritage. For example, the Diva is a set of cylindrical lamps whose 32 wooden strips expand outward in a graceful curvature in the middle. Its two young designers, Peter Natedal & Thomas Kalvatn Egset, both have a history of furniture making. By reinventing the use of the wood slices, the lamp reflects and honors the Norwegian custom of wood lamination craftsmanship. The bulb is encased in a solid mouth-blown, frosted glass globe. The lamp can be turned in two directions altering its shape but not the effect of light.
(Photo Credit Damian Heinisch & Simen Skyer | Northern Lighting)
Another very interesting design is the Maze model which looks like a beautifully broken lampshade. Abstract and contemporary, the bulb is surrounded by overlapping, irregular sized rectangles forming a labyrinth pattern. This particular piece is meant to evoke Norway's stone formations and grand mountains. The model comes in three finishes – white and purple-black acrylic, or aluminum. From the outside, the transparent, incongruous shapes fragment the light giving it a dreamy effect. Its designer Rudi O. Wulff says, "I have literally tried to place things on the edge by allowing a large and complicated shade to hang in a simple and light substructure."
(Photo Credit Damian Heinisch & Simen Skyer | Northern Lighting)
An older design is the ice-like light sculpture by Gerhard Berg, "one of the most prominent designers and interior architects of the post-war Scandinavian period." Originally designed in 1967 for his lounge, this one remains modern. Thinking of Norway inevitably brings to mind its majestic glacial formations, and the Berg light is influenced by the depth and richness of these natural ice patterns. The white sandblasted and transparent prisms catch and reflect the light just like crystal, making it a gorgeous piece.
(Photo Credit Damian Heinisch & Simen Skyer | Northern Lighting)
All of the lights are pretty spectacular, but one of my favorites is the Nova series by designer Anu Moser. A ceramic artist among other talents, Moser wanted to capture the light given by stars on a clear Nordic night. Merging light design and art, each lamp is handmade using mouth-blown glass. The main shade emits a dusky light as it is actually three layers of transparent and white glass. Smaller glass pieces are then added to the shade for a three dimensional effect. In the series are three light stars — Ophelia, Callisto, and Miranda. The Northern Lighting catalogue can be found at
NorthernLighting.no
. And although not sold in North America at this time due to lighting standard rules, if you manage to pick one up on your travels, they will look just as nice turned off as on.
(Photo Credit Tom Gustavsen | Northern Lighting)
(Photo Credit Damian Heinisch & Simen Skyer | Northern Lighting)
(Photo Credit Damian Heinisch & Simen Skyer | Northern Lighting)
(Photo Credit Damian Heinisch & Simen Skyer | Northern Lighting)
(Photo Credit Tom Gustavsen | Northern Lighting)
(Photo Credit Tom Gustavsen | Northern Lighting)