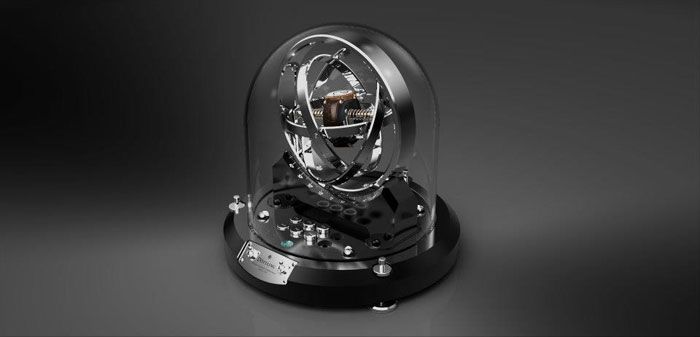 Photo Courtesy of Döttling
In the past, watch winders haven't really been objects of desire. Yes, a necessity perhaps, but nothing to get the heart pumping and blood racing. That was before German company Döttling, lead by CEO Markus Döttling, came up with their
luxury accessory
, the Gyrowinder. This gadget includes a wide array of technological options, along with a design modeled after gyroscopes (a piece of equipment used by NASA to train astronauts to prevent spatial disorientation) that was seen by Döttling while visiting the Kennedy Space Center in Florida.
For the first time, this incredibly precise instrument allows for 360 degree turns so that the watch can be positioned in any direction, whereas conventional watch winders only turn a watch along a fixed axis. Also, since all watches have a different weight, this winder features a set of counterweights making it possible to balance any watch.
A combination of both exquisite form and function, the Gyrowinder is encased within a stunning sapphire glass dome and brings to mind nautical navigation instruments with Döttling's use of quality materials that are meant to stand the test of time. The Gyrowinder comes in four different kinds of gold (white, yellow, red and rose) depending on which edition you select, as well as a pair of LED spotlights that beautifully display your luxury timepiece. Not only does the Gyrowinder serve its purpose as a high-end watch winder, but it also acts as an intriguing piece of functional artwork.
If you are investing in quality brand watches and are concerned with the overall life of your beloved timepiece, then a watch winder is incredibly important, and with the Döttling Gyrowinder you can ensure that your prized piece is setting up shop in a gadget that is just as sleek as the watch itself.
The Döttling Gyrowinder retails for approximately $15,000.