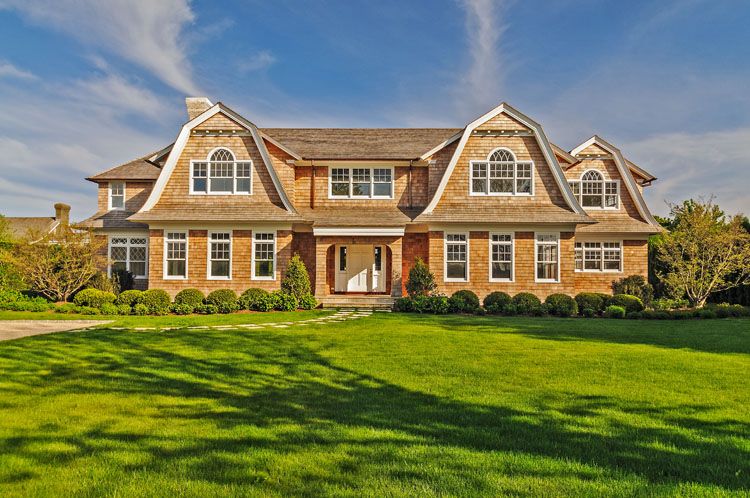 Photos Courtesy of Jeffrey Collé
Pretty much everyone has a vision of their ideal home that has been building up since childhood. Maybe you want a revolving bookcase like the one you saw in
Young Frankenstein
or a glamorous bathroom fit for Marilyn Monroe. Whatever your dream is, you have to go through the long process of either finding and buying that dream home or having it custom-built just for you. While many may see either task incredibly daunting and painful, thanks to design-builder of Long Island's South Fork
Jeffrey Collé
, they don't have to be.
Having gotten his start learning building and carpentry from his father, Collé started his own company, JC Construction Management, in 1978 and has been delivering beautiful Old World craftsmanship ever since. Using only the finest materials and a specifically chosen crew, he's been creating lasting relationships with clients ranging from Alec Baldwin and Donna Karan to Billy Joel. With his attention to detail and expansive knowledge, here is some of his best advice on how to find the right builder for you, from the must-ask questions to the biggest rookie mistake you could make when building your new home.
Mila Pantovich: How much time should someone put aside to find the right agent/builder?
Jeffrey Collé:
As much time as it takes. It's a big decision and it's important to take the time to find someone you can trust.
MP: What's the most important thing to consider when choosing a builder and/or real estate agent?
JC:
Reputation is everything. I highly recommend that buyers ask their builder or agent for three to five references.
MP: What are the most important questions to ask a real estate agent and or/builder when looking for homes?
JC:
It's always important to ask a lot of questions, especially about the materials used inside each home. You'll want to learn not only about the home's finishes, but also about what you cannot readily see, like what's inside the walls. Ask what types of materials are used in the plumbing system, the electrical system and the HVAC system. Find out whether the foundation was backfilled with pure sand, or the same material that was excavated from the hole for the foundation, which can contain clay that will cause dampness and mold in the basement. Ask questions about the electric system: How many amps? Is the service copper or aluminum? If you're buying a home that has already been lived in, find out if the previous owners had a lot of maintenance problems. Whether spending $200,000 or $20,000,000, home buyers need to make sure they are getting their money's worth — and then some. (Photo Credit Carter Berg)
MP: What are some immediate red flags prospective buyers should be looking out for when touring a possible home?
JC:
When buyers start asking questions, they can easily spot the red flags. They should find out first and foremost about the structural elements and materials used in the home, because safety should be the top concern. Ask questions about the interior trim, cabinets, molding and paneling. Find out if they're solid wood or MDF (medium-density fiberboard), which typically contains a toxic formaldehyde-based resin. Also make a note of the materials used for plumbing and gas lines. If the home contains PEX pipe or flexible gas lines, these are more susceptible to punctures and leaks. The standard is copper and cast iron pipes.
MP: Are there certain types of wood that work best for a home's frame?
JC:
In the framing of my homes, I always use a premium-grade Douglas fir. There are many grades available, and in most cases, lower grades are more often used, but the highest-quality grades are free of defects and are more stable and structurally sound.
MP: Is there an easy way for a novice to tell the difference between solid wood and an engineered product made from wood fibers?
JC:
It's important to ask, because it can be very hard to tell by sight. Also pay attention to the paneling and flooring - is it a veneer? And find out what the kitchen cabinets and doors are made of. The answer should always be "solid wood," but unfortunately this is not always the case.
MP: How involved should someone be during the building process of their new home?
JC:
The more involved someone is, the more they will understand how the home is built and what materials are put into it. Remember, you're going to be living there with your family and should be aware of every structural element and material in that home.
MP: Are there any style elements you feel are timeless?
JC:
In my homes, I incorporate a lot of classic, neutral colors and materials. For instance, the primary marble I use is Italian Carrara, which is a beautiful shade of white. It always looks clean, it's easy to maintain, and it's very durable. I also like to use reclaimed wood from around the country. In some cases, I work with Antique European parquet floors. I enjoy using mahogany French doors, and hand-cut tiles, all of which I personally select.
MP: Where do you feel your job ends and where an interior designer might take over? Do you have an interior designer that works alongside you from a certain point on?
JC:
In situations where the owner purchases the home after completion, I have chosen all finishes, details, hardware, cabinetry and appliances. Sometimes the owner will bring in their own interior designers and they usually design elements like window treatments and furniture. I've also had the opportunity to work alongside many of the world's top interior designers when someone purchases a home prior to completion. In many cases, I work directly with the owner to choose any finishes they may want to change from the original specifications.
MP: What are some rookie mistakes you have seen people make over and over in terms of the home building process?
JC:
The biggest mistake I tend to see is when the owners do not check out the builder and what materials they use in their homes, especially in areas that are beneath floors or inside walls.
MP: Do you have any favorite materials, fixture or plumbing brands that you like and find yourself repeatedly working with?
JC:
When it comes to the safety and durability of a home, I don't like to use unproven products because time-tested, high-quality materials are so important to me, both for function and style. For instance, in the interiors of my homes, I swear by copper pipes for plumbing, not plastic waterlines which can leak, and I only use cast iron gas lines, as opposed to the flexible gas lines that are more commonly used today, as they are very susceptible to punctures and leaks. I refuse to use MDF (medium-density fiberboard) for paneling, trim, doors or cabinetry, where only solid, natural wood should be used. When it comes to bathtubs and countertops, I rely on Italian Carrara marble and limestone in tiled areas, because both are durable and attractive. In many cases, we use slab material in the floors. When it comes to the exterior, I like strong, beautiful woods like mahogany for decking and cedar for trim, and any metal that is exposed to the elements should be either lead-coated copper or stainless steel. People have depended on materials like these for centuries, and for good reason.
As for brands, I always go to Crestron for my automation systems, Lutron for electronics and lighting, La Cornue, Sub-Zero and Wolf for kitchen appliances, Van Morris for hardware, and Kohler and Barber Wilsons for plumbing fixtures.
MP: What has been the most extravagant request that you have been able to execute?
JC:
Because I'm a spec builder, I typically create homes that anticipate the latest trends that buyers are looking for, but perhaps one of the greatest challenges I've ever had was the moving of a late 19th century home built around an art studio designed by Stanford White. The home is located on Georgica Pond in East Hampton and needed to be situated so that the northern elevation of the studio faced west to take advantage of the beautiful sunsets over the pond. We repositioned the entire structure by 90 degrees. Because the home was older and not structurally sound, we had to re-engineer the entire project. The process included digging out the house to expose the locust posts, which the home was originally built on, and installing the temporary support systems underneath the house before raising the entire structure to rotate it 90 degrees. It took a lot of time, care and engineering ingenuity to make this happen.
MP: Do you have a favorite among your projects or a favorite location in which to build?
JC:
The restoration and renovation projects that I've done will always stand out above all else to me because they are the most difficult and also the most rewarding. Some specific projects include the restoration of a house that was built around 1700 and moved to its present location in 1756, which was purchased by Alec Baldwin and Kim Basinger. For this particular home, we restored the original structure and added 5,000 square feet of new construction, using materials from the same time period as the original home.
I was also very proud of the restorations of Maidstone Hall - a 16,000-square-foot estate owned by the Gardiner family, dating back to 1867 - and Keewaydin in Southampton, a historically prominent home for President Eisenhower's granddaughter Anne Eisenhower.
MP: What are the key elements that need to come together for an overall smooth, efficient and successful project?
JC:
When I am designing and building a home, it's important to know how my client wants to live and what their needs are as a family. Once you have that figured out, make sure you have the right design, the right materials and the right team in place, including your foreman and subcontractors. Also, prepare a spreadsheet with a timeline for your project so that everyone knows what's going on at all times.
MP: What would you say are the upcoming trends for home building?
JC:
More than ever, buyers are looking for open, spacious rooms, especially in the master bedroom. They want to turn it into a second living space, complete with larger bathrooms, his and hers closets, mini refrigerators, and an extra room that can double as a gym, sitting area or office. Buyers in this market are also looking for a "beachier" feel, with lighter colors and a lot of indoor/outdoor space.
MP: Do you have a favorite element that you always like to recommend?
JC:
I always recommend radiant heating in the floors and marble soaking tubs in the bathroom. The carved marble bathtubs I use are really unique and beautiful, and the radiant heat allows the water to stay warm for longer.