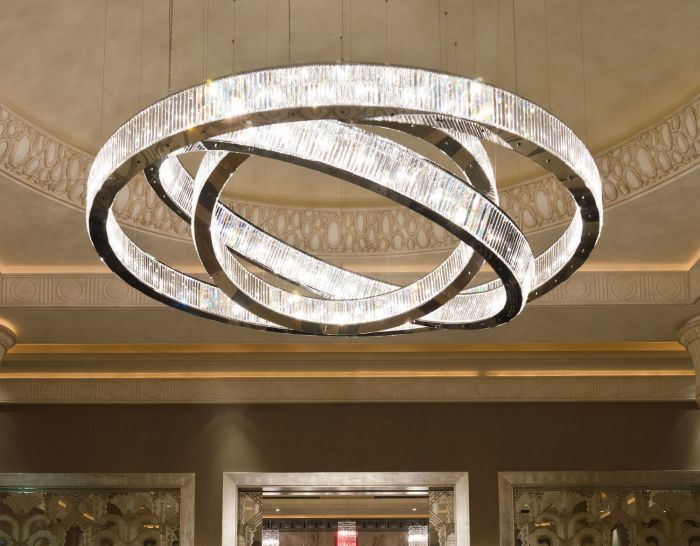 Photos Courtesy of Windfall
Where do Cartier, Mont Blanc, Harry Winston, and Robert Cavalli turn when in need of crystal chandeliers? Apparently, it's Windfall Contemporary Crystal Lighting and judging by their work, we're not surprised. Known worldwide for their dynamic contemporary designs, Windfall offers seven different collections, including a bespoke option, and works directly with architects and designers to meet all of their clients' needs. From whimsical chandeliers that would look amazing in a child's bedroom to sophisticated and artistic pieces that are fit for an art museum, we know who we are turning to when we need some sparkle.
Hellbob
Started in 2004 by Clarissa Dorn and Roel Haagmans in Munich, Windfall's first joint design was Scarlett, which is a "crystal cascade encased by a transparent, colorful Organza cylinder shade." Shortly after that one, they designed Hellbob, a custom-made sphere that uses their "Windfall Curler" technique in which "floating crystal objects are illuminated by downlights which can unfurl unimagined emotions through the spatial illuminating effects that result." They've gone on to add Flowers, Balance, Lula, Leaves, Frenchy, Jewel, Loop, and Scotty to their list of distinct collections.
Hellbob in Heathrow
Their designs are at once classic and modern, fit for palaces and nightclubs, and their flexibility has made them very popular with an affluent clientele. Some of their clients include the aforementioned, as well as British Airways (Terminal 5 in London and Washington), Philippe Starck, UNStudio, and Candy & Candy. They are currently working with Barkli in Moscow and Mandarin Oriental, and earlier this year they debuted their first designer collaboration (the Serene collection) with Lalique at Milan Design Week.
Whether you're in the market for crystal accent pieces or not, you should definitely take the time to peruse their collections because trust us, these photos are only the very beginning of what Windfall can do.
Cavalli Paris
Balance in Private Residence, Beirut
Balance
Double Loop in Private Residence, Geneva
Flowers
Fontainebleau Casino, Las Vegas
Hellbob
Lalique
Lulu Mini Golden Shadow
Scarlett Skyline Dining
Scotty 80 Sunflower