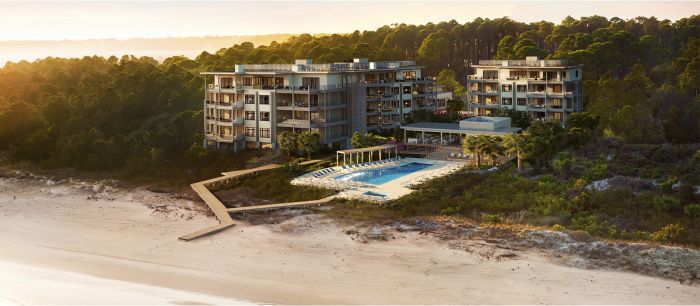 Photos Credit: Timbers Kiawah
The Lowcountry lifestyle is like nothing else, and the laid-back attitude paired with an endless number of activities makes living on Kiawah Island an ideal destination for many in search of the perfect place to call home—or a second home. Timbers Kiawah Ocean Club & Residences is the newest residential opportunity in this area, and provides its owners with an unmatched destination experience. The exclusive community features a gated enclave of 21 residences located in three oceanfront buildings with picturesque views of the beach, dunes and ocean. Enhanced by a private beach club and grill, oceanfront pool and state-of-the-art fitness facility, Timbers Kiawah offers every amenity imaginable.
The feeling begins on the scenic drive from Charleston, as you meander over bridges, along the rivers and underneath a canopy of Southern live oak trees. Arriving to Kiawah Island, a surprising number of authentic and innovative culinary destinations await. Golfers can tee up at one of the island's seven world-class golf courses; and those looking for a tennis lesson or trails for biking, running and walking will love the easy access to all of these island opportunities.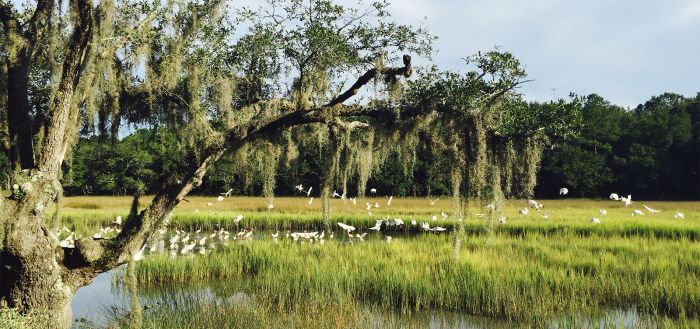 The barrier islands off the coast of South Carolina are ideally positioned for those who are looking to enjoy the water and the coastline. Of these, Kiawah Island is the most exclusive, and the most desirable when looking for an island home. The private island covers 10,000 acres of diverse terrain, including its 10 miles of sandy beaches. Additionally, the island is home to fewer than 1,500 full-time residents, and attracts no more than 10,000 part-time residents and visitors during the peak summer months, which means island-goers can enjoy Kiawah Island's coastal charms in peace.
Naturalists often take to the water in kayaks, canoes, powerboats or on stand-up paddleboards, which allow them to explore the island's more secluded tidal creeks and salt marshes—not to mention the miles of coastline and the gently flowing waters of the Kiawah River. Nature lovers are likely to spot almost 20 different mammals, including porpoises, river otters and white-tailed deer; more than 30 reptile species, such as loggerhead sea turtles and diamondback terrapins; and hundreds of species of birds, among them white Ibis, nighthawks and bald eagles. A favorite option is the sunset kayak tours through the waterways as the dolphins and birds become even more active at this time of the day.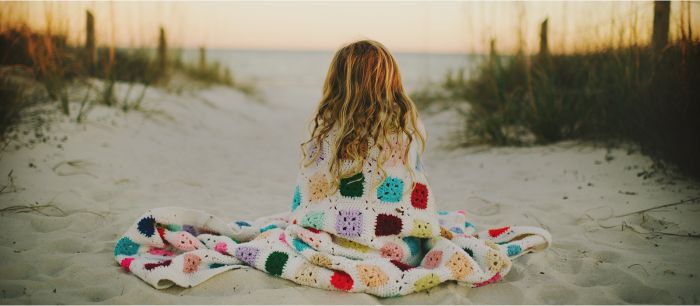 Timbers Kiawah Ocean Club and Residence owners can also enjoy a variety of fishing styles throughout the year, whether they are using their own boat, or chartering a tour. During the summer, anglers venture out to the deep Atlantic waters east of the island to battle a variety of big game and sport fish such as wahoo, mahi mahi, sailfish, king mackerel and even blue marlin. Those who prefer to stay closer to land can cast a line for redfish, cobia and black sea bass, which congregate around shipwrecks and reefs located three to seven miles offshore. The local waterways around the island are always a great bet when looking to fish closer to home, or even do a little fly fishing.
Regardless of how the owners at Timbers Kiawah Ocean Club & Residences choose to experience the island's Lowcountry lifestyle, luxury is at their fingertips. At Timbers Kiawah, everything they need is taken care of—collected, curated and served daily. Owners can enjoy the area's activities and sporting ventures and then return home to the luxuries of their private beach club and grill, oceanside pool and fitness center. The residences were designed with the owners and environment in mind, and feature floor-to-ceiling windows, stacking glass doors and private balconies that all overlook the beach, expansive ocean and the towering pine trees as far as the eye can see.
There's Kiawah Island. Then there's Timbers Kiawah. Welcome home.