San Francisco's Most Expensive Mansion!
A San Francisco mansion near many of the city's most popular landmarks has reentered the market as the city's most expensive listing at $40.5 million - a reduction from its original $45 million. Located just one block from the world's most crooked street and near cable cars, Fisherman's Wharf and the San Francisco Art Museum, the 9,500-square-foot home on Russian Hill features stand-and-stare views over San Francisco Bay and Telegraph Hill. Part of the new home was originally a home built soon after the 1906 earthquake by Willis Polk who was one of San Francisco's top luxury-home architects.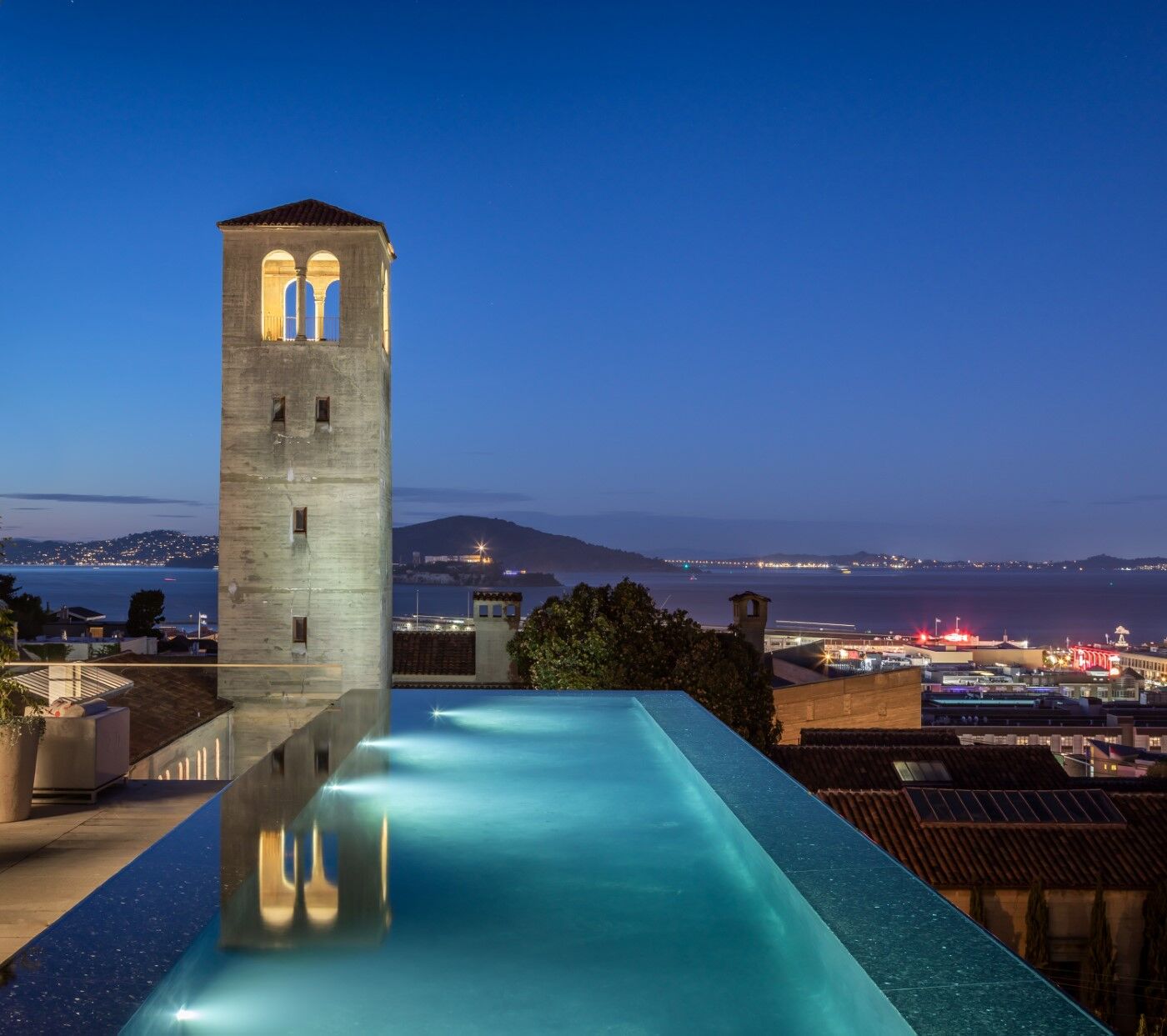 Constructed over a period of six years on two lots consisting of the main house and a wellness cottage at the end of a wide lawn, the residence contains six bedrooms and eight baths on three floors via a glass-enclosed elevator. The top floor includes a master suite with a balcony overlooking the garden. The next floor is all about entertaining along with two guest suites. A two-story subterranean gallery with skylights has multiple options for use such as an art gallery, sports court or event space, and an upper-level balcony has a 2,000-bottle-wine wall and a wine room. The four-car garage has a turnstile with a covered entrance and extra parking.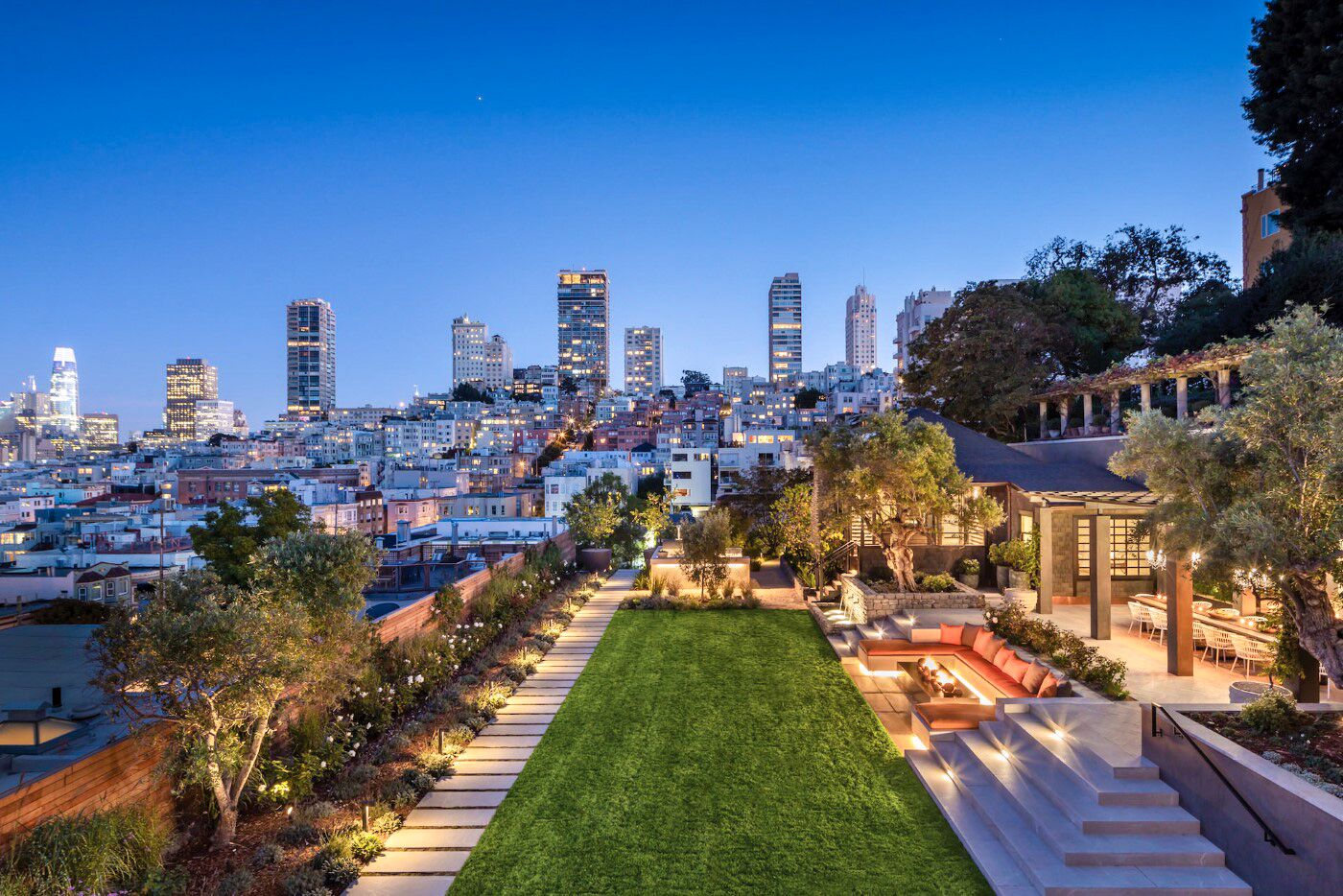 Photo Credits: Jacob Elliot
A stand-alone cottage at the end of the lawn is designed strictly for pampering and offers the luxury of a steam room, massage room and sauna. Grounds contain a wide expanse of lawn with rose and perennial gardens watered by rain collection from the roof. Outdoor dining under the pergola hung with crystal chandeliers, fireplace and a full outdoor kitchen offers elegant entertaining and big views from the 40-foot cantilevered, infinity-edge swimming pool. Emphasis has been placed on ease of hosting intimate gatherings for groups up to 350 guests and is ideal for events and large functions.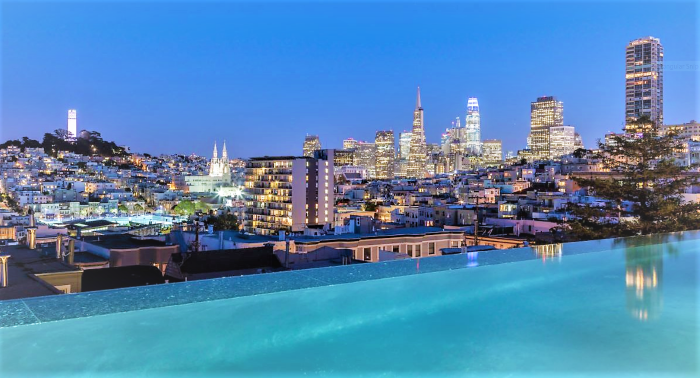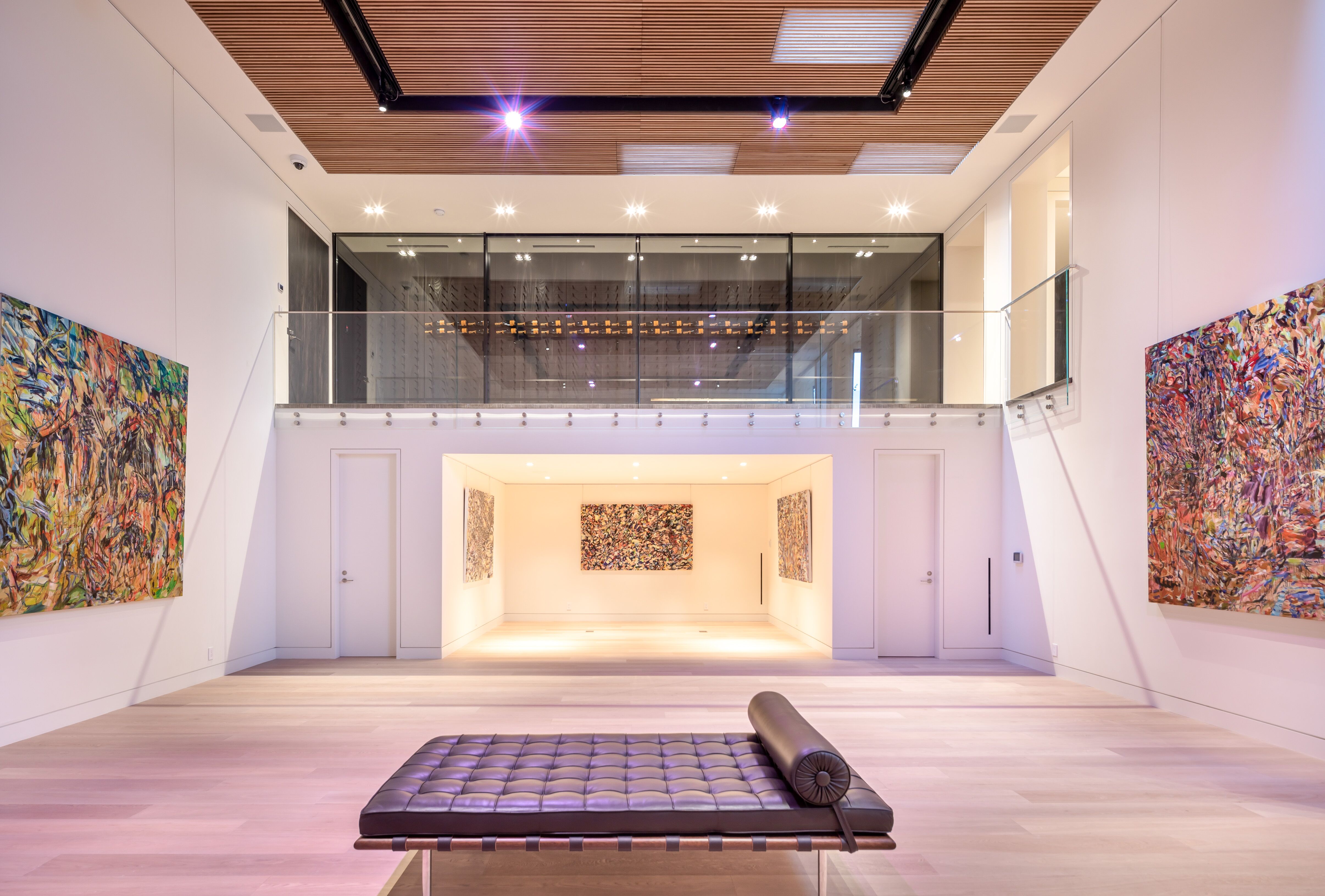 The Russian Hill name dates back to the San Francisco Gold Rush days when prospectors discovered that the hilly neighborhood was the site of a Russian cemetery. In addition to its culture, food (Ghirardelli Square and family-run restaurants) and entertainment opportunities, Russian Hill has been seen by millions of movie goers from the famous car-chase scenes in Steve McQueen's 1968-movie Bullitt that were filmed there. Former well-known residents include Beat Generation writers Neal Cassady and Jack Kerouac and current California Governor Gavin Newsom.
Designed by Troon Pacific using materials and construction methods geared for sustainable living along with advanced technology, the home also offers some surprises like a television inside the master bedroom's shower and glamorous chandeliers over the outdoor-dining table. Currently the most expensive home in "The City by the Bay," it is priced at $40.5 million. Listing agents are Joel Goodrich of Coldwell Banker, San Francisco and Josh and Matt Altman, Douglas Elliman, Beverly Hills.
Content by: Toptenrealestatedeals.com
Photo credit: Jacob Elliot
Source: www.joelgoodrich.com