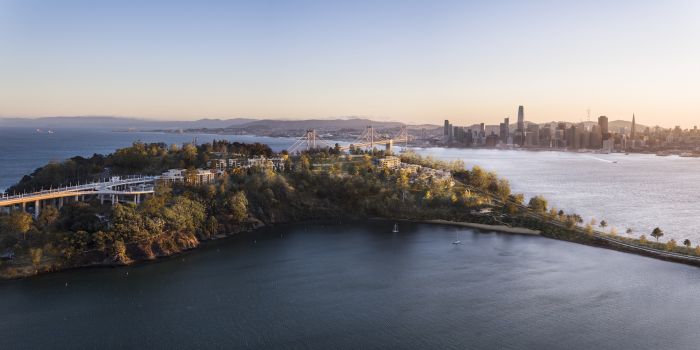 Yerba Buena Island
Writing about a sustainable, wellness-oriented high-end real estate development in a unique, historic location is something many travel journalists dream of. I wrote about one already for JustLuxe, about Yerba Buena Island.
But, getting to walk the land, on both newly laid concrete and dirt path, seeing construction that would become a residence, all the while looking at the extraordinary views that the future residents would see -- was a rare in-process opportunity.
On a cool morning in April, I was joined by my son James, a licensed contractor himself, and Tom Gasbarre, Director of Sales for Yerba Buena, and we walked the island.
Thankfully, I knew a little about Yerba Buena Island's history: a rocky, hilly outcropping on San Francisco Bay, forested with Eucalyptus, and when we were there, multiple hillsides sprinkled with bright orange California poppies, the state flower.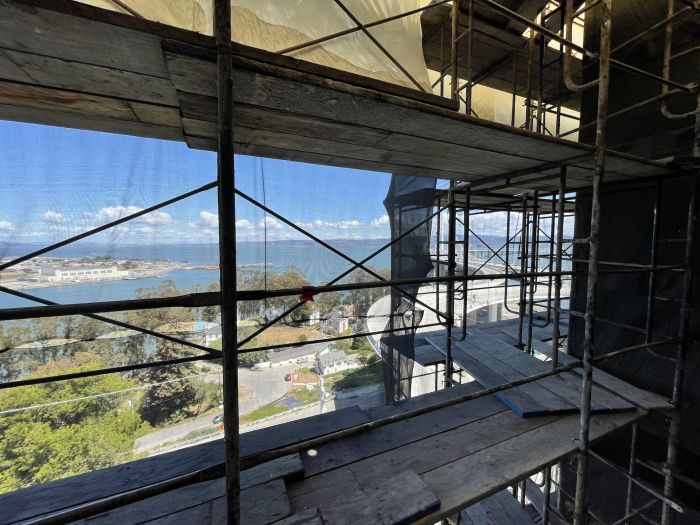 James Kime - Bay view, through construction, of Bristol Condominiums
James and I parked in the construction workers lot, put on yellow vests and construction worker hats, and started our walk with Tom. Unlike many sales people, Tom was not selling today: he was recounting — Yerba Buena's history, and life, both wild and not, that existed before this unique building project began.
Yerba Buena island, he said, was first called Sea Bird Island. Then in 1836, it was called Goat Island as a sea captain put goats on the island to sell to trading vessels that would come through the Bay. But the old Spanish name, Yerba Buena, was finally, formally used ½ century later—because it sounded better, and, because the goats were gone. Yerba Buena, Spanish for "good herb, "was the name of California mint that grew wild and abundantly on the island.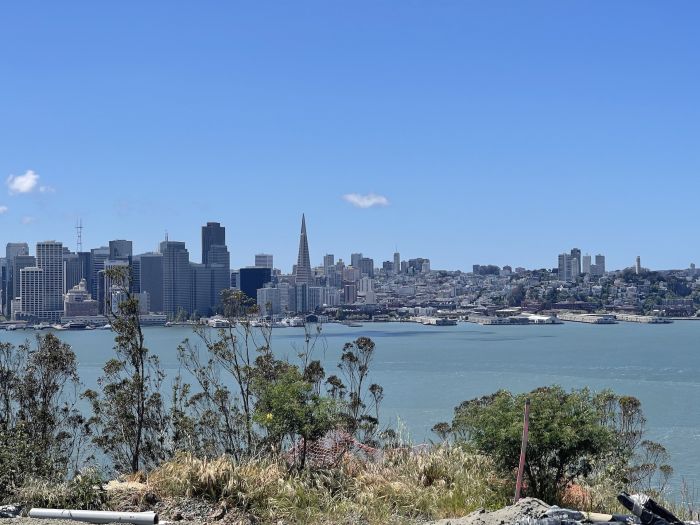 Susan Kime - View of the San Francisco skyline
"Which brings us to where we are now," Tom said. " And you can see, what we are doing here is unusual -- we are creating, step by step, a new, 250-acre San Francisco neighborhood, one neighborhood that is of San Francisco but also separate from it."
He was so right. As we walked through the partially constructed residences and condo units, I saw what Yerba Buena San Francisco was selling —being in San Francisco, yet also on the periphery – near and far together.
James Kime
As we walked the fifth and fourth floors of the Bristol condos, we could see dazzling views that the future owners of the studios, and the one, two, and three-bedroom residences will have. The view from the bay-facing condos were breathtaking --of the bay, the skyline, and the eastern edge of the San Francisco Bay Bridge.
We also saw the five 10,000 plus square foot homesites --- that will be built with views of the bay, the bridges, and the skyline, with proposed home designs by Aidlin Darling and Hart Howerton Architects. Seeing these projects, some in process of development, another's just the dirt they will be built on, was an experience of primary, almost primordial, meaning. And the meaning was this: on that cloudless Tuesday, standing amid the poppies, mint, and sounds of construction, we saw, all at once, the three dimensions of time: the future --residence construction, as we stood in the present, on an island of the past.
Tom said he felt its significance also. "It is rare," he said, "to see a neighborhood being built, and especially on such historic land, where much will be preserved, and where wellness aspect is so important. Yerba Buena Island features 72-acres of parks and open space with 5-miles of hiking and biking trails. These trails connect to the greater 500-mile Bay Trail that circles the San Francisco Bay."
James and I also found that many open spaces were to be built as bike trails, and were just a few of the wellness advantages.
Tom told us as we walked, we were near what would eventually be a 10,000 sq. ft, Aidlin Darling designed Island Club House. He spoke of the wellness advantages: a spa level with men's and women's locker rooms with steam, sauna and showers, a massage room, and a meditation garden. And then, there is the Jay Wright designed fitness facility, yoga room, 25-meter heated lap pool and spa as well as a large sun deck and outdoor lounge with fireplace. The upper level is the social gathering space with a view terrace facing the San Francisco skyline, a large lounge with fireplace, a library, catering kitchen, bar and dining room.
Adding to all this is, at the Bristol Condominiums, a second Jay Wright designed fitness center, where there will be programming by Namaste Wellness with a monthly calendar of strength and cardio classes, yoga and Pilates classes, guided meditation, nutritional assessments and cooking classes and quarterly wellness seminars.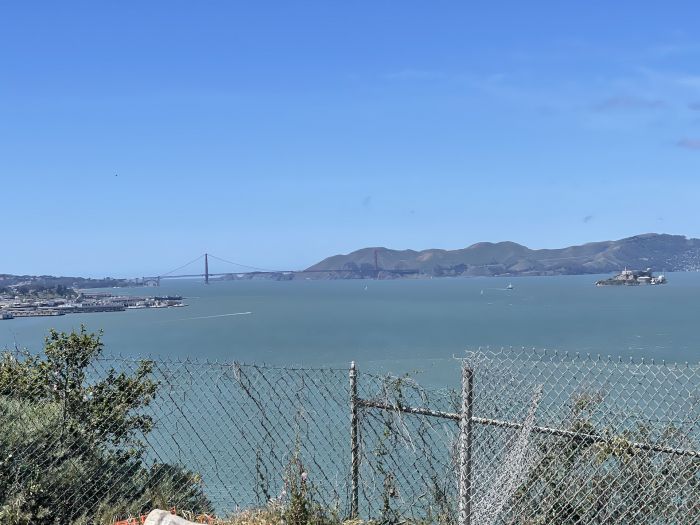 Susan Kime
Seeing all the work being done, it was not difficult to believe that the Bristol Condos target completion date will be Q1, 2022, and the others – the 72 Courtyard townhomes, the 49 Flats residences will be finished in Q3, 2022, and the whole project will be completed – from island to a 250-acre neighborhood, in four years.
James asked about security systems, HOA dues, and island amenities. Tom said, "Included in the HOA is 24/7 on island roving security, a monthly transportation pass entitling the holder to unlimited ferry rides from the island to the Ferry Building on the Embarcadero in downtown San Francisco, connecting residents to the city in a short 7-minute ferry ride. The transportation pass also provides for an on-island shuttle and express bus service on AC Transit and Muni to the Oakland and San Francisco to provide easy access to both cities."
As we left, we realized Yerba Buena Island may be the benchmark for future mixed-use/design builds: providing a holistic connection to the island's identity, spaces inviting greater wellness, and views creating a dual way to experience San Francisco, both away from it and close to it.
This rocky outcropping is in process of becoming: a wondrous island transformation, adding greater comity and community to San Francisco's colorful history.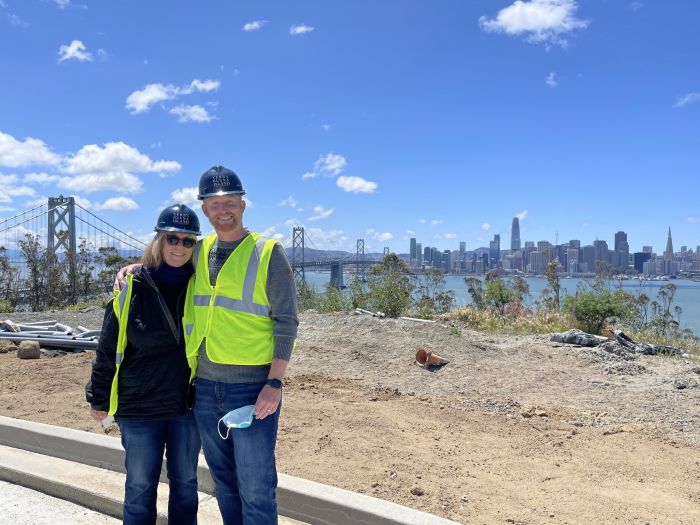 Tom Gasbarre
Susan Kime and James Kime, on Yerba Buena Island