On River North
Ma Yansong's Vision of Connecting The Built And the Natural: The Residences at One River North, Denver.
One River North is a new, biophilic-designed residential building in Denver's River North neighborhood. Expected completion in Q4 of 2023, the 16-story structure will house 187 for-lease units, from 625 to 2500 square feet, and 178 underground parking spaces. Each will include a chef-caliber kitchen, floor-to-ceiling windows and private open-air terraces. In addition, the ninth floor includes a fitness center and yoga studio that connects to the outdoor space with city and mountain views. The building will also have a lounge with workspace areas and a pet spa.
It is the vision of Ma Yansong of the world-renowned MAD Architects. He has a unique architectural vision that blends the natural eastern aesthetic with state-of-the-art western building practice. One River North, then, blurs lines between built and natural environments, drawing inspiration from Colorado mountainous terrains. One River North is MAD's second residential project, and first for-lease project, in the United States.
The building features 13,352 square feet of open-air environments, undulating water elements and a landscaped, trail-like walkway that moves across four floors.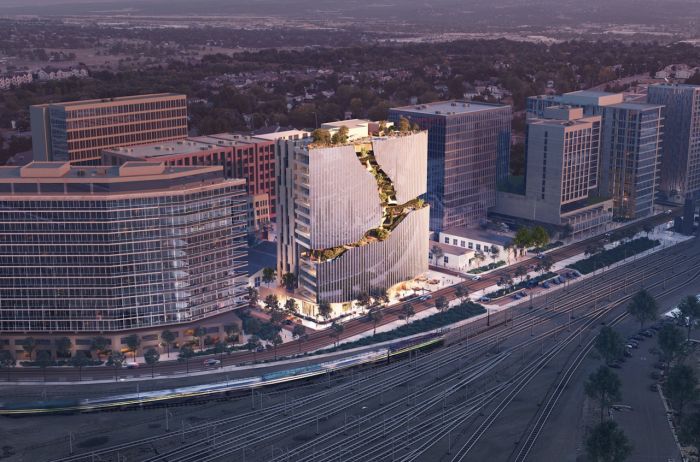 One River North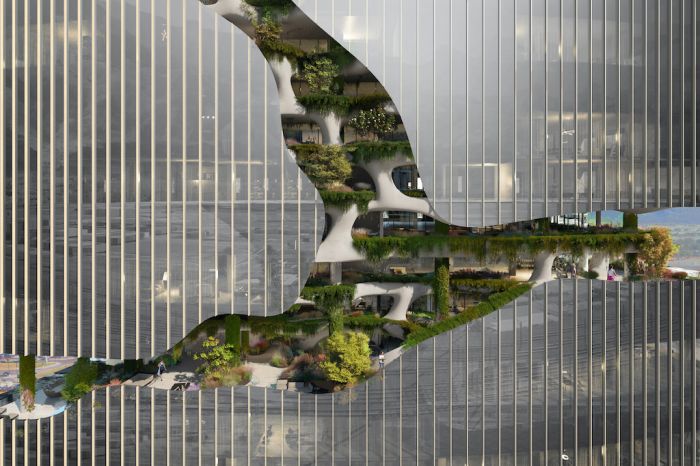 One River North
Arguably, the structure's most striking feature is a 10-story landscaped fissure that defines its exterior and is inspired by Colorado's diverse biomes. It calls to mind the experience of ascending from foothill to alpine plateau. This experience increases resident views, blending nature into the urban landscape. Its glass façade is ribbed with louvers that regulate sunlight and soften its visual presence.
Situated in Denver's River North (RiNo) neighborhood, One River North anchors a new wave of taller buildings, shaping a new architectural life for the RiNo Art District. RiNo is peppered with historic warehouses and factories that have been transformed into jazz bars, restaurants, brewpubs, art galleries and working studios. It also is known for a diverse mix of businesses: visual artists, designers and furniture makers, to craft distillers and brewers.
"If we regard modern cities as man-made landscape on the earth, we need to design canyons, woods, creeks, and waterfalls, transforming concrete forests into second nature," said Ma Yansong, MAD Founder and Principal Partner.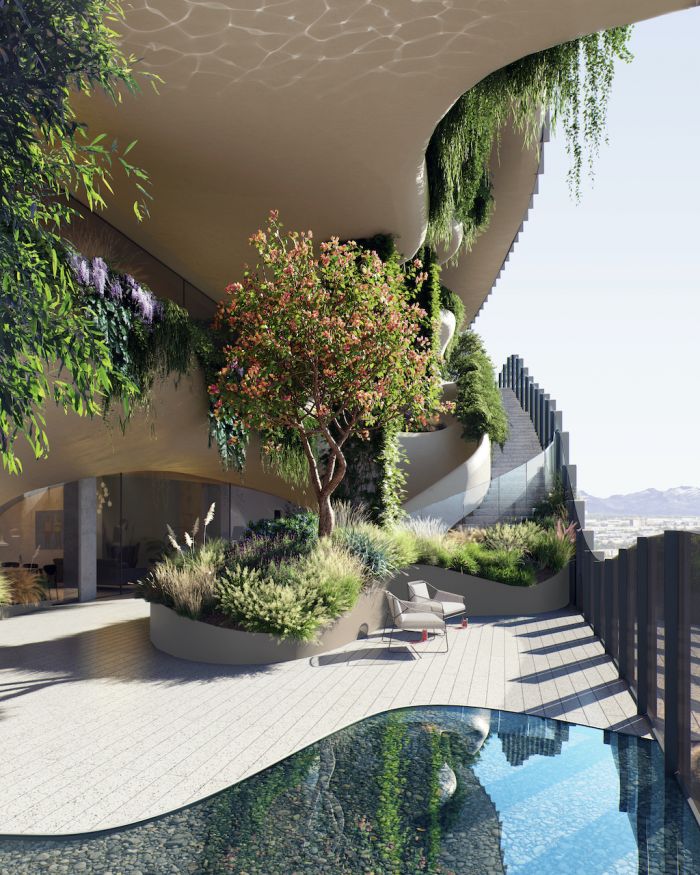 One River North
Founded in 2004, MAD Architects is a global studio that designs immersive environments that connect visitors to nature and prioritizes emotional responses to such settings. One River North is MAD's third project to break ground in the United States, joining the Lucas Museum of Narrative Art, which is currently under construction in Los Angeles, and Gardenhouse, which opened in Los Angeles in 2020.
For the One River North project, MAD Architects partnered with The Max Collaborative, Uplands Real Estate Partners and Wynne Yasmer Real Estate — all of whom have previously reimagined unique landscapes across Denver communities. Also, Denver-based Davis Partnership Architects is working in collaboration with MAD Architects and serving as the executive architect. Preeminent Denver construction firm, Saunders Construction, is the general contractor for the project.
"One River North is the model for how we should be living, surrounding ourselves in the natural environment, bringing nature into our homes and creating authentic, biophilic experiences coupled with modern comforts and conveniences," said Kevin Ratner, co-founder of The Max Collaborative.
One River North is located at 3930 Blake Street, Denver, CO 80205.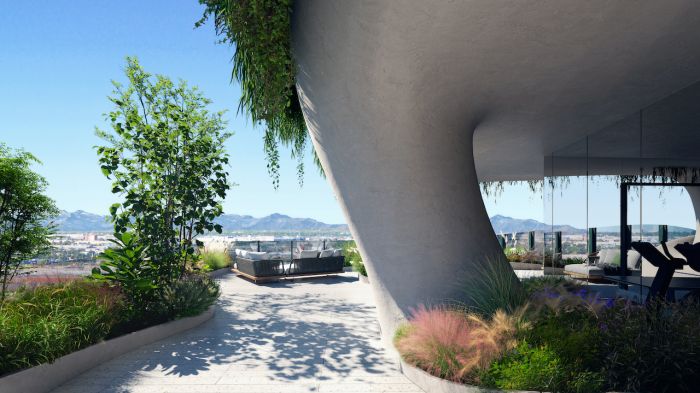 One River North
Interior, Trail 2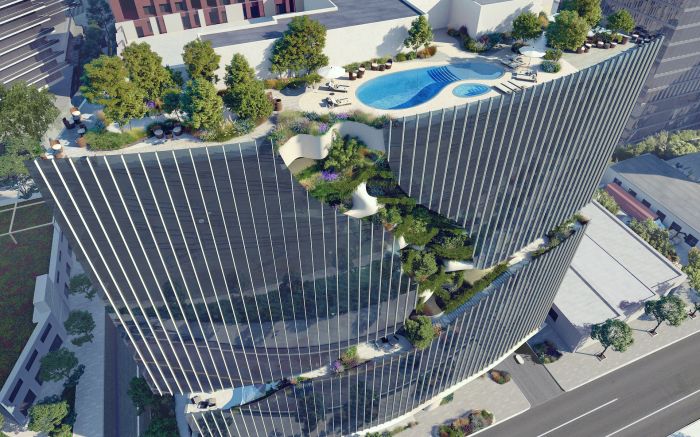 One River North
Exterior, Aerial