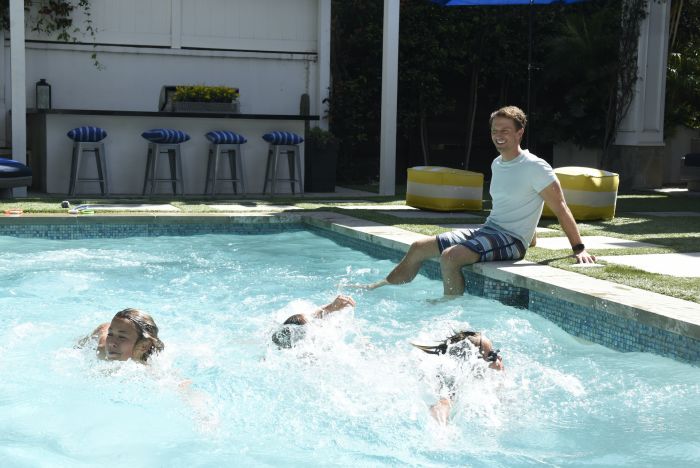 WaterGuru
The beginning of smart home technology can be traced back to 1975 with the release of X10, a home automation platform that sent digital information through radio frequency bursts onto a home's existing electrical wiring. It seems so primitive, in contrast to what is available now.
Many experts now predict that over half of homes in the United States will have adopted smart home automation by 2023, with the number of smart homes forecasted to grow and surpass the 350 million mark by 2023. (Source: Smart Grid) Further, stats show that the 2022 global smart home market will be about $53.5 billion,
(Source: Statista) and the annual revenue of the swimming pool industry amounts to $1.1 billion in 2021-2022.
Today, then, it has become obvious that a smart home with pool is considered an apex of luxury in today's tech savvy world, where home automation has become a prerequisite of selling and buying high end luxury real estate.
The interior smart home lifestyle involves lighting control systems, mobile video security systems, voice activated entertainment systems, climate control system and much more. But recently, there are new smart home exterior products also. A few examples-- smart lawnmowers can cut grass. Smart sprinklers set up watering schedules and let the sprinklers run their courses, according to weather, and owner preference.
And now, in addition to these, there is a new, innovative method that allows owners to have smart technology for their pool(s), called WaterGuru
JustLuxe recently spoke to WaterGuru Director Andre Atemasov, about the new smart tech pool application.
JustLuxe: As the Summer season is coming, we want to know more about WaterGuru – what it is, and how it relates to greater luxury smart home technology.
Andre: WaterGuru is a device that accurately measures pool water quality, sends it securely to the Cloud, and gives personalized recommendations daily. As the pool becomes part of the smart home exterior, WaterGuru eliminates chemical guesswork, resulting in healthier and easier summer swim experience. In addition, WaterGuru TREAT treats the pool, only when necessary, keeping the water at the best quality automatically while not overusing any chemicals. It has the pool well balanced and ready for a swim.
JustLuxe: How did pool ownership and use change over the last two years?
Andre: With the fundamental shift in how we live and work in the last two years, backyards and pools are getting a lot more use. The pool has become a favorite area, where families meet and exercise. And keeping the pool healthy, sparkling, and clear is paramount. Also, we have experienced a boom in new pool construction: many people love the summer poolside lifestyle. Other than the home purchase itself, pools are the second largest investment for property owners.
JustLuxe: Explain, then, about WaterGuru SENSE and TREAT systems.
Andre: Both are capable smart home, AI-enabled systems.
WaterGuru SENSE is for those who are looking to simplify their pool maintenance routine, eliminate chemistry guesswork and get healthier pool water while knowing what exactly goes into the pool. WaterGuru TREAT is best for those who want to 'set it and forget it' for weeks at a time, while enjoying a perfectly balanced pool. No more cloudiness, no more algae.
TREAT is an ideal system for secondary and rental properties. Both systems come with everything to get you started and use smart cassettes that last 8 weeks. While some other devices float in the pool and require additional bridges to connect, WaterGuru systems feature a WiFi and Bluetooth connection. Everything is battery powered, sits neatly in the pool skimmer, and doesn't require any additional equipment. They work with both salt water and chlorine type pools.
JustLuxe: How does WaterGuru protect swimmers, pool integrity, and the environment with its smart pool technology?
Andre: WaterGuru puts power and control over pool conditions into the owners' hands, as its systems daily measures and treats pool water, never gets out of balance and prevents harmful exposure to over-chemicalized water.
Further, our algorithms are fine-tuned to use the least amount of chemicals possible while maintaining optimal water quality. Because the water doesn't get out of balance and is in constant check, extra shocking is not required. All keeps cyanuric acid levels under control, and helps extend the life of pool equipment and the integrity of the pool surfaces under the water. In the end, WaterGuru helps pool owners, basically, spend more time in the pool, and less time worrying about and maintaining it: a win-win for all.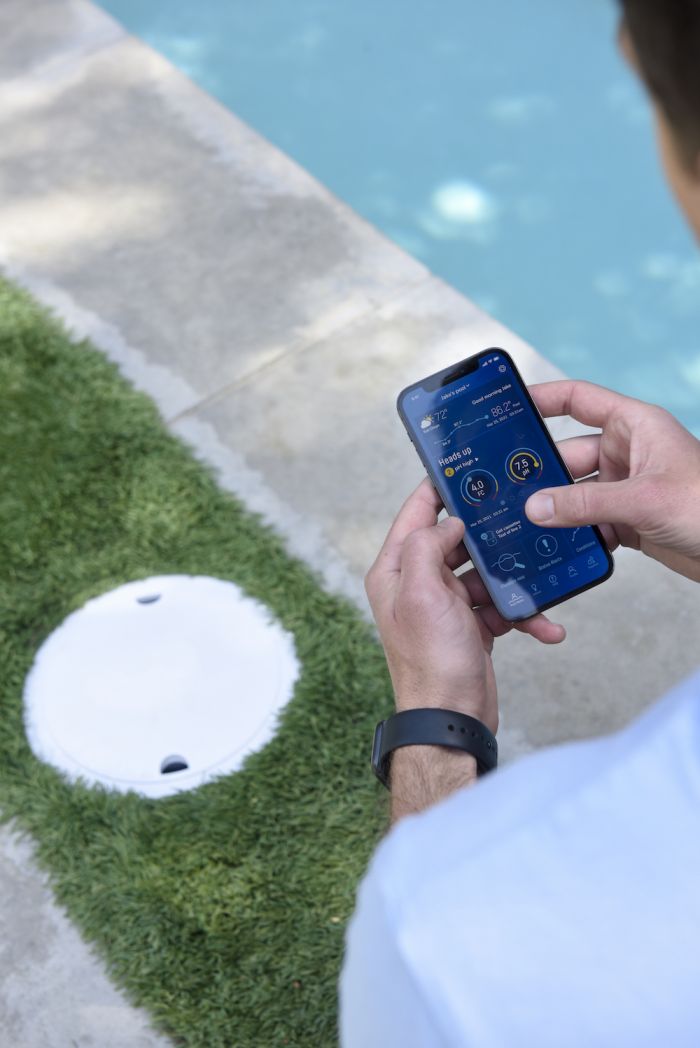 WaterGuru
Setting the Waterguru system with iPhone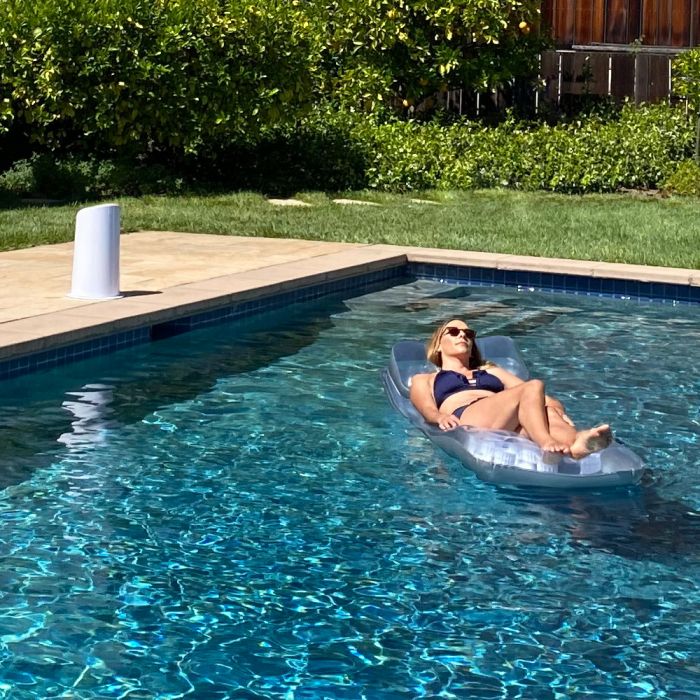 WaterGuru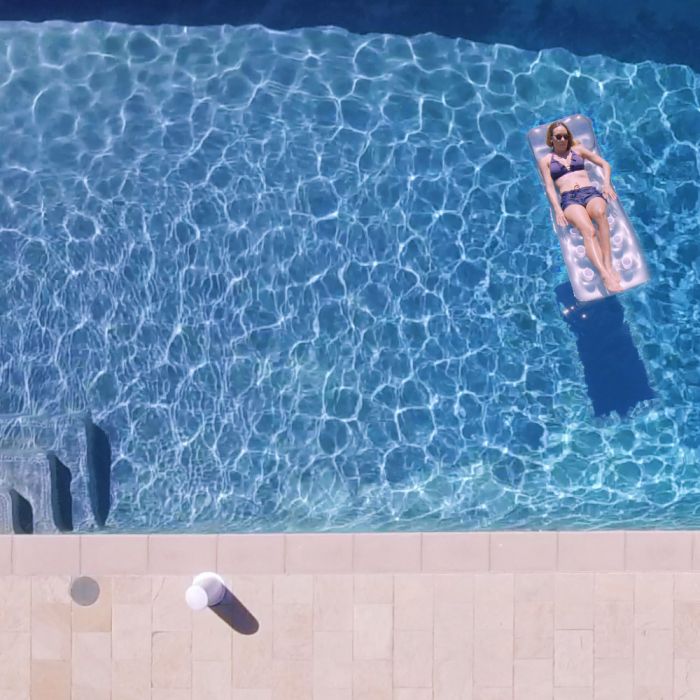 WaterGuru