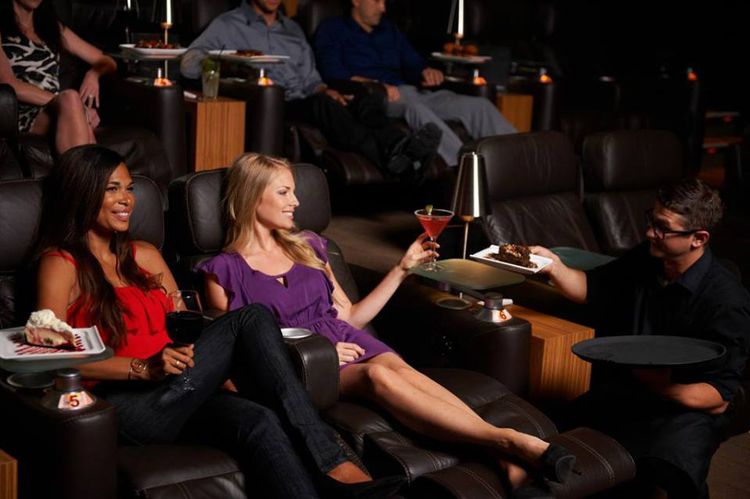 Photo Courtesy of Cinepolis
While seeing a movie in the theater can be an exciting occasion, many people have become fed up with all the nuisances that come with it. How many times have you been absorbed in the plot, only to have a cell phone go off and pull you right out? Or have to endure the person behind you using your already uncomfortable seat as a footrest and the one next to you encroaching on your personal space with their annoyingly pointy elbow? Sure, some people endure it, but others have boycotted theaters altogether, preferring instead to watch them at home (thanks OnDemand!). Recognizing the demand for a more luxurious experience, countless theaters are popping up all over the world that promise a five-star experience, complete with reserved seats,
gourmet cuisine
, craft cocktails, a comfortable home theater-like atmosphere, and 21-and-up age limits — sorry kids, but you asked for it.
Nowadays, theaters need to offer a little more to stand out and bring in customers, especially with theater prices what they are ($4 for a small soda!? I'll be sneaking snacks inside my tote bag, thanks), which could be one reason why more and more luxury (or dine-in) theaters are popping up. Looking to reinvent the concept of the traditional dinner-and-movie night, many establishments opened restaurants under the same roof (Los Angeles'
ArcLight
is a perfect example) and some are offering full-course meals and wait service
during
the movie.
Photo Courtesy of Alamo Drafthouse
"Who doesn't love to sit in a plush leather recliner with waiters serving your favorite entrée, dessert or cocktail directly to your seat while watching your favorite movie?" poses Enrique Partida, Cinépolis Marketing Manager. "We revolutionized an industry so our guests could enjoy dinner and movie the way it was meant to be."
Drinking beer and having a meal isn't a completely new concept — draft houses were popular in the 1970s, typically far more urban and shabby — but dine-in theaters are definitely improving on the old model. However, there are a couple cinema draft houses that figured out how to expertly combine the two concepts. The Texas-based
Alamo Drafthouse
chain spruced up theaters and created a place for die-hard movie fans to escape reality, all while offering tasty food and drinks. Alamo takes movies seriously so
don't even think about texting
during
The World's End
, no matter how funny Nick Frost and Simon Pegg are, because they
will
kick you out. They also do really neat marathons and special events, like a screening of
In the Loop
to celebrate
Peter Capaldi as the new Doctor Who
, and Quote-Along and Sing-Along showings of cult classics.
Photo Courtesy of Cinepolis
According to the
2012 Theatrical Market Statistics report
from the Motion Picture Association of America (MPAA), there was a six percent box office rise from 2011 to 2012, jumping from $10.2 billion to $10.8 billion. The reason for that increase was the admission boom, which was up six percent from 2011, climbing from $1.2 to $1.3B. Even more interesting is the change in the age demographic. While sales are almost always driven by 12- to 39-year-olds, 2012 brought in more patrons from every age group — especially in the 40-49 (increasing from $3.3M to $5.8M), 50-59 (jumping from $3.1M to $3.3M), and over 60 (up $4.6M from $4.1M) brackets. Sure, the MPAA use stats from all theaters in the U.S. and Canada, but I have a feeling the differences in age demographic have something to do with luxury cinemas. After all, I can't be the only one with a father who abhors traditional theaters.
Photo Courtesy of Cinepolis
So, where can you find one of these fancy movie theaters? If you're in Southern California, you may be living near one of the five
Cinépolis
locations (including Del Mar, La Costa, and Laguna Niguel). Having entered the U.S. market in 2011, this theater features fully-reclining power leather seats with foot rests, in-theater dining with wait service, and 21+ showings. The menu features everything from sushi and short rib to sliders and pizza, while drinks come in the form of draft beers, wine, cocktails, or sodas. Though the theaters are generally smaller in scale, the size creates a nice living room-type atmosphere that makes you feel right at home — assuming you have a home cinema, that is. If you end up having a boozy neighbor who continually orders watermelon candy martinis, not to worry because the wait staff are pretty darn good at slipping in without drawing attention to themselves. Granted, the ticket price is going to cost you around $20 (depending on the movie and time), but if I was able to take my dad to
Elysium
and have him come out smiling,
trust me
, it's worth it.
Photo Courtesy of AMC Theaters
Larger theater chains aren't ignoring the trend by any means, with some of the biggest ones jumping head first. AMC's
Dine-In Theatre
locations are growing (from California to New Jersey), offering 21+ Cinema Suites and the more family friendly Fork & Screen. The Suite theaters feature reclining seats with full-service, meals and a cocktail bar. The Fork & Screen option is similar to the Suites, differing in the chair quality and age limit (kids are welcome but, due to the presence of alcohol, have to be with an adult).
Regal Entertainment Group has luxury theater options in Newport, CA and SouthGlenn, CO already and just announced in May the building of their new Regal Avalon Stadium 12 & RPX to open next year near Atlanta. This theater will offer all one can expect, from reclining seats to restaurant-quality food, and will feature an adult design aesthetic. They also launched
Cinebarre
theaters, which approach the dine-in concept a little more casually.
Photo Courtesy of CGV
Of course, U.S. isn't the only place you can find these theaters. Australia's Event Cinemas have been doing very well with their
Gold Class
theaters (which expanded to America and can be found in Los Angeles), offering prawn and water chestnut dumplings, fish'n'chips, Belgian waffles, pizza, and tons of spirits and cocktails. In Seoul, Korea you'll find CGV's
Cine de Chef
theater, which really takes luxury cinemas to a whole new platform. With a French-Italian menu courtesy of a former Park Hyatt chef and an A-list theater that seats only 30 people, catching a flick here will run you around $54.
Luxury cinemas really shouldn't come as a shock to anyone, as most people have been wanting such an experience for years, but it took a surprisingly long time for the idea to come to fruition on a grand scale. These companies don't expect people to show up for
all
of their movie theater needs — because the tenth
Fast and the Furious
doesn't exactly warrant steeper ticket prices — instead striving to create an atmosphere for those special nights out. That said, I can't promise you won't want to boycott your usual haunt once you've stretched your legs on the luxury side of things.