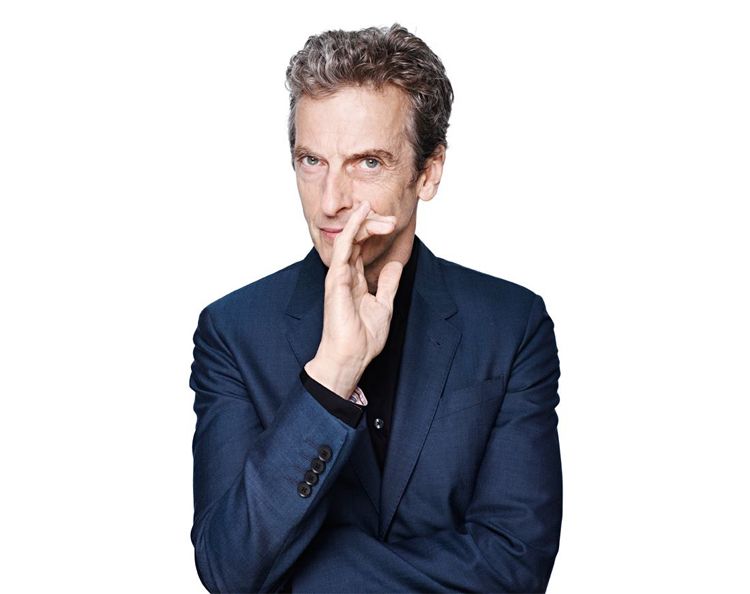 Photo Courtesy of BBC America
It's official, BBC has announced the 12th Doctor and this fan couldn't be happier. Get ready for a world to fall in love with you,
Peter Capaldi
! As one of the best kept secrets in recent television, the reveal was made yesterday during the
Doctor Who Live: The Next Doctor
, which featured guests and pre-recorded appearances from past and present Doctors and companions (including Matt Smith himself). While I didn't have Capaldi on my previous list of
possible Doctors
, now I feel like the choice was glaringly obvious and I'm kicking myself for not having thought of him. Not only is Capaldi a fantastic actor (just take a gander at his credentials), he's not a stranger to the
Doctor Who
world — but more on that later.
"It's so wonderful to not keep this secret any longer, but it has been absolutely fantastic in its own way," says Capaldi. "Being asked to play The Doctor is an amazing privilege. Like the Doctor himself I find myself in a state of utter terror and delight. I can't wait to get started."
Casting an older actor (he's 55) marks a return to form for the long-running show (with the majority of the previous Doctor actors being at least in their 40's), meaning that the network isn't afraid to detour from idolizing youth just because it worked so well with the past couple picks (
Matt Smith
was only 26 upon snatching the role). "It's an incendiary combination: one of the most talented actors of his generation is about to play the best part on television," said executive producer and head writer Steven Moffat in a BBC press release. "Peter Capaldi is in the TARDIS!"
So, before you settle in for the upcoming Christmas Special in December, where Smith exits and Capaldi enters, here are some need-to-know facts about the veteran actor.
Photo Courtesy of BBC America
Born April 14, 1958 in Glasgow, Scotland, Capaldi went to the Glasgow School of Art and while attending, snatched his very first breakthrough role in 1983's
Local Hero
.
While attending art school, he was the lead singer of punk band Dreamboys, along with comedian and
The Late Late Show
host Craig Ferguson as drummer.
Photo Courtesy of BBC America
He's won several awards for his work as the acerbic Malcolm Tucker in the BBC comedy show
The Thick of It
, including a BAFTA award for Best Male Performance in a Comedy Role.
He lives in Crouch End, London with his wife and daughter.
Not only is he excellent in front of the camera, Campaldi has made an impact behind the camera as a filmmaker. In 1995 he won an Oscar for Best Short Film (Live Action) for his film
Franz Kafka's It's a Wonderful Life
, which starred Richard E. Grant (another
Doctor Who
alum). He also wrote
Soft Top, Hard Shoulder
(winning the Audience Award at the London Film Festival), and wrote/directed
Strictly Sinatra
.
Photo Courtesy of BBC America
The Scottish actor isn't new to the world of
Doctor Who
. He played Caecilius in the 2008 episode "The Fires of Pompeii," which aired during the fourth series that starred
David Tennant
. It's also worth noting that Karen Gillan, a recent companion, appeared in the episode as well — it's common for the show to test actors out in smaller roles before giving them bigger ones.
Capaldi was also in
Torchwood: Children of Earth
, the third series of the more serious
Doctor Who
spin-off show, brilliantly playing the conflicted character of Home Office Permanent Secretary John Frobisher.
Photo Courtesy of BBC America
Sharing The Doctor's penchant for doing good, Capaldi is a patron of the Association for International Cancer Research and the Aberlour Child Care Trust, a Scottish children's charity.
Photo Courtesy of BBC America
This has been a big year for him, having appeared in
World War Z
and in the drama series
The Hour
(which earned him a BAFTA nomination), he will also soon be seen in the upcoming films
The Fifth Estate
and Disney's
Maleficent
.
Currently filming a new drama series for BBC One slated for early 2014,
The Musketeers
, the actor will begin shooting his first scenes as The Doctor this Autumn.