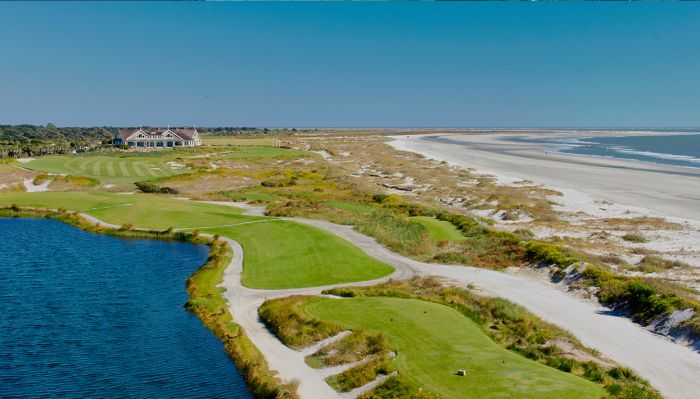 Photos Credit: Timbers Kiawah
When one considers a luxury golf resort as the potential location for a new home, or a vacation getaway, a number of questions come to mind. Does the property offer a variety of golf courses and playing conditions? Are the courses enhanced by dramatic and beautiful landscapes and vistas? Do golfers want to immediately replay the courses once they have finished their rounds? Is there a strong sense of history and tradition at the property? These are natural curiosities, especially when the quality of the resort's overall golfing experiences is paramount.
Fortunately, for owners at Timbers Kiawah Ocean Club & Residences in South Carolina, the answer is simply "yes" to all of these questions. With seven world-class golf courses nearby, there is something for everyone. The Kiawah Island Club offers access to two exclusive and stunning clubs; Cassique Golf Course, a links-style course that challenges any golfer, and The River Course, a picturesque course that meanders through marsh savannas, ponds and beautiful maritime forests. Also located nearby are five additional, championship golf courses—making the location of Timbers Kiawah Ocean Club & Residences a perfectly positioned Lowcountry destination to call home.
Kiawah Island's public courses were designed by five revered golf course architects, and with its location on an Atlantic barrier island, it is no wonder that golfers around the world want to call this home. Turtle Point Golf Course was one of Jack Nicklaus' first design projects; and it features long narrow fairways and small greens, which place a premium on hitting good tee shots and high-flying, soft-landing approach shots. Osprey Point Golf Course takes golfers through Kiawah Island's maritime forests, saltwater marshes, and lagoons while rewarding players with generous landing areas and very few forced carries over water hazards. Cougar Point Golf Course is undergoing a renovation now to further enhance the course's beauty and playability, and will also soon reveal a new Clubhouse. Oak Point Golf Course is just off of the island, but provides players with a level of golf and service expected with any of the Kiawah Island Resort courses.
However, Kiawah Island is best known for the Ocean Course which consistently ranks in the top five or 10 public courses in the United States, and is often considered to be Pete Dye's most difficult layout. The course, which Dye created specifically to host the 1991 Ryder Cup, is positioned on the easternmost end of Kiawah Island.
The diversity of the Ocean Course, combined with its connection to one of the greatest Ryder Cup matches ever played (not to mention its role as the host of the PGA Championship in 2012, which it will reprise in 2021), makes the Ocean Course one of the country's most iconic layouts. It also elevates Kiawah Island to the top of the list of the most sought-after golf resort destinations to call home.
Now, owners at Timbers Kiawah Ocean Club & Residences can tee it up at these world-class golf courses; or they can simply choose to relax and enjoy the tranquility of life with friends and family at the Beach Club and Clubhouse, since here, anything is possible.